This Conspiracy Theory About Anne Hathaway, Her Husband, And Shakespeare Is So Trippy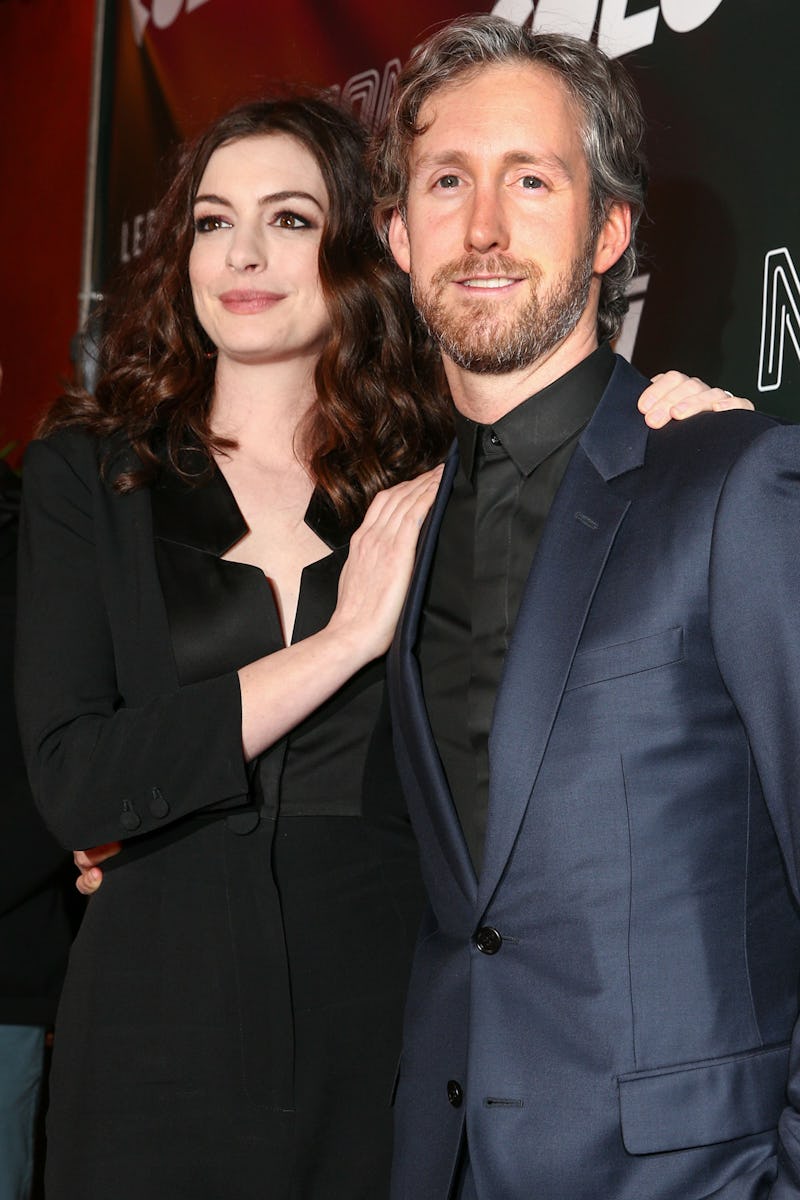 Rich Fury/Getty Images Entertainment/Getty Images
Anne Hathaway didn't find this insane conspiracy theory... it found her. On Saturday, June 30, genius Twitter user @PEACHYBLACKG0RL pointed out the fact that Anne Hathaway and her husband could be William Shakespeare and his wife reincarnated. Yes, it seems ridiculous at first. But after the tweet went viral, more and more Twitter users came out of the woodwork to explain why this could actually be a creepy plot twist that was written in the stars all along. Hathaway is probably somewhere laughing her ass off or not knowing this break-the-internet-worthy theory even exists, but that doesn't make the speculating any less entertaining.
The original tweet pointed out the fact that Hathaway's husband, Adam Shulman, is a spitting image of Shakespeare himself. It further revealed the mind-blowing fact that Shakespeare's wife's name was... wait for it... Anne Hathaway. The actor and her husband have been married for about six years, and it's taken the internet this long to find the mind-bending similarities between them and the greatest playwright in all of history. Welp, better late than never. While Hathaway hasn't publicly addressed the theory on social media, there are plenty of fans out there who are ready and willing to explain the madness.
In true Shakespearian fashion, some find the star-crossed lovers theory as romantic as anything the Bard ever wrote.
Of course, new theories have emerged on the original post. Like the one that Shakespeare and his wife made a deal about fame in their other lives. Twitter user @Jasmineeshah joked, "Shakespeare made a deal w his wife...'I get to be famous in this life and you get to be famous in the next.'"
There's also the one about Shakespeare righting his wrongs in present day after apparently leaving his wife behind to pursue life as a literary genius:
There's also a theory that the two are merely time traveling because neither have aged at all, and frankly, it's freaking fans out. (Or, they could be vampires. Either way, Twitter is concerned.)
Regardless of the theory you choose to run with, know that the rest of the internet is also shook to the core. And given the star-crossed meeting Hathaway and Shulman experienced when they first met in 2008, it does make this whole concept a little more suspect.
Just months after parting ways with Italian real estate developer Raffaello Follieri shortly before his arrest for wire fraud, Hathaway met and began dating Shulman. However, it was a very unexpected romance, but one that seemed destined. Hathaway explained that she had been wanting to be single for a while after her split, but was completely taken with Shulman when they met at the Palm Springs Film Festival in 2008 through a mutual friend. "I'm going to marry that man," she recalled saying to a friend, according to Harper's Bazaar. She further revealed:
"I think he thought I was a little nuts, which I am a bit, but I'm also nice... I was just very honest with him. I knew from the second I met him that he was the love of my life. I also knew that I couldn't have met him at a worse time... I took my trust out for a ridiculous joyride with him."
Eat your hearts out, Romeo and Juliet.
Since they each assumed the other was in a relationship at first, it took a minute for Hathaway and Shulman to get their relationship going, as she explained to David Letterman in 2012. Hathaway took a chance on their instant chemistry by asking Shulman to go with her to New Orleans since she had an extra ticket. The rest was history, and the two welcomed their first son, Jonathan, in 2016. If only they named their son Romeo, fans would really be losing their minds right about now.