Twitter Thinks *This* Is The Moment Meghan Shared Her Baby News At Princess Eugenie's Wedding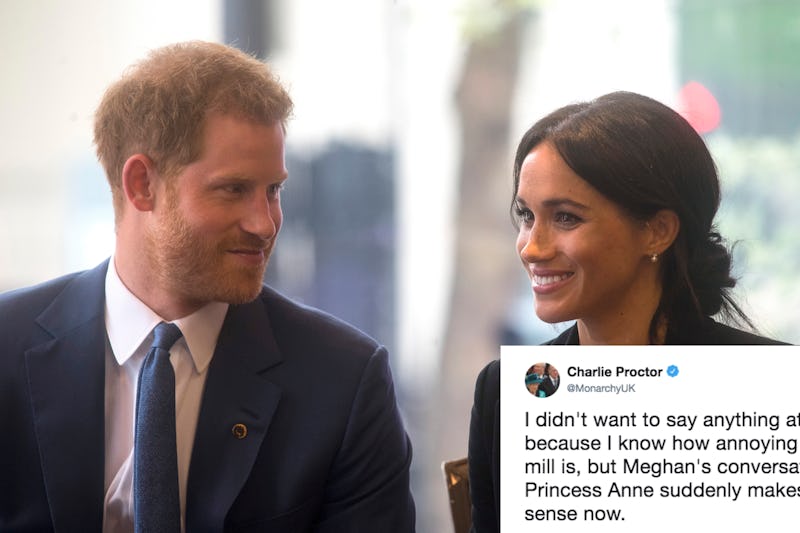 WPA Pool/Getty Images Entertainment/Getty Images; Charlie Proctor/Twitter
The royal family has a lot to celebrate this week. Not only did Princess Eugenie just tie the knot with Jack Brooksbank, but now, a royal baby is on the way. On Monday, news broke that Meghan Markle is pregnant, which means obviously, she and Prince Harry have been hiding this news for awhile, including at Friday's wedding — or were they? As Harper's Bazaar pointed out, Twitter seems to think that Markle told Princess Anne her baby news in a video from the wedding, but of course, it's impossible to know what's truly going on.
Although Markle and Harry have only been married for five months, baby speculation truly kicked in on Friday, when Markle wore a coat that people suspected might have been to conceal a baby bump. And now that the news has been confirmed, it seems like there could have been another hint from the wedding that everyone missed. At first glance, it just looks like Markle and Anne having a conversation while they waited for the wedding to begin, but upon a closer analysis, it really does seem possible that they're talking about Markle's pregnancy.
Here's the video in question, which was shared by U.K. journalist Charlie Proctor:
The big disappointment with this video is the fact that it's impossible to hear what Markle and Anne are saying — all you can hear is the music that's playing. But they are being pretty animated, moving their hands (to show how big a baby might be, perhaps?) and it does seem like Anne is looking at Markle's stomach.
It's cool to think that this video might have captured that moment, because they both look so happy, and it would be really special for their family to have it on film. But of course, there's no way to know for sure if that's actually what Markle was saying. According to a report from the Daily Mail, Markle and Harry supposedly told their family about the pregnancy at Eugenie's wedding, but that hasn't been confirmed either.
Being that the news of Markle's pregnancy broke just hours ago, it's hard to say exactly what's been going on in her and Harry's life in recent days, but it does seem like they (and their family) are truly excited, whether they chose to share that excitement at Eugenie's wedding or at another time.
"Their Royal Highnesses The Duke and Duchess of Sussex are very pleased to announce that The Duchess of Sussex is expecting a baby in the Spring of 2019," the official announcement from the Kensington Palace Twitter account said. "Their Royal Highnesses have appreciated all of the support they have received from people around the world since their wedding in May and are delighted to be able to share this happy news with the public."
Maybe one day, Markle will fill us in on what she and Anne were really talking about in that clip, but for now, all fans can do is bask in the glory of knowing that another royal baby is on the way. Considering that Markle and Harry's kid will be only a year younger than Kate Middleton's youngest, Prince Louis, maybe we'll have a couple of royal BFFs on our hands.