Fans Are Sharing Stories Of Getting Their First Kate Spade Bag To Honor The Late Designer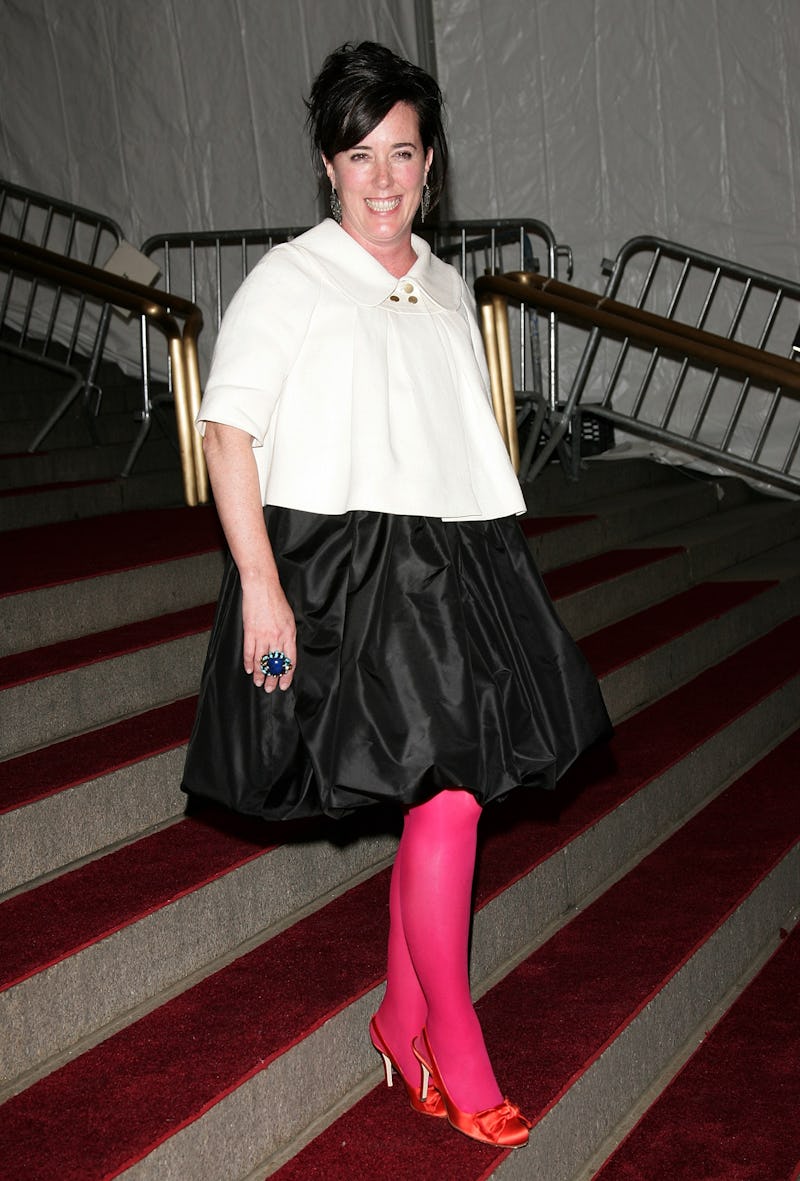 Evan Agostini/Getty Images Entertainment/Getty Images
After the news of Kate Spade's passing on June 5 spread, it didn't take long for the social media tribute to start rolling in. As BuzzFeed noticed, a lot of them took on the same theme. People are sharing stories about receiving their first Kate Spade purse is a beautiful tribute to the legacy that the designer has built.
Spade died by suicide on June 5, but her legacy will live on through the brand that she created. Although the designer sold Kate Spade New York to Coach in 2017, Spade, whom also went by Kate Valentine, has brought a special kind of color and sparkle to fans' lives through the accessories.
Tributes to the late designer prove just how special her creations are. People are sharing stories about how their first Kate Spade bag has changed their lives, and it's a touching way to honor what Spade has built. Just one bag — the right bag — can bring so much light to someone's life, and these reactions prove it.
As fan tributes show, Spade's creations were a lot of people's first experience with high fashion bags. It was a way to be in that world, without having to splurge on a bag with a brand print all over it or being too, well, boring.
Celebrities like Chelsea Clinton and Jenna Bush Hagar are sharing their stories, but you don't have to be an A-lister to feel the power of Kate Spade New York. People from all over the globe are feeling the loss of the designer.
This isn't the typical "rest in peace" message. Instead, it's a nod to the fact that Spade didn't just create a brand. She created a legacy.
There are some things that you don't forget. Your first Kate Spade bag is one of them.
The bags were not just accessories. They were a cultural marker that can be appreciated by just about everyone.
For many people, Kate Spade was their introduction into a new, high end world of accessories.
Spade was a trailblazer in her industry. She created a fun world of fashion that no one else could replicate.
Every single item that Spade created brought a little bit more joy to the person's life who owned it.
She truly did bring a little sparkle wherever she went, and she will be missed by many.
Spade bags helped women find who they were through fashion. You might forget your first boyfriend, but you won't forget your first purchase.
Spade's accessories were a badge of honor to everyone who wore them.
A lot of fans are deeming Kate Spade bags as the first "big girl" bags they ever owned. Like mentioned before, this was many people's introduction into a new world of high end designers.
There is a certain excitement that comes with making a high-end purchase, but Spade made people felt great about what they bought. The designer bridged the gap between high and low end perfectly.
A pretty pink and green box is not a bad gift to receive. As this tweet shows, a Kate Spade bag was much more than just an accessory.
Spade brought love like no other. She was able to capsulate what people were feeling with how they wanted to feel forever.
Fashion is much more than just a way to look great. It's a way to connect to the spirit of the designer to women carrying the bags. That's a feeling that won't soon leave anyone's lives.
If you or someone you know are experiencing suicidal thoughts, call 911 or call the National Suicide Prevention Hotline at 1-800-273-8255. You can also text the Crisis Text Line at 741-741. For international resources, here is a good place to begin.