This Is What You Need To Know About Pret A Manger's Allergy Incidents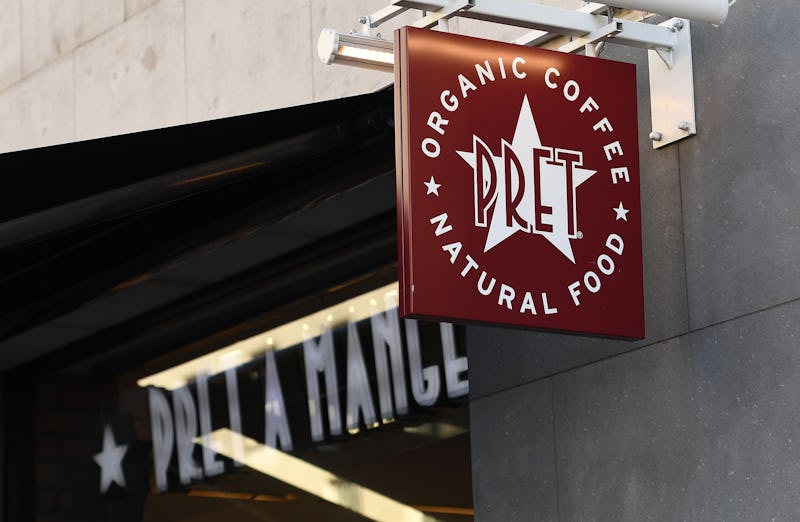 Andy Rain/EPA-EFE/Shutterstock
Renewed concern over food allergies and product labelling has emerged after two people died from Pret a Manger allergic reactions, the BBC reports. An inquest into the 2016 death of 15-year-old Natasha Ednan-Laperouse, who died on a British Airways flight after eating an "artisan" baguette from the chain, heard that the bread contained the allergen sesame seed — which was not listed on the packaging. Now, Pret has confirmed that a second customer died in 2017 after eating a "dairy-free" flatbread which actually contained dairy protein. After the inquest into Ednan-Laperouse's death, the brand has since pledged to list all ingredients on its freshly-made products. Concerned about consuming allergens at Pret? Here's what you need to know.
Natasha Ednan-Laperouse, from Fulham, London, died in July 2016 on a flight from Heathrow to Nice, after eating an artichoke, olive, and tapenade baguette she bought at the airport. As the BBC reports, her father Nadim injected her twice with an EpiPen, but Natasha died at a Nice hospital the same day. "It's a daily battle and the pain is indescribable," Nadim Ednan-Laperouse said.
At the inquest into her death, in September 2018, the court heard that Pret a Manger had recorded nine other allergic reactions to sesame seed in the year before Natasha's death, according to the Guardian; six of them had eaten an "artisan" baguette. Pret's director of risk and compliance, Jonathan Perkins, told the court that after concerns were raised about allergic reactions to sesame seed in their products, the chain "responded appropriately to each individual complaint at the time."
The Guardian notes that under EU regulations, Pret was not obliged to label each item, but had to provide information on "a sticker on the fridge or counter containing the product, and on tills advising customers to ask staff for allergen details." Perkins told the inquest, "I accept that there are a number of individuals who have had a very negative experience and tragic experience, but I also look at all the customers and thousands of allergy sufferers who come through our doors and are able to shop safely."
The second customer to die after an allergic reaction to a Pret product purchased a "super-veg rainbow flatbread" from the chain's Stall Street store in Bath, the BBC says. The product was supposed to be dairy-free, but contained yoghurt that was found to have traces of dairy protein. The supplier, coconut milk brand Coyo, subsequently recalled all of its dairy-free yoghurts earlier this year. In a statement, the brand said they were "devastated" by the contamination, adding, "We've carried out a thorough review of our ingredients and we have identified that the contaminated material was provided to us by an external third-party supplier." Coyo, the statement said, no longer works with the supplier.
After the second death of a customer, a spokesperson for Pret said, "Our deepest sympathies are with the family and friends of our customer in this terrible case and we will seek to assist them in any way we can." According to the BBC, Pret no longer uses Coyo products and is taking legal action against the company.
In October, following the inquest into the death of Natasha Ednan-Laperouse, Pret a Manger announced that it will now label all products freshly made in store. "The labels will list all ingredients, including allergens," the company said.
Chief executive Clive Schlee said, "I want to say again how deeply sorry we are for the loss of Natasha. I said we would learn from this tragedy and ensure meaningful changes happen." He added, "I hope these measures set us on course to drive change in the industry so people with allergies are as protected and informed as possible. Nothing is more important to Pret right now."
What else should Pret customers with allergies know? On Pret's website, CEO Schlee said that the brand will implement three major changes "within the next few weeks". All freshly made products will be stickered with allergen warnings, while each shop will display further allergen warning signs. Before the new labelling system is rolled out, full ingredient and allergen information will be listed online, and will also be available in store. Schlee pledged that the chain would "start trialling new labels which show full ingredients, including allergens, on packaging from next month," adding, "This will be rolled out to all UK shops as quickly as possible."
Concerned about how to order food safely with an allergy? Consult the Food Standards Agency website, which offers a multiple-step guide to ordering for allergy sufferers; you can also report businesses that aren't labelling food correctly or are otherwise violating legal allergy requirements. The NHS also provides guidance on how to respond should you or someone else experience an allergic reaction.