These Social Media Stars Got 'RuPaul's Drag Race' Makeovers & They Are SO GOOD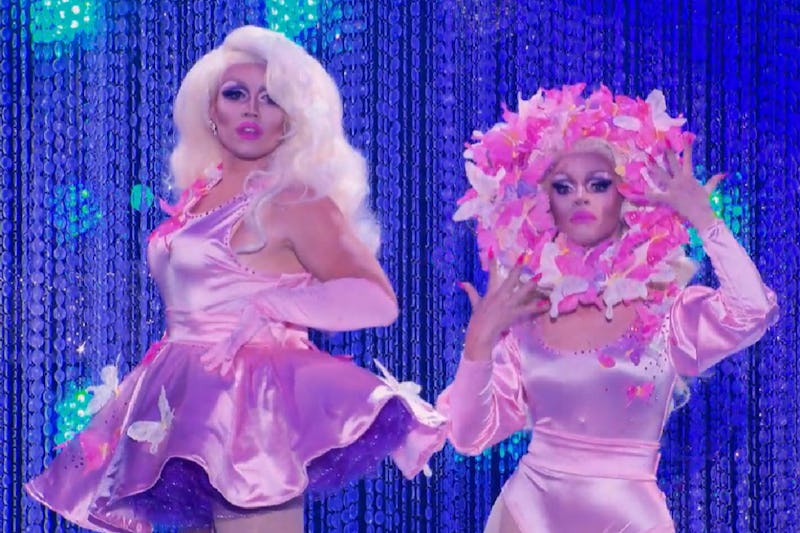 VH1
The queens of Season 10 knew this was coming — they've seen the show before. They've been put through acting tests, dance-offs, and comedy battles, and that leaves one type of challenge they've yet to face — extreme makeover: drag edition. They're used to transforming themselves into the characters they know and love, but what about others? In the most recent episode, the queens had to not only serve face themselves, but they had to make over a social media influencer RuPaul's Drag Race style. And, in case you missed it when it first aired (holiday weekend and all) — you have to see the photos now.
Each queen was paired with one of six social media influencers recruited by RuPaul, also known as the episode's "Social Media Kings." Eureka, who won the mini-challenge, had the advantage of choosing each queen's new soon-to-be drag daughter for the "Drag Family Values" challenge. She paired viral YouTuber Tyler Oakley with Monét X Change, Asia O'Hara with influencer and advocate Raymond Braun, Aquaria with YouTuber and Comedian Kingsley, Kameron Michaels with Anthony Padilla of Smosh, Miz Cracker with singer Chester See, and herself with Frankie Grande, who does a little bit of everything. (Yes, that's Ariana Grande's brother.)
Once the queens and kings were paired off, time was of the essence, and the queens had to help their partners find their inner drag goddess. Not only did they have to drag-ify the kings, part of the family-themed challenge was to bring to life a chemistry and resemblance. This proved to be more of a challenge for some than others. The reality of it is, they all had hurdles to leap with the challenge. But in the end, each king was made over and stamped with a new name fit for a drag queen — and their final looks will gag you.
Asia O'Hara & America O'Hara
Asia, who was paired with Raymond Braun, gave him the drag experience of a lifetime when she recreated a garment of hers that he pulled off the rack with awe. Here's Braun out of drag:
And here are the O'Haras. Who wore it better? They both look stunning.
Eureka & Eufreaka O'Hara
Eureka was admittedly very strategic in her pairing of the kings and queens ("I paired them up with who I assume would be their demise!"), so she knew what she was doing when she gave herself Frankie Grande. Being the boisterous and bright queen that she is, she knew their chemistry would be effortless. Grande was the perfect mini-me. Here he is out of drag:
And here are the sisters on the runway. Can you say fierce?
Aquaria & Capricia Corn
Aquaria is known as the makeup queen, so Eureka knew she was going to be a threat in this challenge. She was given Kingsley, who had never been put into drag before.
Aquaria's storyline for the two of them was queen and princess — and the judges didn't buy it. That's not to say they didn't look glamorous.
Monét X Change & Short Change
Monét and Tyler hit it off instantly — and how clever is the name Short Change? Tyler actually had been put in drag makeup before, but this was his first time to sissy that walk down the runway. This isn't his first time on TV, though, so you may have seen him before. But in case you haven't, this is Oakley out of drag:
And here are the Changes, wearing green — also the color of cash Monét, if you will.
Kameron & Kelly Michaels
Kameron was a bit apprehensive about being paired with a straight guy at first, as she admitted to the cameras later on that she tends to be that way as a result of bullying she experienced when she was younger at the hands of straight men. Not to worry, though, because Padilla proved himself to be a stand-up guy, and a fierce queen. The comedian and YouTuber looks like a regular guy you'd see on the street, right?
But Kelly and Kameron? They're sisters you'd do a double-take for.
Miz Cracker & Miz Cookie
Miz Cracker is known for her perfectionism — so she started off the challenge with her gears turning, reserved, thinking of how to bring out the inner queen of straight guy number two, Chester See.
Can you believe? Miz Cookie's reveal was one of the most iconic in the episode — Cracker really gave her the glamour and poise that her sister would most definitely embody. Not to mention — she pranced down the runway in heels like it was nothing, flirting with the judges and all.
Miz Cracker's wave of a magic wand to bring to life such a dramatic transformation earned her a victory — finally. She had been waiting the entire competition for one, and they were always barely in reach. But she took the biggest challenge yet and crushed it, which is a pretty big deal.
Honestly, the drama and transformation that took place in this episode could be a reality show in itself. Drag Race: Makeover Edition anyone? I would watch.