The 'Cloak & Dagger' Moment You've Been Waiting For Is Coming SO Soon, The Showrunner Says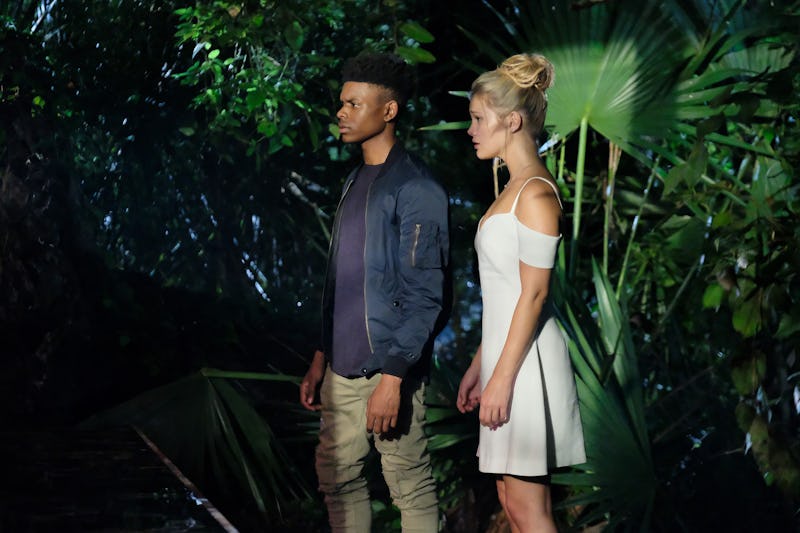 Alfonso Bresciani/Freeform
Marvel's latest superhero TV series has covered a lot of ground in only three episodes. Spoilers ahead for the "Stained Glass" episode of Cloak & Dagger. Tyrone/Cloak (Aubrey Joseph) and Tandy/Dagger (Olivia Holt) have spent most of their time away from each other, however, as the series explores their individual stories. They briefly meet again in Episode 3, but most of their scenes together happen in dreams, as they learn more about their respectively tragic pasts. The pair soon realize that they're being drawn to each other in some way, but when will Tyrone and Tandy team up on Cloak & Dagger? The end of Episode 3 teases a long-overdue discussion about their powers, which may finally unite them as a crime-fighting duo.
In this episode, Tandy and Tyrone unexpectedly cross paths (again) after Tyrone accidentally teleports while shooting at his brother's killer. He shoots into Tandy's stolen car while she is driving from her wedding robbery and causes her to crash. They only have a short interaction, wherein she says she never wants to see him again and then drives off.
While Tandy is on the run from the cops, Tyrone is looking for answers about his powers, wondering first and foremost whether they are a curse or gift. A classmate named Evita (Noëlle Renée Bercy) takes him to visit her voodoo priestess aunt, who gives him a recipe for a cleansing bath to purify his spiritual palate.
During the bath, Tyrone and Tandy have extended dream-state glimpses into each other's past and present pain. Tandy sees Tyrone as a child playing basketball with his older brother Billy (Marqus Clae). She then watches him repeatedly try to kill Connors (J.D. Evermore), the police officer who shot his brother, which always ends in Tyrone's death by the police. She tells him there has to be a better way to deal with his anger and fear and produces a dagger for him to use, which turns into handcuffs. This signifies how she could help him with obtaining justice for his family.
In his dream, Tyrone stands by Tandy as she witnesses her father Nathan (Andy Dylan) being tortured to death by his former co-workers, which symbolizes how they tarnished his name and reputation, post-mortem. The Roxxon Corporation framed him for the oil-rigging accident shown in the premiere episode, putting Tandy's family in a financial and emotional downward spiral. Tandy's in the woods as she watches the encounter from a soundproof box. At one point, her mother Melissa (Andrea Roth) screams at his coworkers, presumably fighting to clear her husband's name. It is the same losing battle she has been going through in real life since he passed away and an issue that has poisoned her relationship with her daughter.
Tandy keeps running away until Tyrone says, while enveloping her in his dark energy, that she must face this problem. Later, he recognizes a stained glass window as being connected to Tandy, so he goes into the church where she's been squatting and waits for her to return. The episode ends with Tyrone confronting Tandy, saying that they need to finally talk.
Tyrone's cleansing bath is a major turning point for the pair, which allows them to see each other's core emotional wounds and start to work out how they can address them with their gifts. In an interview with TV Guide, showrunner Joe Pokaski talked about how long it would take for the teens to become Cloak and Dagger. He revealed that the next episode will include the highly-anticipated talk, and then Tyrone and Tandy beginning to put their plans into action. "…In Episode 4, we have one of the longest conversations in the history of television interlaced with some really crazy action stuff that helps them lay out what they're gonna do about their problems," he said. Pokaski also told the outlet that Tyrone and Tandy will have to get past their feelings of isolation and have a solid understand of each other and their connection to effectively work together.
Their upcoming conversation should build the foundation for their relationship — one that comics fans have been waiting for. They can each explain what happened to them on that fateful night when Tyrone's brother and Tandy's father died. They can also discuss how loss has affected them, and how they can possibly avenge their loved ones' deaths. Of course, this conversation will have to also include their powers and what they know about them so far. It will probably take a while for Tyrone and Tandy to figure out how to combine their abilities, but at least they already recognize their deep connection to each other.
Cloak & Dagger's character development of Tyrone and Tandy has set the stage for their alter egos Cloak and Dagger to make their debut. Considering the realism of the series, the heroes probably won't dress in cloaks and white catsuits any time soon. But Tyrone and Tandy are finally teaming up to solve their own problems, so they can be the heroes that New Orleans needs.