Uber Released A List Of Weird Things People Have Left In Cars & It's FASCINATING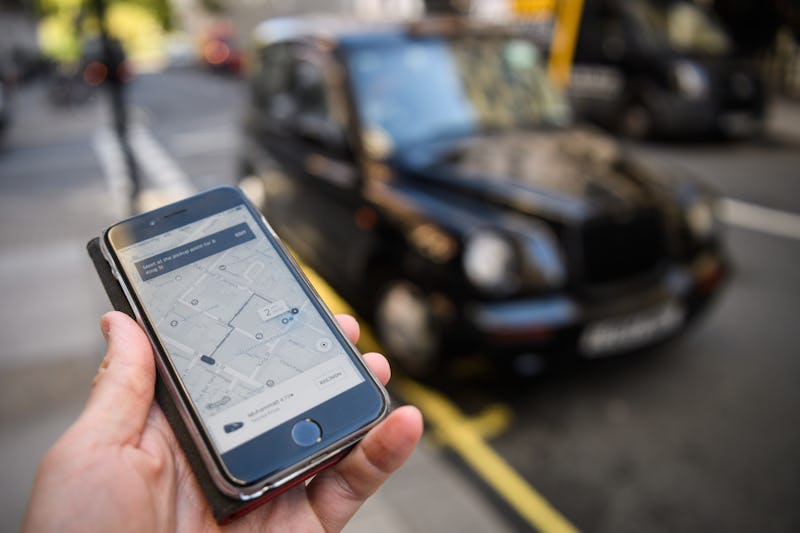 Leon Neal/Getty Images News/Getty Images
When you jump into an Uber, you probably have only one thing on your mind: getting to your destination, wherever it is. You might get distracted along the way; maybe by talking to your Uber driver, texting, or just staring out the window in a daze. You probably don't even consider the possibility that you could be leaving something very important behind. But it's definitely something that happens all the time: things fall out of handbags and pockets without someone even noticing, or you end up forgetting to grab something in your hurry to get to wherever you're going. Some of those things, however, can be sort of... random. And this is proven by Uber's newly released Lost And Found index, which details some of the weirdest things people have left in Uber cars.
Bustle got a first look at the index, and discovered some really interesting info that will definitely have us double-checking everything before we get out of our next Uber car — and you're going to feel the same way. According to the index, if you're in an Uber on a Sunday or a Saturday, you should take extra care of your possessions: These are apparently the two days when people are most likely to leave things behind. Again, that makes sense: it's the weekend, and many passengers are probably under the influence of some sort of alcohol. You're also most likely to lose something between the hours of 10 p.m. and 2 a.m., and again, that sounds exactly right: you're more likely to be exhausted in the middle of the night.
The most frequently forgotten items left in Uber cars aren't surprising either. It's pretty much exactly what you would expect: phones, wallets, keys, glasses, headphones, IDs, etc. It's actually the other stuff that has got me interested.
According to Uber's Index, people have left behind some seriously random items. Some of them are things you wouldn't expect someone to be carrying around at all, others are really valuable, and you'll be shocked that someone let them slip away. The list is actually really amusing to read through.
One of the strangest things left behind? A Star Wars Encyclopedia. How do you forget that?! It has to be huge and heavy! It's not something that you just accidentally lose sight of — yet it's happened. Someone forgot a flat-screen TV, which... I can't even begin to understand how that happened. One person left behind a butcher knife, which is actually pretty terrifying. Someone forgot a cat carrier, and I can only hope there was not an actual cat inside. And then there was the forgotten jetpack. How?! (Also, someone maybe forgot their brother, which... raises many questions.)
That doesn't even cover the most valuable items. One passenger left behind a 1.3 carat round diamond, and I honestly hope they got it back ASAP because yikes! Another person forgot their divorce papers, although maybe that was on purpose? Someone forgot their college diploma, which is kind of sad, and someone else lost a letter from their boyfriend who was in jail. Why was that even out?!
The rest of the list is just as strange, random, and outrageous. Check out the top 50 weirdest things people have left in Uber cars, and remember: this is just the top 50. That means there's more!
Burger King visor
Divorce papers
Star Wars Encyclopedia
Gold grills with diamonds
Originally signed Jessie James Decker CD
Letter from my boyfriend who is in jail
A 1.3 carat round diamond
2 packets of Dead Sea mud
Bag with a Kevin Durant Jersey + a Mario doll
Rhinestone mask
Detox tea
Tax returns
Long board with rasta colors
Slice of pizza
Marriage certificate
Ukulele
Cat carrier
Box full of hair extensions
Nintendo 64
Bushnell Golf Rangefinder
Dark green wool fedora with feathers and pin
Flute
Bulletproof vest
Flat screen TV
A black collapsible wagon
Jetpack
A green Birkenstock right shoe
Harmonica
Jamaica Slippers
French bulldog statues
Leaf Blower
Kids scooter
Laundry hamper
Fly fishing rod
Minnie Mouse light up ears
My brother
Butcher knife
Tuxedo
Feather headband
Nuggets & large fries
A single dart
Emoji lunch box
Orange air mattress
A bride's veil
Pool cue
Pink stuffed animal pig
College diploma
Pokemon card holder
Red cape
Forest Green alpaca scarf
OK, everyone, let's use this as a learning experience: please remember to be more careful when you are exiting your Uber car. You never know what you could be forgetting!