Your Next Uber Might Have A Vending Machine In It — Here's What You Can Buy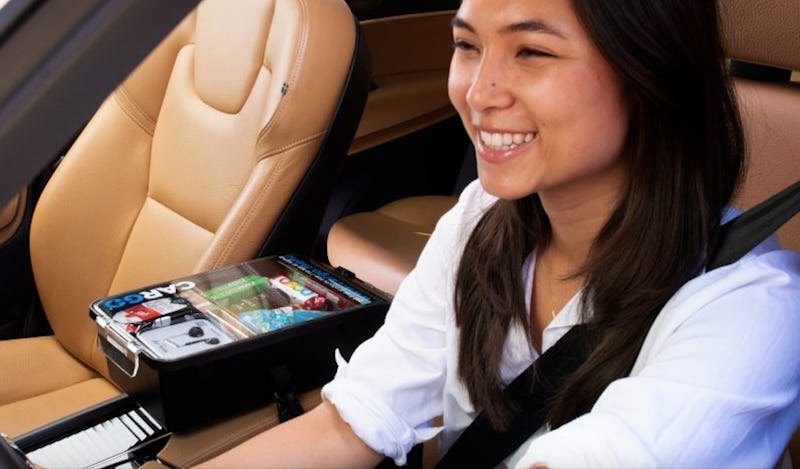 Uber Newsroom
Sometimes it feels as though it is not a true Uber ride unless you forget something. Though ride-sharing apps have solved many logistical transportation problems, it yet to solve the memory lapses that are characteristic of being human. If you're lucky, you'll hop into an uber with an extra phone charger when you forget yours, or one with bottles of water when yours remains sitting in your fridge. If you forget a snack, though, you're pretty much out of luck— that is, until now. Next time you need a ride, you might see something unfamiliar: some Ubers are getting vending machines.
In a press release last week, Uber announced it will be "raising the (protein) bar" with the addition of mini vending machines to some of its vehicles. The move is a result of a new partnership with Cargo, and will provide free center-console boxes filled with goodies to drivers. Passengers riding in cars equipped with the service can order one of the items on their phone, and their driver will distribute it when it is safe to do so. Before you ask, yes, drivers are given free samples to pass on to riders for when deciding on one snack is just too difficult.
Adding Cargo to a car is also pretty beneficial for a driver. Aside from being free to opt-in, and convenient with cashless transactions, Cargo includes built-in tipping and the potential for bonuses. Not to mention, drivers earn 25% commission on sales, in addition to one dollar per order, and the opportunity to earn extra five-star ratings.
Per the press release from Uber, Cargo partners with well-known brands like Kellogg's, Starbucks, and Mars Wrigley to provide a melange of mouthwatering snacks to passengers. Plus, food isn't the only thing Cargo has to offer. Through the app, passengers can purchase essentials like a phone charging cable or headphone — because let's be honest, you probably need those more.
Earlier in the year Uber released a list of offbeat items people have forgotten. but unlike what the company is trying to combat with the Cargo partnership, the list involves items that were *inside* the car. The most common items left behind in Ubers are not all that surprising. Passengers will routinely leave a wallet, keys, headphones, IDs, and glasses behind. But on at least one occasion a passenger has left a marriage certificate, tax returns, a slice of pizza, a box of hair extensions, and a real diamond. Whether these were returned to their original owners is uncertain.
As with all good things, Uber's vending machine will take some time to roll out. After an initial pilot period in San Francisco and Los Angeles, the program is available in New York City, Boston, Minneapolis, Washington D.C., Baltimore, Atlanta and Dallas at present. But if you don't live in any of these areas, it should not take too long for you to begin seeing vending machines in the Ubers you ride in; the company assures plans for further expansion are imminent.