UCLA Bomb Threat Causes Dorm Evacuation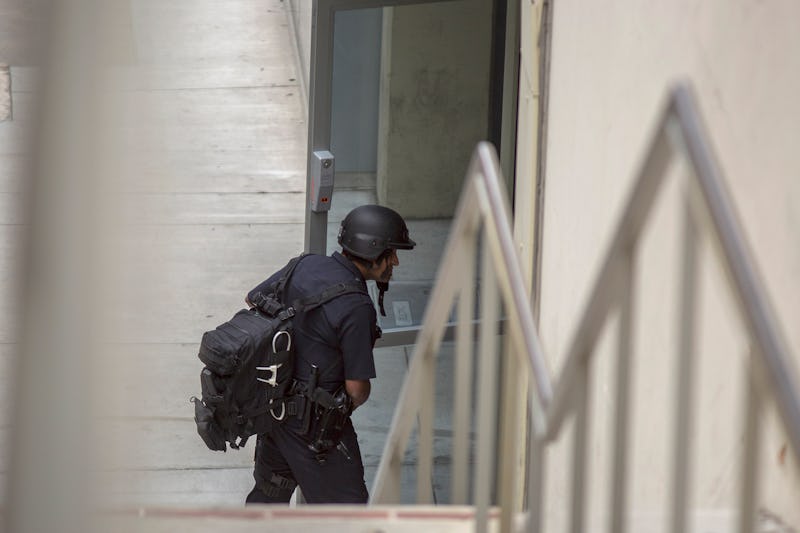 David McNew/Getty Images News/Getty Images
Three residence halls were evacuated in response to a bomb threat at a UCLA recreation center Wednesday around 10 p.m. local time, though it was later determined to be a false alarm. According to the Los Angeles Times, the university issued a UCLA BruinAlert and evacuated the dormitories after receiving the threat via telephone. However, university officials have said that the emergency operation was just precautionary.
Around 11:30 p.m., UCLA's press office said in a statement that all evacuees were safe and secure while police continued to investigate. The three dorms included students staying for summer courses, new students, and younger children residing on campus for sports camps and summer programs.
Shortly after midnight, residents of Dykstra Hall and De Neve Plaza were allowed to reenter their residence. The evacuated students, who were gathered in Drake Stadium, erupted in cheers of relief.
The bomb threat first came in at the campus police station's dispatch center. Police leading four bomb-detecting dogs searched Sunset Canyon Recreation Center and by midnight had uncovered no explosives, said UCLA police Capt. Bob Leinweber. The search and emergency operations concluded about 20 minutes later with an all clear.
UCLA had just completed its first orientation program for incoming students when the evacuated students were directed to the stadium. UCLA BruinAlert, the campus emergency emergency notification system, had been updating the situation as it progressed. Meanwhile, students had begun sharing images from inside the stadium as they awaited more information.
After police finished their investigation and deemed the area safe, residents were allowed to return to normal activities.
The UCLA incident isn't the first bomb threat or false alarm of the year; in fact, bomb threat hoaxes have become a nationwide scam. Last month, the University of Texas at Dallas cleared its campus following a bomb threat hoax. The university ordered all faculty, students, staff, and visitors to leave campus as soon as campus police received the bomb threat. The caller demanded a large sum of money and less than an hour later, police determined the bomb threat was fake.
In May, Columbia University received two bomb threats, which police also determined was a hoax. After evacuating the university's IT office and library, the NYPD bomb squad confirmed the area was safe and the FBI began investigating the hoax as part of a citywide problem.
Three days later, the University of Detroit-Mercy evacuated its engineering building after receiving a bomb threat via fax, one of four bomb threats in Detroit that day. The person making the threat demanded a $25,000 ransom and the situation was quickly cleared as a hoax. In Michigan, threat makers can be charged as a felon or terrorist, but police were unable to pinpoint and arrest the culprit.