The U.K. Raises Terror Threat Level To The Highest Status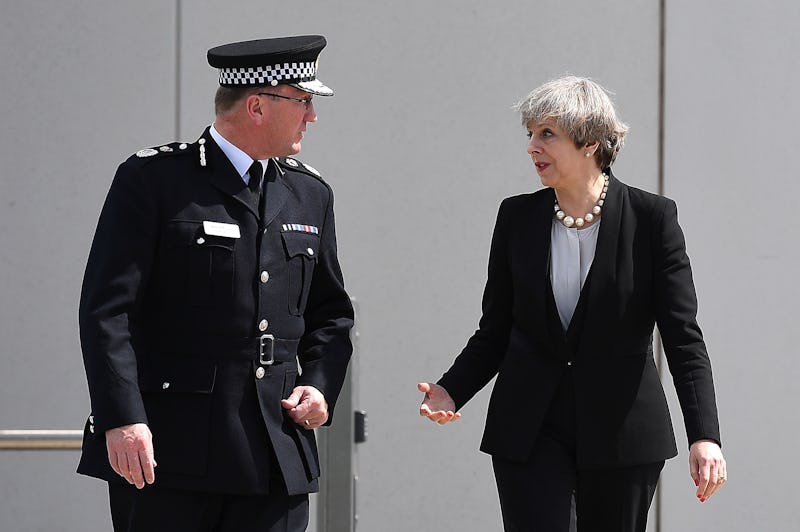 Leon Neal/Getty Images News/Getty Images
On Tuesday, British Prime Minister Theresa May reportedly announced that the United Kingdom would increase its terror threat level after the Manchester attack rocked the city the night before. According to the Associated Press, the U.K. upped its threat level from severe to critical on Tuesday. The website of the U.K.'s MI5 Security Service confirmed the change, showing the kingdom's threat level "from international terrorism" as critical.
The increased security alert came a day after more than 20 people were killed and dozens of others were injured when an explosion occured in Manchester, at the end of an Ariana Grande concert. ISIS claimed responsibility for the attack, raising public concern around the world about extremist violence. With the increased threat level, that concern was also reflected by the U.K. government.
According to MI5, critical is the highest threat level in the U.K. Prior to the prime minister's announcement, the country was already under a severe threat level, which is just below critical on the spectrum. The elevated threat level means that the government now believes "an attack is expected imminently," whereas a severe threat level meant that an attack was "highly likely." In addition to conveying the threat level, the MI5 website also encouraged people to call the service's Anti-Terrorist Hotline with any information about possible terrorist activity.
MI5's website reports that the last time the threat level reached critical was June 30, 2007. According to The Guardian, the threat level was increased at that time in response to an attempted car bombing at the Glasgow airport in Scotland. Just before the Glasgow incident, an attempted car bombing reportedly also failed at an airport in London. Since that time, according to MI5, the threat level in the U.K. has mostly oscillated between severe and substantial, which means that an attack is a "strong possibility."
May's announcement on Tuesday did not appear to have any immediate impact on the public. According to The Daily Express, the heightened threat level means that armed forces could replace typical police officers in certain security situations. May's statement reportedly cautioned that a "wider group of individuals" could be linked to Monday's attack in Manchester.
The work undertaken throughout the day has revealed it is a possibility we cannot ignore that there is a wider group of individuals linked to this attack... This means that their assessment is not only that an attack remains highly likely but that a further attack may be imminent.
On Tuesday, the director of MI5, Andrew Parker, reportedly issued a statement in response to Monday's attack. "Everyone at MI5 is revolted by the digusting terrorist attack in Manchester last night," he said, promising that the force is doing "all we can" to keep everyone safe. The heightened threat level may lead to more public concern, but it's ultimately part of that promise.