The Best Black Friday Sales At Ulta Include 40% Off ABH Highlighter Palettes & $10 Mascara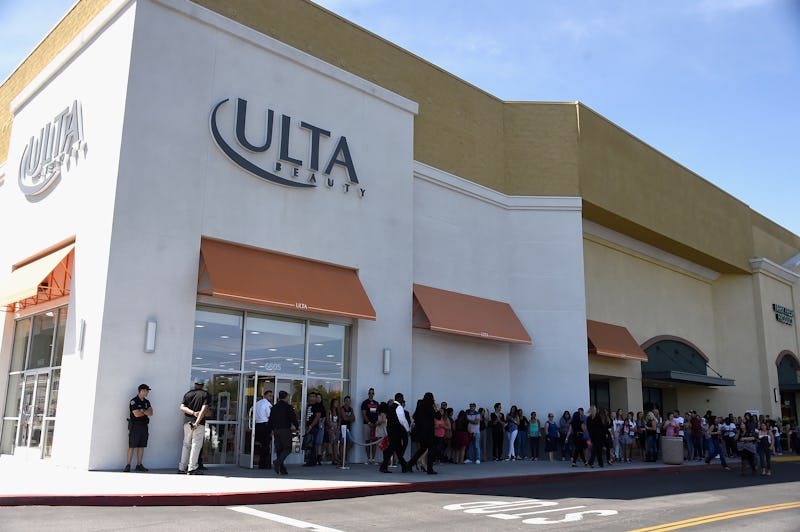 Frazer Harrison/Getty Images Entertainment/Getty Images
With Black Friday nearing (can you believe it?), and daylight savings screwing with your mental clock, feeling like your shopping time is rushed is normal. Although it feels like there's no time to buy your highlighter and blush duos, Ulta's Black Friday 2018 Sale is already here. So a discounted face beat of your dreams should put you back in the holiday spirit.
Not every beauty lover's toes are twinkling at the idea of Black Friday because they know the shopping competition (especially for makeup) is too real. Thankfully, online shopping exists in this era, and Ulta is greeting gurus everywhere with deals on fan favorites that'll have a hole burning in your pocket to purchase. From deals on Anastasia Beverly Hills to TooFaced, there's a sale on at least one makeup geek's go-to beauty brand.
Starting online on Thursday at 5 PM CT and 6 PM in stores, Ulta will unveil all its beauty busters to shoppers, which will only be on shelves while quantities last. So for your sake, get your powdery goods while you can.
Even if you weren't planning on dressing up and getting your glam on this holiday season, Ulta's Black Friday sales may be your reason to do so this year.
Here are the best picks from the sale.
50% Off Morphe 9-Piece Vegan Brush Set
Regularly a $39 value for this 9-piece set of vegan brushes, Ulta brings it to face beaters for less than $20. You, like, might as well grab this while you're out shopping.
50% Off Naked Petite Heat Eyeshadow Palette
The Naked Heat palette in its petite packaging is only going to cost you $15 on Black Friday for some travel-sized glam. Are you going to pass up this baby sized beauty?
40% Off Anastasia Beverly Hills Highlighter Kits
Two of the holy grails of highlighter are being sold at Ulta for half its usual price. Both the original glow kit and the sugar glow kit from ABH can be your stocking stuffer for 40% off.
$30 NYX Sugar Trip 24 Days Of Beauty Advent Calendar
Instead of chocolates, why not get yourself an Advent calendar with hidden beauty products? NYX slips this Ulta exclusive Advent calendar with lippies and shadows for $30.
$10 Mascaras
Urban Decay's Troublemaker is only one of many mascaras getting its price cut down for Black Friday. You can also get $10 mascaras from Tarte, Smashbox, IT Cosmetics and more.
$5 OPI Nail Lacquers
All nail lacquers from OPI are $5 this Black Friday, which sounds like a mistake, but no. Just a sweet deal on polish.
$10 BareMinerals Prime Time Foundation Primer
If you know anything about makeup, then you know it's a crime not to prime. And depending on your mastery level of doing your face up, you're probably almost always in the market for one. BareMinerals' Prime Time primer is only $10 at Ulta, so do what you will with that knowledge.
$15 STILA Little Big Shots Duo
Stila has captured hearts for its eye products and Ulta is giving the brand's Little Big Shots Duo a discount for customers at $15 (orig. $25) and that's a holiday miracle.
It's no secret that Ulta is having what seems like a blowout sale. So if there is a palette or blush kit missing from your already hefty collection, Ulta may be the place to get it this time around. A happy holiday, indeed.