Uma Thurman Took On Harvey Weinstein In The Fiercest Thanksgiving Message Ever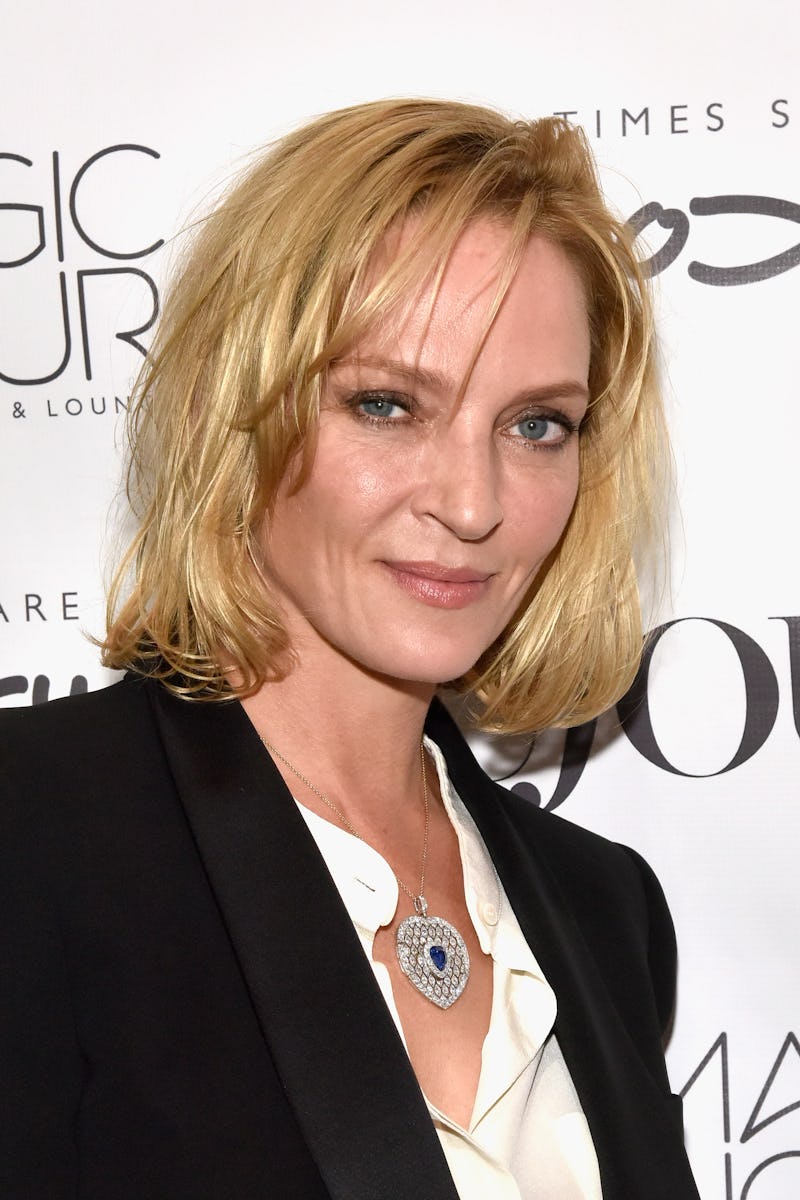 Eugene Gologursky/Getty Images Entertainment/Getty Images
If you want to witness a ferocious example of holiday spirit, then you need look no further than Uma Thurman's Thanksgiving message to Harvey Weinstein. In an Instagram post published on Thursday, the Kill Bill actor shared some holiday joy while simultaneously delivering some choice words addressed directly to Weinstein. Thurman began the post by stating, "I am grateful today, to be alive, for all those I love, and for all those who have the courage to stand up for others. I said I was angry recently, and I have a few reasons, #metoo, in case you couldn't tell by the look on my face."
Thurman's post then continued, "I feel it's important to take your time, be fair, be exact, so... Happy Thanksgiving Everyone! (Except you Harvey, and all your wicked conspirators - I'm glad it's going slowly - you don't deserve a bullet) -stay tuned." This is the first statement that Thurman has provided about Weinstein, who has been accused by more than 90 women of sexual harassment, assault, and rape allegations. The two have worked together on seven movies throughout Thurman's career including the Quentin Tarantino hits, Pulp Fiction and Kill Bill.
In an interview with Access Hollywood earlier this month, Thurman revealed that she was not yet ready to speak on the issue of endemic sexual misconduct in Hollywood. "I don't have a tidy soundbite for you, because I am not a child and I have learned that when I have spoken in anger, I usually regret the way I express myself," Thurman explained, "So I've been waiting to feel less angry, and when I'm ready, I'll say what I have to say."
Judging from her post, Thurman is still angry, but her message is all the more eloquent and powerful for it. Fittingly, perhaps, Thurman chose to accompany her words with an image taken from Kill Bill, when she played The Bride — a character who is violently betrayed by her own team, and who sets out to wreak a slow, careful vengeance against them. The movie was produced by Weinstein, so Thurman's use of the image alongside her statement against him feels like a stern reclaiming of power concerning the allegations that he's currently being investigated for.
At the start of October, Tarantino, who had worked with Weinstein for much of his career and collaborated with Thurman on Kill Bill and Pulp Fiction, addressed the allegations against the Hollywood mogul. In a note shared on Twitter by his friend, the actor Amber Tamblyn, Tarantino expressed that he was "stunned and heartbroken about the revelations," concerning his "friend for 25 years." A few weeks later, in a long conversation with the New York Times, Tarantino divulged, "I knew enough to do more than I did," and elaborated:
There was more to it than just the normal rumors, the normal gossip. It wasn't secondhand. I knew he did a couple of these things. I wish I had taken responsibility for what I heard. If I had done the work I should have done then, I would have had to not work with him.
While Tarantino's response was understandably somber, Thurman's Thanksgiving message concerning the allegations is pure dynamite. In fact, it's a bright, formidable spark in the middle of what has been a dark and difficult few months of revelations and allegations within the industry. And by channeling the unapologetic ferocity of The Bride with which to address Weinstein's alleged actions, Thurman is giving us all something a little extra to be thankful for this holiday.
Signing off her message with the ominous statement of "stay tuned," seems to imply that this is only the first chapter of what Thurman has to say on the matter. And suffice to say, the world eagerly awaits whatever she has to say next.