These Ads Were Rejected For Being Too Sexual For The New York City Subway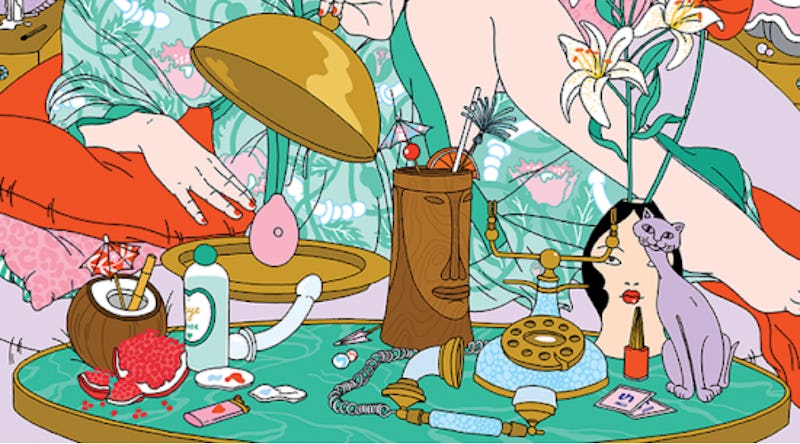 Laura Callaghan/Unbound
If you've ridden the New York City subway recently, you've probably seen ads for Roman, a new app that helps men discretely buy medicine for erectile dysfunction. Or perhaps you spotted an ad for The Museum of Sex, featuring the words SEX in bold type. Or maybe you spent your ride staring at an ad for breast augmentation surgery. One thing you haven't seen, though, is a series of ads by the women's sexual health company Unbound.
As reported first by Pavithra Mohan in FastCo, the Metropolitan Transportation Agency (MTA) has turned down a series of ads commissioned by Unbound, a woman-owned, feminist company that sells everything from vibrators to lingerie to lube. The Unbound ads don't feature any nudity. They don't even use the word "sex" or name any of the toys that are artfully scattered throughout the scenes. In fact, unless you looked really hard (like Where's Waldo hard, but with sex toys) or were super familiar with current sex toys, you probably wouldn't realize what the ads were for at all.
"The prompts that we initially gave the artist when we talked to them was 'Show us what self-love means to you.'" Sarah Jayne Kinney, co-founder and director of content at Unbound tells Bustle. "And, in their style, what does that look like? A lot of our products either aren't super phallic or aren't obviously sex toys. We want them to be products that can be left on your nightstand. So we didn't necessarily hide them — they're all sort of just part of the scenery."
According to Unbound, the third party company that approves MTA ads, Outfront Media, told Unbound that their ads were rejected because they break two New York laws, one that "prohibits the dissemination of indecent material to minors" and one that "prohibits the public display of offensive sexual material." The ads were commissioned by Unbound and created by a series of artists — including Laura Callaghan, Loveis Wise, and Kristen Liu Wong — in aesthetics that will be familiar to anyone who spends time on Instagram. The only text in the ads is the Instagram handle of each artist, as well as the Unbound URL. (Bustle reached out to the MTA and Outfront Media for comment, but did not receive an immediate response.)
Unbound primarily sells sex toys and other sex-related items, but they don't call themselves a sex toy company. Instead, you're more likely to hear CEO Polly Rodriguez describe the company as "sexual wellness" or "women's wellness" company. Kinney says that's because sexual health is a wellness issue.
"Pleasure is a really big part of sexual wellness," Kinney says. "If it's important for someone with a penis to be able to get an erection, then women need to have access to the tools that help them get aroused. We view ourselves as a company within that space. We consider sexual wellness as something that's really important to being a healthy, well-rounded human being. And therefore it's important that we're not ashamed and there is some visibility in the public —whether in discussion or advertising — about these issues."
While the Unbound team was concerned at first that their ads might be rejected — they're already banned from advertising on popular social platforms — they started seeing a shift in subway advertising as they were developing their own series.
"We initially thought there was a chance there would be pushback," Kinney says. "When you're a company in this space, you kind of expect it. But riding the subway recently, we've seen a bunch of ads that push the envelope a little more. As we got closer to submitting, we genuinely thought it would get through, because the space seems to be opening a little bit. So seeing ads for erectile dysfunction and these other ads, we thought, 'Great! Maybe this space is opening up a little more!'"
And Kinney says that her disappointment about the rejection of Unbound's ads doesn't mean she's not happy for other companies and organizations in the sex space getting their own ads up there.
"I'd like to see a world where all of our companies and institutions could advertise," Kinney says. "But I think women's sexual health and wellbeing isn't necessarily viewed as a medical issue. I think that the ED drugs have a better chance of getting through because people view that as a medical issue. But, truly, I wish that all companies would be able to advertise. We're not calling them out about being up there — it was actually encouraging. We thought it was sort of a green light, if anything."
"Viagra has been advertised for 20 years; men's health companies don't have to face the same types of challenges that women's health companies do."
Roman — the erectile dysfunction company whose subway ads and recent ad takeover of Grand Central Terminal were two of the series that gave Unbound hope — recognizes that there's a difference in how men's and women's sexual health are treated in the public sphere.
"Unfortunately, as far as we've come, there are still deep-rooted stigmas attached to certain aspects of health that prevent important and groundbreaking companies from telling their story, particularly for women's health," Zachariah Reitano, founder of Roman, tells Bustle. "Unbound is one powerful example of this and is another strong reminder that there is still a tremendous amount of work to do. Viagra has been advertised for 20 years; men's health companies don't have to face the same types of challenges that women's health companies do."
And the Museum of Sex, which now has ads throughout the subway system, originally ran into problems similar to the ones Unbound is facing now.
"Though founded in 2002, the Museum of Sex was unable to advertise on the subway for over 10 years," Lissa Rivera, curator of the Museum of Sex, tells Bustle. "The strictness of the MTA's policy even forbade the words Museum of Se* with an asterisk. It was a confounding situation given that at that time, on any given day, my commute was plastered with spreads for lingerie, liquor, and liposuction. When inclusion was finally granted, there would often be unending and seemingly arbitrary demands for revisions. In the past few years, there has been more acceptance, and this has been integral to the visibility of our programming, and revelation to many that we present a dynamic program in the context of the best in current scholarship."
"We're just so used to seeing things from the male gaze that as soon as things get flipped a little bit, we view it as offensive or obscene or something to be shut down entirely."
Women's bodies and sexuality have been used for generations to sell everything from beer to designer clothing to hamburgers to organ donation. The issue isn't sexually explicit messaging and imaging. The issue is the male gaze versus the female gaze.
"We're uncomfortable when women create their own narratives around sexuality," Kinney says. "Any time a woman creates that narrative herself, whether it depicts a body or something she's saying, we're uncomfortable with that. We're just so used to seeing things from the male gaze that as soon as things get flipped a little bit, we view it as offensive or obscene or something to be shut down entirely."
Unbound isn't the first women's health company to be turned down by the MTA. Thinx, a woman-owned company that makes underwear specifically designed to be worn during menstruation, was also initially rejected. After the company started a media and social media storm when their director of marketing was told not to 'make this a women's rights thing', the MTA reversed the decisions and allowed the ads to run. They even contributed to Thinx being named one of FastCo's World's Most Innovative Companies of 2017.
Unbound is running their own social media campaign in response to the rejection of their ads. People who want to show their support can follow them on Instagram and Facebook and share the artwork using the hashtag #WTFMTA.
Correction: A previous version of this story included a Museum of Sex ad that never ran on the subway. It has been updated with an ad that was approved by the MTA.