'Underground's Creator Has Big Plans For Season 3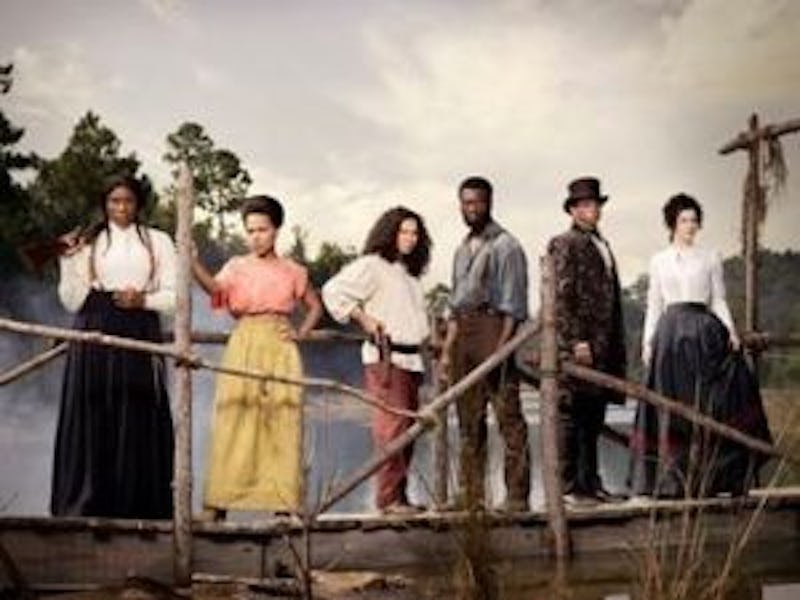 WGN America
For those who like their history lessons delivered with heart-stopping drama and tear-prompting pathos, Underground has transcended the usual Hollywood slave narrative to tell the rousing and harrowing story of a group of enslaved people attempting (and in some cases, succeeding) to escape a Georgia plantation. But unfortunately, there's been no announcement of whether or not Underground will return for Season 4. Underground's ratings in the second season weren't as strong as its first, and the show's network, WGN America, is currently undergoing some changes. When Outsiders was cancelled by WGN in April 2017, Tribune Media CEO Peter Kern explained, "we will be reallocating our resources to a more diverse programming strategy and to new structures."
Now, Outsiders was providing a relatively unique perspective — you don't see too many scripted TV shows about Kentucky — but certainly, when it comes to increasing representation of nonwhite characters, Underground is more diverse, with a largely black cast. Unfortunately, as Essence speculates, Underground may be cancelled, because Tribune Media is currently being purchased by media company Sinclair Broadcast Group, whose CEO, Chris Ripley, says, "[WGN America] could be run much more profitably on a fraction of what they spend on programming," according to Essence. If the new, Sinclair version of WGN America decides to cancel Underground, there's always the chance another cable network or streaming service that would step in and pick it up. If not, it would be infuriating to see the series cut off after just two seasons.
Because the third season of Underground absolutely should happen, regardless of what's going on with WGN America's business strategy. It's a great show that's having a fantastic second season. And there's a lot to look forward to if the show returns. Underground creator Misha Green tells Vanity Fair that she has a plan for up to "five seasons" of the series, and that she plans to move forward in time to dramatize the Civil War.
I think a thing that's little known, that I didn't even know when I first started this, is the Underground Railroad became a natural spy network for the North during the Civil War. There's a whole spy tale to be told, and interesting stuff going on with Harriet being the first woman to do a raid in any war in American history.
Moving the show into Civil War territory could be an even more enticing direction for the series, which had particularly well-reveiwed responses to its self-contained Harriet Tubman episode in Season 2. And the history of Tubman's work as a spy during the Civil War is a story that I've only seen dramatize once before — in Crissle West's segment in a 2015 Drunk History episode.
Needless to say, that's a piece of history that's begging to be adapted by Green and actress Aisha Hinds. The Tubman story is also being adapted into a biopic starring Cynthia Erivo, so hopefully 2018 will make up for lost time and properly tribute the legacy of this trailblazing black woman. And beyond Hinds' Tubman, Underground should return for a third season so audiences can continue to be captivated by the story of the Macon 7.