Undocumented Immigrants Can't Even Escape Hurricane Harvey Without The Threat Of Deportation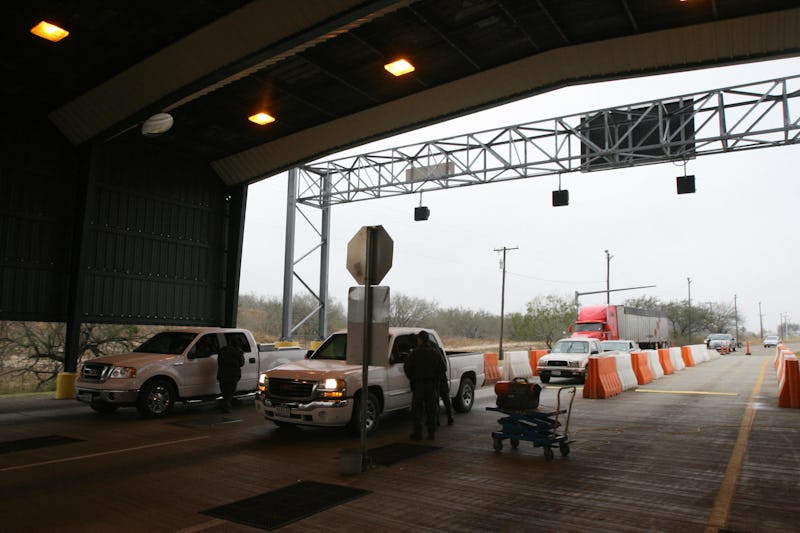 JOSE CABEZAS/AFP/Getty Images
As most of the Texas coastline braces for the biggest storm in almost 20 years, authorities are saying that at least one thing won't change. It was announced that the U.S. Border Patrol would keep checkpoints open during Hurricane Harvey, even though several areas along the coast have already been evacuated as the state prepares itself for a Category 2 storm.
According to The Texas Tribune, U.S. Customs and Border Protection wrote in a statement:
Border Patrol checkpoints will not be closed unless there is a danger to the safety of the traveling public and our agents. Border Patrol resources, including personnel and transportation, will be deployed on an as needed basis to augment the efforts and capabilities of local-response authorities.
Bustle has reached out to U.S. Customs and Border Patrol for comment and confirmation of this statement, and this article will be updated accordingly when and if they respond.
The Texas Tribune also reports that the Texas chapter of the ACLU responded to this decision. Astrid Dominguez, an ACLU policy strategist was quoted as saying:
Safety should be a priority regardless of immigration status. This is very concerning for the community. It sends a wrong message.
Hurricane Harvey is expected to make landfall in the early hours of Saturday morning near Corpus Christi, Texas. In addition to bringing winds of over 110 mph, the storm is likely to be preceded by an extremely dangerous storm surge that could flood multiple counties. The hurricane and storm surge watches and warnings also stretch into parts of the Mexican coastline, and keeping the border as tightly manned as usual could put people fleeing at risk.
For now, both Texas and Louisiana have declared states of emergency, and a large swath of land around where the storm is projected to hit in Texas has been evacuated.
According to the U.S. Customs and Border Patrol's statements as reported by The Texas Tribune, their actions will not get in the way of anyone's safety; CBP Public Affairs Officer Roberto Rodriguez stated:
We're not going to impede anybody getting out of here, but at the same time we're a law enforcement agency, so we still have to conduct our duties.
And according to the ACLU, this constituted a decision to prioritize policy over safety for some people trying to evacuate the area of the storm.
Hurricane Harvey will likely be the first natural disaster that the Trump administration has to face, and their ability to deal with its aftermath will be telling. The president has already reached out to Texas Gov. Greg Abbott promising his support.
However, the decision to keep manning the border checkpoints could mean that both the guards and the people trying to make it across the border to safety could be put at unnecessary risk.