Texas Agrees To Shelter Undocumented Immigrants During Hurricane Harvey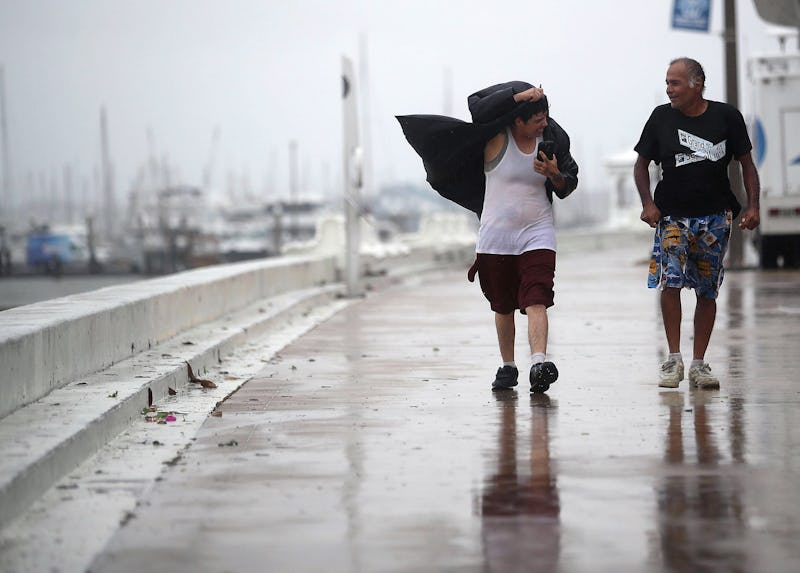 Joe Raedle/Getty Images News/Getty Images
Texas state officials and federal immigration agencies are attempting to ease concerns surrounding undocumented immigrants' ability to seek refuge from Hurricane Harvey without fear of deportation as the Category 3 storm bears down on the Lone Star State. Texas Gov. Greg Abbott said undocumented immigrants will not be required to show identification to access services at hurricane shelters throughout the state.
"That will not be an issue," Gov. Abbott told MSNBC's Stephanie Ruhle on Friday when asked if undocumented immigrants would be required to show identification at hurricane shelters. Abbott said it was his understanding that people would not be asked for identification based on instructions he had received from the U.S. Customs and Border Protection the day before.
"What everyone is focused on right now is doing all we can to protect life," he said. "We all have a high regard for life. We want to ensure the safety of all lives and we're prepared to take all measures to do so."
Officials from the Border Protection agency and U.S. Immigration and Customs Enforcement (ICE) also sought to calm fears Friday ahead of Hurricane Harvey's landfall. The two federal immigration agencies said they would not conduct "non-criminal" immigration actions at any location where those impacted by the hurricane might be seeking shelter.
"Routine non-criminal immigration enforcement operations will not be conducted at evacuation sites, or assistance centers such as shelters or food banks," the two agencies said in a joint statement. "The laws will not be suspended, and we will be vigilant against any effort by criminals to exploit disruptions caused by the storm."
Earlier in the day, U.S. Customs and Border Protection said it would not close its checkpoints in Texas during Hurricane Harvey. The move raised concerns some undocumented immigrants residing in the hurricane's path would be deterred from seeking shelter or refuge from the storm out of fear of being deported.
In a statement released Friday, the American Civil Liberties Union called the move "disgusting" and claimed it broke with the Border Patrol's past practices. "The Border Patrol should never keep checkpoints open during any natural disasters in the United States," Lorella Praeli, ACLU director of immigration policy and campaigns, said. "Everyone, no matter the color of their skin or background, is worth saving."
Hurricane Harvey is expected to make landfall near Corpus Christi sometime late Friday or early Saturday, bringing with it flooding, heavy rains, strong winds, and potentially life-threatening storm surge.