Trans Undocumented Immigrants Face New Wave Of Fear Under Trump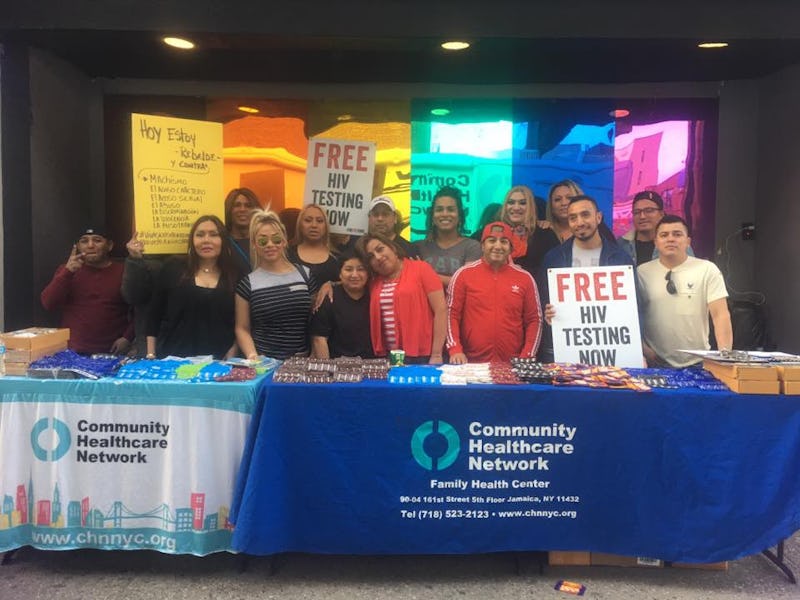 Liamm Winslet
Since Donald Trump's presidential victory, it has often felt like the trans community in the United States is hitting a new phase of uncertainty. Overall, Republicans have been more hostile to trans rights than Democrats, with the party's platform for the 2016 convention in Cleveland calling for legislation to block transgender people from using bathrooms that match their gender identity. Then, once Trump actually took office, his administration rescinded protections for transgender students in public schools that allowed them to go to the bathroom of their choice.
However, as tenuous a time as it is for the trans community, the concerns are magnified for members who are undocumented immigrants. That is because in addition to the measures targeting the trans community, the Trump administration saw a new focus on immigration raids. According to the Washington Post, U.S. Immigration and Customs Enforcement arrests increased 32.6 percent from late January through mid-March of 2017 from the same period during 2016. Moreover, arrests of immigrants without criminal records doubled this year.
The immigration arrests hit the transgender community especially hard because for many, deportation to their home countries can be a matter of life and death.
"It's going to probably push the community back into hiding because people are nervous," says Cristina Herrera, founder and CEO of the Translatina Network.
She explains that many trans undocumented immigrants prefer staying in the United States, even if it means low-level and even dangerous work. "Low-wage jobs, even sex work, may be a better option than not being able to work somewhere else," Herrera says. "We choose to do service jobs, we don't mind getting paid whatever is the minimum and we will make it work because we don't want to go back and suffer. No matter how bad it is in the U.S., it's not as bad as Latin America."
"Emily" (she asked for her name to be changed to protect her privacy), an undocumented transgender woman in New York City who is originally from Ecuador, says she has been especially fearful since Trump took office. "I was already afraid being undocumented, but when he was elected, he started doing random searches and trying to deport people," she says in Spanish through a translator. "If I go back to Ecuador I know my life is going to be in danger."
In Ecuador, even before she began her transition, Emily says she was attacked and threatened by men who said they would kill her for being gay and a drag queen. She says she came to the United States 10 years ago on a visa, but overextended because she feared for her life. She says she is currently working with a lawyer to obtain asylum.
However, according to Herrera, the process is often more complicated than people may assume. To qualify, applicants must be living in the United States, prove fear of persecution in their home countries due to race, religion, nationality, membership in a particular social group or political opinion, and file an application within one year of being in the country.
"There is homophobia. There is transphobia. There are high crime rates by gangs. The government doesn't respect our lives and the educational system doesn't respect or support us. Sometimes, our families may not even want us," Herrera says about conditions in Latin America. "So there isn't a lot out there for us."
In 2015, U.S. Citizenship and Immigration Services received 84,236 affirmative asylum applications, with 14,344 forms ultimately approved. They've already received 83,405 through the third quarter of 2016. Around 20 percent of these applications are filed in New York City alone, with the state getting anywhere from 15,000 to 20,000 applications per year, according to Margarita Guidos, a staff attorney in the Immigrant Protection Unit with New York Legal Assistance Group. Of the 2,283 applications filed in New York in June 2016, only 443 cases were actually completed and 62 cases approved, according to Guidos.
Guidos estimates that around 200 asylum seekers in New York identify as trans, with the majority seeking asylum status because of persecution. An estimated 0.6 percent of adults, or around 1.4 million people, identity as transgender across the country, according to a 2016 report by the Williams Institute at the University of California, Los Angeles. Within this population, based on the Williams Institute's 2013 report, an estimated 267,000 LGBTQ-identified individuals are undocumented and 71 percent of undocumented LGBTQ adults are Hispanic.
Guidos says New York City has one of the highest approval rates for asylum cases in the country because it's an immigrant-friendly city. But with the new presidential administration, the future is more uncertain than ever. "If you talked to me six months ago, I would say, 'Yeah, absolutely, people are understanding what trans means. They are understanding that these people are your neighbors and your co-workers and your friends.' But now, I'm not so sure. We are regressing, and I'm not sure when that will turn around."
Dennis Camacho founded the Translatina support group that operates in the AIDS Center of Queen County in 2008. He shares his new worries for many of the members who attend his weekly meetings. "What's going to happen because of [Trump's] agenda? They don't know what's going to happen, who is going to get deported and how their rights are going to be taken away. It's definitely created uncertainty in the community and a lot of fear."
Despite feelings of uncertainty within the Translatina community, Emily says she is comforted by New York City's status as a sanctuary city and the sense of community fostered through the support group. However, the possibility of deportation is a constant source of trepidation. "I try to live my life without trouble," she explains. "Being sent to my home country is my biggest fear. They already tried to kill me."