Two Women Told The 'NY Times' What It's Like To Work For Trump While Undocumented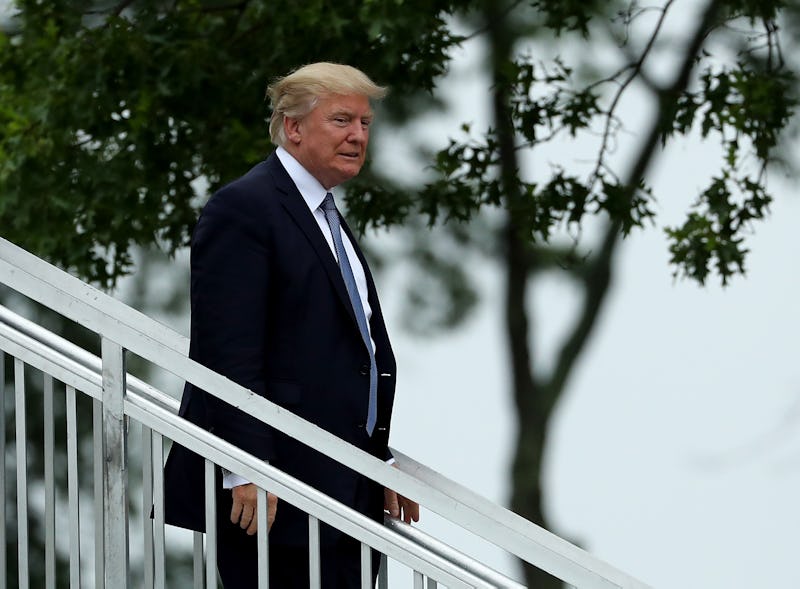 Elsa/Getty Images Sport/Getty Images
Donald Trump has built his political career largely on fervent opposition to illegal immigration, and yet as a businessman, he's often hired undocumented immigrants to work on his properties. Now, an undocumented woman who works at Trump's Bedminster golf club is speaking out against him, and claims she's been harassed and discriminated against at her job.
Victorina Morales has been working at Trump's Bedminster club since 2013, she told The New Times, when she successfully applied with phony documents. An undocumented immigrant from Guatemala, she says she's made Trump's bed, cleaned his toilet and trophies, and been in the room while the president met with cabinet secretaries and other high-profile officials.
But Morales says that she and other employees at the course have grown fed up with the president's disparaging comments about immigrants. She also says that one of her supervisors makes abusive comments about her intelligence and residency status, and is exploring a possible lawsuit claiming workplace discrimination.
"We are tired of the abuse, the insults, the way he talks about us when he knows that we are here helping him make money," Morales told The Times. "We sweat it out to attend to his every need and have to put up with his humiliation."
Sandra Diaz emigrated to the United States from Costa Rica and worked at Bedminster between 2010 and 2013. Like, Morales, she was hired by the club as an undocumented immigrant but has since gained legal residency. Diaz says she washed and ironed Trump's clothes, sheets and towels, and did the same for his wife and youngest son, Barron — though she noted that their garments were washed in a smaller, separate washing machine with a "special detergent."
Diaz described Trump as "extremely meticulous about everything," and described two polar opposite experiences she had with the future president. In one instance, Trump called Diaz to his manor at the clubhouse, told her she did a "really great job" cleaning it, and handed her a $100 bill. The same year, however, Trump had an "outburst" after finding orange stains on one of his shirts; Diaz tells The Times that they were the remnants of his own makeup, and that she had a hard time getting them out.
There's no sign that Trump himself was aware of Morales' or Diaz's immigration statuses when they were hired. However, both women told The Times that at least two supervisors at Bedminster knew they were in the country illegally — and took action to help them stay under the radar and keep their jobs.
Morales told The Times that she expects to be forced out of her job after going public, and recognizes that she could be deported. But Trump's comments about immigrants, as well as the abuse she says she's suffered at her job, compelled her to come forward regardless.
These aren't the first reports of Trump making money off the labor of undocumented immigrants. The Times reports that Trump hired 200 undocumented Polish workers to demolish the building that preceded Trump Tower on Fifth Avenue in New York City. According to The Times, they worked 12-hour shifts for as little as $4 an hour, often without protective gloves or hard hats. The Polish workers later sued him, and Trump paid $1.37 million to settle the case, according to The Times.