United Responds To Video Of Man Being Dragged Off Flight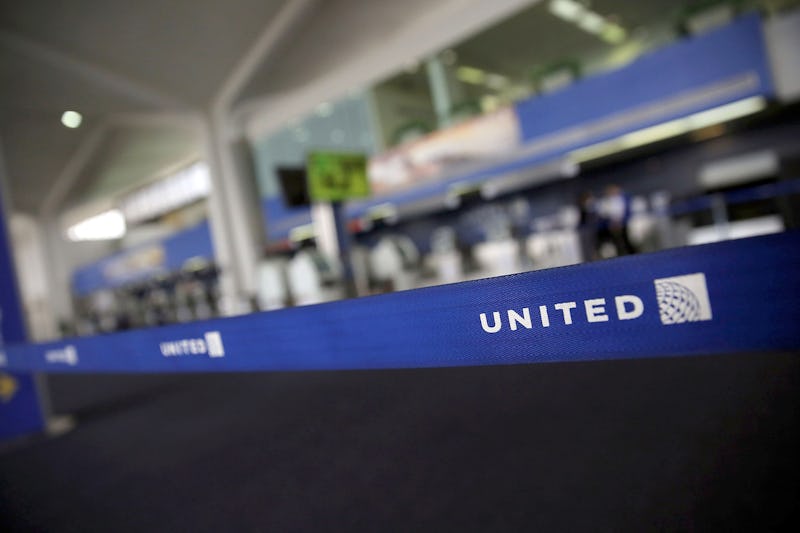 Spencer Platt/Getty Images News/Getty Images
A video of a man being dragged off an United Airlines plane due to overbooking made its rounds online Monday morning, and the ensuing outcry over his treatment was hard to miss. The passenger, reportedly a doctor who had patients to see Monday, was chosen at random to leave the Sunday evening flight he had booked because United had oversold the flight. United's CEO Oscar Munoz responded to the video of the passenger Monday afternoon, stating that he was sorry for "having to re-accommodate these customers":
This is an upsetting event to all of us here at United. I apologize for having to re-accommodate these customers. Our team is moving with a sense of urgency to work with the authorities and conduct our own detailed review of what happened. We are also reaching out to this passenger to talk directly to him and further address and resolve the situation.
United apparently oversold a flight from Chicago to Louisville and offered vouchers in return for passengers giving up their seats. When no one volunteered, United chose four passengers at random — after the plane had already been boarded — to leave the flight. While three of the passengers left, one man refused, stating that he had to get home. The airline reportedly called the police, and a plainclothes Chicago Police Department officer forcibly pulled the man from his seat and dragged him down the aisle by his arms.
United spokesperson Charlie Hobart told The New York Times that "we had asked several times, politely" for the man to give up his seat before forcing him off the plane.
We had a customer who refused to leave the aircraft. We have a number of customers on board that aircraft, and they want to get to their destination on time and safely, and we want to work to get them there. Since that customer refused to leave the aircraft, we had to call the Chicago Police Department, and they came on board.
The Chicago Police Department confirmed in a statement that officers were called to respond to the situation and forcibly removed a passenger:
At approximately 6:00 p.m., a 69-year-old male Asian airline passenger become irate after he was asked to disembark from a flight that was oversold. The passenger in question began yelling to voice his displeasure at which point Aviation Police were summoned. Aviation Officers arrived on scene attempted to carry the individual off of the flight when he fell. His head subsequently struck an armrest causing injuries to his face. The man was taken to Lutheran General Hospital with non-life threatening injuries. Ongoing investigation.
Indeed, video of the passenger bloodied and distressed were also posted on Twitter, as he repeated over and over again that he had to go home.
Many people responded to United with outrage — pointing out that the airline shouldn't have oversold in the first place, trolling its Twitter, and calling for a boycott. The response from the CEO, however, didn't assuage many concerns. "Uhh "re-accommodation" was not the main problem here," writer Camille Beredjick wrote.