Boris Johnson's Resignation Letter Is Offensive On SO MANY Levels, So Let's Examine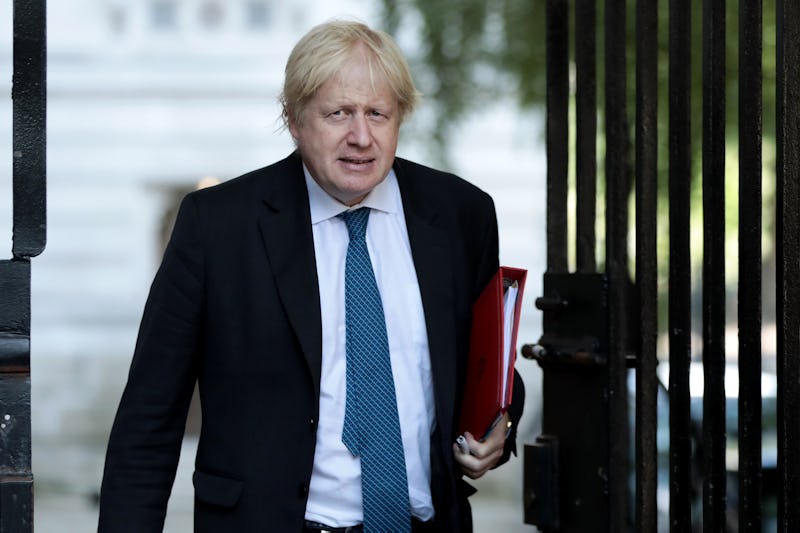 Dan Kitwood/Getty Images News/Getty Images
Boris Johnson has resigned as foreign secretary over Theresa May's Brexit plans, objecting to the "soft Brexit" proposals put forward by the Prime Minister after the July 6 Chequers summit. In his letter of resignation, he wrote that the Brexit "dream is dying, suffocated by needless self-doubt." He added, "the government now has a song to sing. The trouble is that I have practised the words over the weekend and find that they stick in the throat." So what can we infer from Boris Johnson's resignation letter?
Well, it actually exposes more than Johnson's stances on Brexit. Both the points expressed and the language used to convey them are arguably fraught with sexist and colonialist undertones — perhaps not all that surprising, considering he's previously been forced to apologise for addressing the shadow foreign secretary, Emily Thornberry, by her husband's title, and for using racial slurs to refer to people in Commonwealth countries, as the BBC reported. Johnson later apologised for the comments, adding that "I despise and loathe racism."
The letter is problematic pretty much from the beginning. Johnson opens with "Dear Theresa", neglecting to use the Prime Minister's full title — but he signs it, underneath his written signature, "The Rt Hon Boris Johnson MP". Dr Jai Mackenzie, a fellow in English Language at the University of Birmingham, told Bustle, "In doing so he refuses to acknowledge her status and authority. This practice of calling senior women by their first names (but senior men by their full names and/or titles) is a common complaint amongst women in the workplace as it works to diminish women's status and achievements."
Dr Emma Moore, a reader in sociolinguistics at the University of Sheffield, compared Johnson's letter of resignation with that of former Brexit secretary David Davis, who resigned on July 9. She told Bustle, "Note that David Davis' letter begins 'Dear Prime Minister' and is signed off 'David Davis'".
What's more, Mackenzie explained, Johnson frequently aligns his own positions with decisiveness and action, while associating May with indecision and ineffectiveness. He describes the Leave stance as "an unambiguous and categorical promise that if [British people voted Leave] they would be taking back control of their democracy" — sounds pretty definitive, compared with the "needless self-doubt" he indirectly associates with May.
Mackenzie said, "The contrast between the indecisive stance ascribed to May, and Johnson's own direct, confident style echoes gendered stereotypes that men are more confident and aggressive than women, who are by contrast more timid and indecisive. Perhaps he is trying to mobilise these stereotypes to his advantage here, with the implication that May, as a woman, can never be as confident a leader as him."
And then there's the female cyclist issue. Describing his campaign to alter lorry windows in order to improve the safety of cylists, Johnson writes, "Even though there had been a horrific spate of deaths, mainly of female cyclists, we were told that we had to wait for the EU to legislate on the matter." (Worth noting: according to the Financial Times, the EU rules on lorry windscreens have been changed, and "new, safer lorries" will "arrive from next year").
If you're thinking that "female cyclists" reference seems a bit jarring, you're not alone. Johnson goes on to refer to the legislation as "a law to save the lives of female cyclists". Dr Emma Moore told Bustle, "Highlighting that there are more female deaths serves to make the deaths seem even more tragic because women are commonly framed as more vulnerable than men, and it makes a stronger argument if society is not doing everything it can to protect the vulnerable. So, while on the surface, this looks as if Boris is working to help women, what he's actually doing is reinforcing their position in society as weaker and more vulnerable than men."
Dr Jai Mackenzie also noted Johnson's reference to the "government's campaign for 12 years of quality education for every girl," a platform he launched in April 2018. Mackenzie said, "By drawing attention to his role in addressing issues that affect women, he again subtly reminds us of the PM's position as a woman — who, he implies, has nevertheless not been the one to lead the way with issues of women's rights — indeed; he suggests that she is holding them back."
Johnson wouldn't be the first to suggest, of course, that May's leadership hasn't been beneficial to women. In November 2017, for example, MP Dawn Butler, shadow secretary for women and equalities and shadow minister for diverse communities, noted in the Independent that the gender pay gap of 14.1 percent "has remained the same for the past three years", while "women from black African backgrounds in full-time work [are] being paid 19.6 per cent less than their white male counterparts". When she was home secretary, May was accused of overlooking physical, sexual, and racial abuse of women detained at Yarl's Wood. It's hard to believe Johnson's comments are genuinely motivated by a commitment to gender equality, however, given both his questionable track record and the broader context of the letter.
The implications of Johnson's letter extend beyond gender. He claims, in reference to the continued influence of EU law, that the UK is "truly headed for the status of colony." In the light of Britain's imperial past — a brutal history that, as Afua Hirsch wrote in the Guardian, is too often overlooked by British people — Johnson arguably offers a profound disrespect for the millions once subjugated under imperial rule, and the atrocities they were subjected to, by this invocation.
Dr Naaz Rashid, Associate Director, Sussex Centre for Cultural Studies, said of the comment, "It's insensitive obviously to former colonised countries (and their descendants) but is a seamless continuation of his various gaffes over the years... in that it shows a complete lack of awareness about racism, his own privilege and historically that of the UK."
"This is clearly outmoded language which might be considered offensive," Dr Emma Moore explained. "And this is precisely why Boris uses it — the connotations of being a colony are intensively negative — so, again, it serves his argument well. But in doing so, it also implies that 'colonies' (and indeed, former colonies of Britain) are valueless."
The statement's already provoked outrage online: Tottenham's Labour MP David Lammy described the comment as "atrocious", relating it to Johnson's previous use of offensive terms to describe Commonwealth citizens. Further Twitter users condemned Johnson for threatening a potential "status of colony" despite his past apologia for the British Empire, as This Is Africa reported when he became foreign secretary:
So Boris Johnson's out, his final words as foreign secretary laced with offensive rhetoric. But let's be honest: this is a man who reportedly said he was "increasingly admiring" of President Donald Trump in the midst of his family separation border policy, likened Hillary Clinton to "a sadistic nurse in a mental hospital", and described Barack Obama's removal of a bust of Churchill as a "symbol of the part-Kenyan president's ancestral dislike of the British Empire". Should we really be all that surprised?