A Very Trump-Friendly U.K. Official Just Resigned 3 Days Before The President's Visit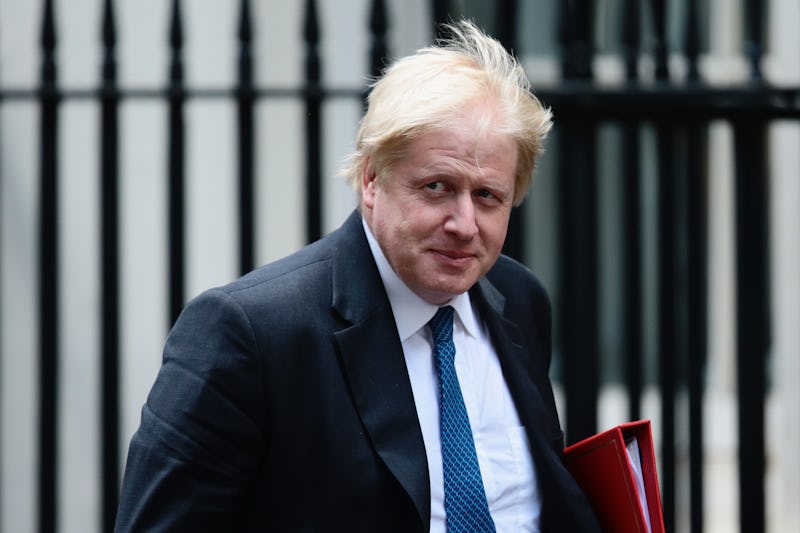 Jack Taylor/Getty Images News/Getty Images
The United Kingdom's foreign secretary stepped down on Monday, just as the United States president geared up for a trip to the British capital. Despite the two politicians' similar personas and hairstyles, the foreign secretary's exit has more to do with the political turmoil in his own country than his personal feelings toward the president. Still, the timing of the British official's departure raises questions about whether Boris Johnson and Donald Trump are friends.
Johnson's resignation stemmed from British Prime Minister Theresa May's plan for Brexit, The Guardian reports. Following a meeting in which May's cabinet discussed how the U.K. would leave the European Union, Johnson reportedly decided he couldn't support their strategy.
"This afternoon, the prime minister accepted the resignation of Boris Johnson as foreign secretary," a Downing Street spokesman said in a statement. "His replacement will be announced shortly."
Johnson's swift departure comes the same week Trump plans to visit London — and thousands of Brits plan to protest his arrival. Although the president's schedule didn't include a meeting with the former foreign secretary, Johnson has previously said he's "increasingly admiring" of Trump. "I have become more and more convinced that there is method in his madness," Johnson told a crowd last month, referring to Trump.
As a strong proponent of Brexit and a fan of President Trump, Johnson believes the American president would handle the U.K.'s departure from the European Union better than May.
"Imagine Trump doing Brexit," Johnson said in the same remarks last month. "He'd go in bloody hard … There'd be all sorts of breakdowns, all sorts of chaos. Everyone would think he'd gone mad. But actually you might get somewhere. It's a very, very good thought."
Johnson and Trump met for the first time just before Trump took office in January 2017. At the time of the Trump Tower meeting, Johnson was the most senior British official to meet with the president-elect.
Their relationship has shifted dramatically since 2016, when Johnson declared that he was "genuinely worried" about a Trump presidency. "The only reason I wouldn't visit some parts of New York is the real risk of meeting Donald Trump," Johnson said after Trump claimed radicalized Muslims had made London dangerous.
The two politicians have since found common ground, however. Trump joined Johnson in supporting Brexit, telling Fox News in 2016 that the U.K. would be "better off" without the European Union. "I think the migration has been a horrible thing for Europe," Trump said. "A lot of that was pushed by the EU."
Although Trump hasn't spoken publicly about his feelings toward Johnson, their relationship appeared much friendlier when they met at the United Nations in 2017. The Telegraph reported at the time that Trump greeted Johnson warmly and they had an "animated conversation, which at one point led to Mr. Trump shooting the Foreign Secretary a quizzical look."
Johnson further demonstrated his respect for Trump by advocating for his upcoming visit to the U.K. In January, other British politicians urged Johnson to cancel the trip over worries about how Trump would interact with Queen Elizabeth. The foreign secretary replied that her royal highness "is well capable to of taking this American president – or indeed any American president – in her stride, as she has done over six remarkable decades," The Independent reports.
While they may not exchange late-night phone calls, Johnson and Trump have forged a friendly relationship over the past two years. If nothing else, their hard-line approach to foreign affairs has put them on a similar wave length when it comes to how each of their countries interact with the rest of Europe.