The 'Bachelor in Paradise' Sex Scandal Is Getting The 'UnREAL' Treatment Next Season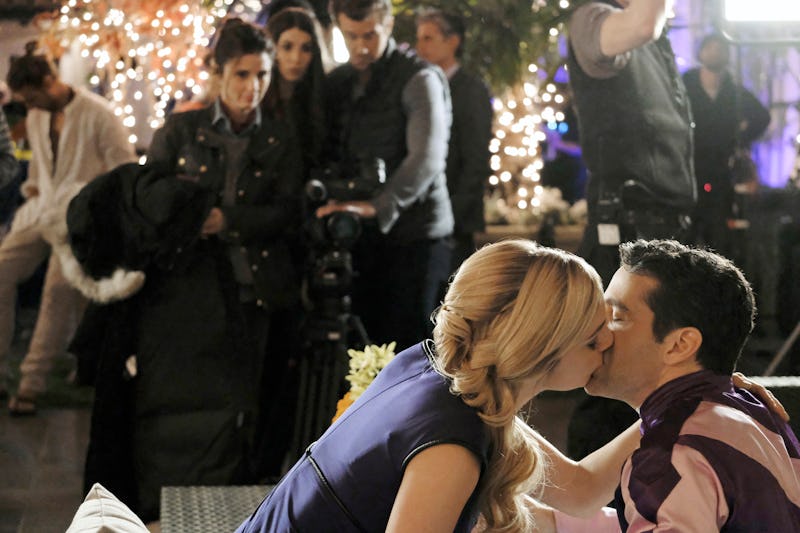 Lifetime/James Dittiger
Lifetime's UnREAL chronicles the shocking behind-the-scenes happenings of a fictional dating competition series. But although the series was co-created by a former Bachelor producer and there are certainly echoes of Bachelor storylines on the show, UnREAL often takes pains to exist in a world all its own. But even UnREAL executive producer Stacy Rukeyser, who doesn't watch reality TV, admits that there was one Bachelor Nation incident she was directly inspired by in crafting UnREAL Season 4.
When Bustle spoke to Rukeyser just before the premiere of UnREAL Season 3, she explained how the sexual misconduct scandal on Bachelor in Paradise between Corinne Olympios and DeMario Jackson just couldn't go unnoticed by her or UnREAL's crew.
As a refresher: BiP production was suspended last June after a producer allegedly reported feeling uncomfortable to ABC when witnessing a sexual interaction between Corinne and DeMario on set. The producer was reportedly concerned that Corinne was too drunk to consent to sexual relations, which led to an official investigation. Ten days later, the network claimed there was "no misconduct" between the two, something that both Corinne and DeMario stated at several points in interviews as the show resumed airing. The scandal and its resolution brought up broader issues about conduct on set that surprised even a TV veteran like Rukeyser.
"When one of the producers made a complaint to the studio, I found that really shocking because that show has been on for a long, long time and we have heard from a bunch of people who work in reality television about how accurate UnREAL is, which is also kind of frightening," she says. "Terrible things must have been happening all along, but no one ever made a complaint. Now, this time, someone complained."
As someone who's immersed in Hollywood's behind-the-scenes processes, Rukeyser's analysis of what could have happened on set goes even deeper. "Even to call the studio, I don't think people necessarily understand — when you're working on a crew, you don't always know who to call at the studio," she says. "Now, in the wake of #MeToo and all of this, people are putting the number for human relations on call sheets. But that's a really big deal, is my point, for somebody to call the studio."
But because most people will never really know what happened that day on the BiP set, Rukeyser feels there is so much there that's yet to be explored. "No newspaper or even tabloid magazine has been able to find who that producer was and get the story from them about what really happened," she says. "If it was what we heard about, if it was sex, if there was drinking, that the producer felt uncomfortable, felt like they needed to step in, was someone too drunk to consent?"
At this point, the parallels between Bachelor and UnREAL simply couldn't be ignored. "It was especially interesting to me, because of course, that's what we look at on UnREAL," she says. "And then when it all kind of went away, there were some people who believe that it was all just a big publicity stunt. And maybe that's true. I have no idea."
While UnREAL Season 3 will continue to follow "Suitress" Serena in her journey to find love, Rukeyser confirmed that Season 4 will dive into a Paradise-like scenario. "[The fallout from the BiP scandal] was very interesting to me and became the seed of an inspiration for Season 4, which we just finished shooting," she reveals. "That is Everlasting All Stars and you'll see a bit of inspiration from that scandal in there."
It may be tricky subject matter to navigate, but with Rukeyser and her UnREAL crew, it's certainly in the right hands.
If you or someone you know has been sexually assaulted, call the National Sexual Assault Telephone Hotline at 800-656-HOPE (4673) or visit online.rainn.org.