The Latest 'BiP' Allegations Are Troubling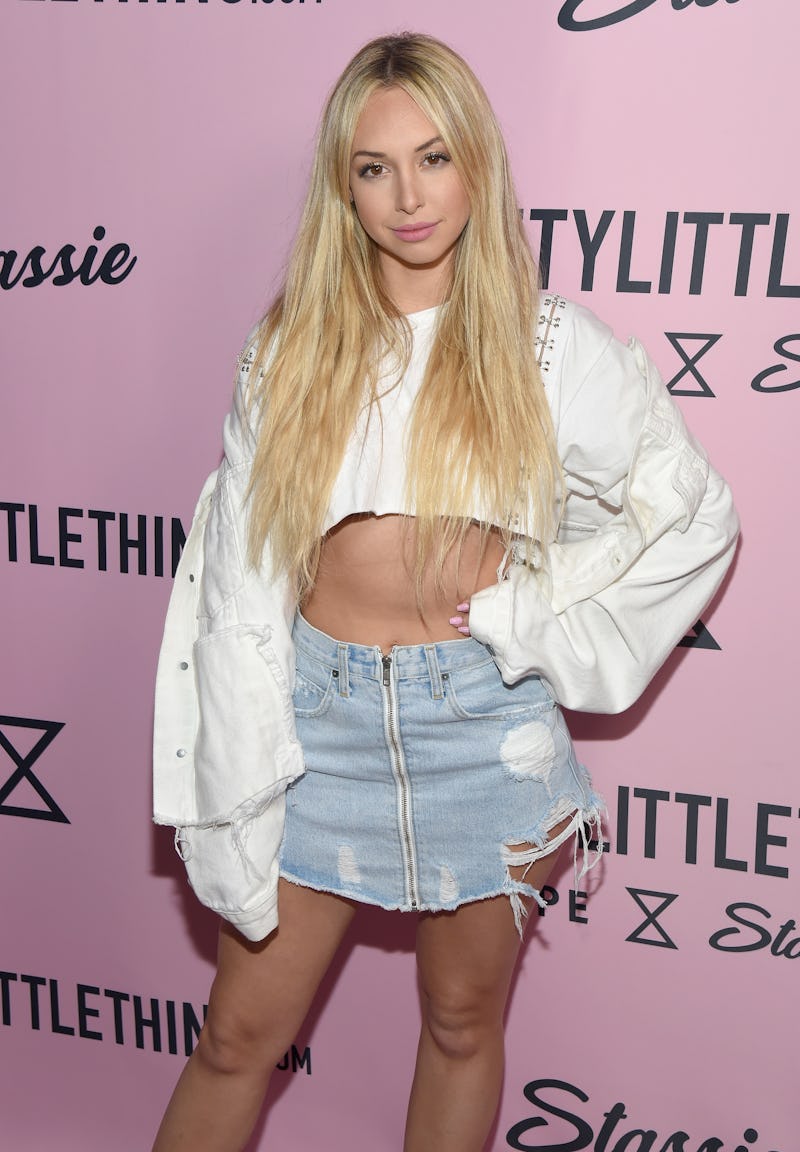 Matt Winkelmeyer/Getty Images Entertainment/Getty Images
Further claims are surfacing about the misconduct on the Bachelor in Paradise set, which caused production to be suspended on June 11. Monday, news circulated that contestant Corinne Olympios allegedly did not consent to reported sexual relations with DeMario Jackson. (Neither Olympios nor Jackson have commented officially.) Although host Chris Harrison urged audiences to hang tight until official information is released with a tweet on Tuesday, new allegations about Bachelor in Paradise from a crew member are adding to the narrative about could have happened between Olympios and Jackson. Bustle has reached out to Olympios, Warner Bros., and Jackson for comment on the latest allegations. Previously, Warner Bros. provided the following official statement to Bustle: "We have suspended production and we are conducting a thorough investigation of these allegations. Once the investigation is complete, we will take appropriate responsive action."
Update: In a video posted by TMZ, Jackson says "no comment" in response to numerous questions about the alleged incident. Asked if he's upset about reports alleging that Olympios claims she did not give consent, Jackson responded, ""No, no. I'm all good."
Update #2: On Wednesday, June 14, Corinne Olympios' rep released a statement about the Bachelor In Paradise allegations to Bustle:
"I am a victim and have spent the last week trying to make sense of what happened on June 4. Although I have little memory of that night, something bad obviously took place, which I understand is why production on the show has now been suspended and a producer on the show has filed a complaint against the production. As a woman, this is my worst nightmare and it has now become my reality. As I pursue the details and facts surrounding that night and the immediate days after, I have retained a group of professionals to ensure that what happened on June 4 comes to light and I can continue my life, including hiring an attorney to obtain justice and seeking therapy to begin dealing with the physical and emotional trauma stemming from that evening."
Update #3: On the evening of Wednesday, June 14, Jackson released a statement about Olympios' allegations to E! News:
"It's unfortunate that my character and family name has been assassinated this past week with false claims and malicious allegations. I will be taking swift and appropriate legal action until my name is cleared and, per the advice of legal counsel, will be seeking all available remedies entitled to me under the laws."
Update #4: On June 20, an ABC spokesperson provided the following statement to Bustle:
"We appreciate the swift and complete investigation by Warner Bros. into allegations of misconduct on the set of 'Bachelor in Paradise.' Given their results, the series will resume production, and will air this summer on ABC."
Warner Bros.' statement to Bustle read,
"As we previously stated, we recently became aware of allegations regarding an incident on the set of Bachelor in Paradise in Mexico. We take all such allegations seriously. The safety, security and well-being of the cast and crew is our number one concern, and we suspended filming so that the allegations could be investigated immediately and thoroughly. Our internal investigation, conducted with the assistance of an outside law firm, has now been completed. Out of respect for the privacy interests of those involved, we do not intend to release the videotape of the incident. We can say, however, that the tape does not support any charge of misconduct by a cast member. Nor does the tape show, contrary to many press reports, that the safety of any cast member was ever in jeopardy. Production on this season of Bachelor in Paradise will be resuming, and we plan to implement certain changes to the show's policies and procedures to enhance and further ensure the safety and security of all participants."
Update #5: On Tuesday, Corinne Olympios' lawyer Martin Singer released a statement to Bustle that read,
"It needs to be made crystal clear that production of 'Bachelor in Paradise' was shut down because of multiple complaints received from 'BIP' producers and crew members on the set. It was not shut down due to any complaint filed by Corinne against anyone. It comes as no surprise that Warner Bros., as a result of its own internal Investigation, would state that no wrong doing had occurred. Our own investigation will continue based on multiple new witnesses coming forward revealing what they saw and heard."
Earlier: According to Daily Mail, a production crew member recalled Olympios allegedly looking "unconscious" during a sexual encounter with Jackson in a jacuzzi, which later continued in a pool. The source claimed the two cast members found out a storyline would involve them hooking up, and a casual drinking hangout to get better acquainted allegedly took a serious turn. The source claimed to Daily Mail,
"Soon they decided to go swimming and when they climbed into the jacuzzi, they were both loaded. Corrine [sic] proceeded to remove her bathing suit and things got increasingly sexual. There was hugging and kissing and touching, but before long, she seemed to go limp and was sliding under water. Demario kept trying to hold her up and at the same time he appeared to be having intercourse with her. After he finished — which only lasted a few seconds — he lifted her out of the water and laid her on the cement, where he proceeded to have oral sex with her. She appeared to be unconscious."
According to the source, this was when the crew allegedly got involved. "The crew came out and carried her off to her room. She was limp and seemed unable to walk on her own," the source claimed.
Daily Mail's source claimed the crew was "deeply disturbed... not just at what happened, but over the way it was handled." Further elaborating, the source claimed,
"One of the things that really disturbed people was that no one called a doctor or paramedic, which some felt they should have. Instead someone made the decision to just let her sleep it off. When Corrine [sic] awoke the next morning, people began filling her in on what happened the night before, because she claimed to have absolutely no recollection of what transpired."
There have been multiple conflicting reports on the events, according to who saw what. On Sunday, TMZ reported that Jackson claimed he performed oral sex on Olympios after she allegedly "put her genitals in his face," but they reportedly did not have sex because of the alcohol. Jackson also reportedly said he and Olympios were fine the next day, until a producer filed a complaint, uncomfortable over what occurred.
On Tuesday, TMZ reported that sources close to Olympios claimed she was in a "blackout state" and recalled none of her encounter with Jackson. In the same story, TMZ reported that others who witnessed the tape claim Olympios seemed fully aware and "engaged," while other cast members reportedly warned the crew of her apparent incoherent state. The site also alleged that Olympios has lawyers on her side, blaming the production crew for not stepping in sooner. Daily Mail also reported police, doctors, and psychologists have become involved.
The situation is heavy and complicated and nothing has been confirmed yet. But with all of the he-said, she-said going on, hopefully there will be resolve sooner rather than later.