Bekah M. Is Keeping 'Bachelor' Nation Up-To-Date On Her Whole Pregnancy Journey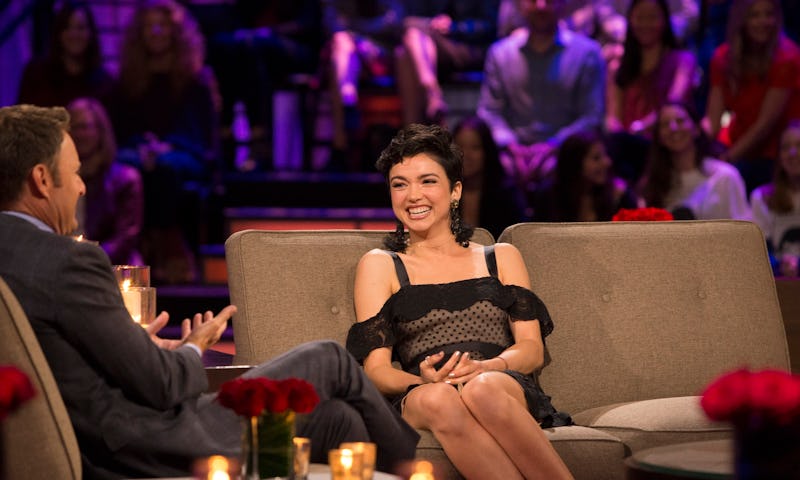 Paul Hebert/ABC
After initially keeping her baby news a secret, Bachelor alum Bekah Martinez shared updates on her pregnancy in a YouTube video that she uploaded to her personal channel on Sept. 24. As expected, Bekah is being very open and keeping it real when it comes to her pregnancy. Bekah broke the baby news in a Sept. 12 interview with PureWow. Ever since, she's been super honest about the whole journey.
During her most recent YouTube video, Bekah admitted,
"This wasn't in the plan so it wasn't right away like a, 'Oh my god yes! This is so exciting. We're going to have a baby!' It was like, 'Oh wow.'"
She even shared exactly what she was thinking when she found out about her own pregnancy. Bekah admitted,
"There is sort of this mentality of 'It's not gonna happen to me.' Of course, it is a very normal thing that happens, but I also have a lot of family members and friends who tried, for many years sometimes, to have a baby and it's never seemed like something that would happen super easily. I just thought 'What are the odds that it would just take once?' Well, it just took once."
The Sept. 24 video isn't the only one that she shared. When she revealed her pregnancy earlier this month, Bekah shared a video titled "I'm Pregnant," detailing her life during her first trimester.
The Bachelor alum talked about why she recorded her first video in the second one. She explained exactly why she chose to be so open:
"We wanted to capture how scary it really was to be in that position. If anyone else has been in that position, they know it's not an easy thing to go through. Right away, it's not super fun and exciting. It's very unexpected and shocking."
Now the mom-to-be is fully embracing the pregnancy, and that includes keeping her baby's sex a surprise until she gives birth. During the video, Bekah revealed, "We actually decided right away that we wanted to wait until birth to find out the gender so, we don't know! And we're not going to know until I push that little sucker out!" She added, "Which I think is so fun because you only have a surprise like this once in your life."
Even so, she is still excited to get ready for her child as much as she can without knowing the baby's sex. She remarked, "Pretty soon it's time to start shopping for baby stuff, decorating the nursery, and all that good stuff."
Aside from getting ready for life with a baby, Bekah is still living the active lifestyle that she had been before the pregnancy. She shared, "I think people think that you're really fragile during pregnancy, but I actually feel very healthy, alive, and full of energy. I feel really dynamic and I'm excited about everything."
Specifically, Bekah revealed,
"So far I've gone on a backpacking trip, I went river rafting, I've still been climbing. All of these activities have been done safely, don't worry. I went on a helicopter ride, which was very nauseating I have to say. I've gotten to really be so active. I've kept doing yoga. I'm really blessed by that. I know that is not the case for everyone, so I'm excited."
Aside from taking care of herself and her baby, Bekah has decided that she will continue to share updates throughout her pregnancy. She concluded, "Anyway, I'm gonna keep doing a lot more videos in the coming weeks. I will be doing them regularly pretty much every week."
Bekah's Bachelor fans might miss seeing her on their television screens once a week, but now her biggest supporters will get to take part in her latest journey as she approaches motherhood by following her social media accounts for updates.