Kevin & Ashley Are So Happy Post 'Bachelor In Paradise' & It's ADORABLE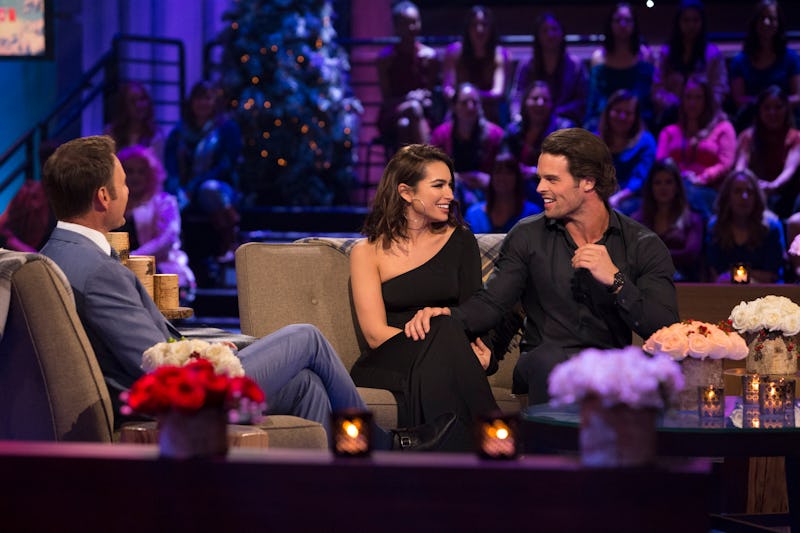 ABC
After a stint on The Bachelor and two seasons on Bachelor in Paradise, it has happened: Ashley Iaconetti is officially in a relationship, and this time, there are only happy tears. On Thursday night's Bachelor Winter Games finale, Ashley and Kevin ended up staying together, and according to the after show, they're still together today. And for the record, this update on Ashley and Kevin's post-Bachelor Winter Games relationship is basically the best.
On the Winter Games after show, Ashley and Kevin joined Chris Harrison on stage to let fans know what they've been up to since filming ended. From the beginning of their segment, they were all cuddly on the couch, and they revealed that they've already visited each other's homes in both Canada and LA — and Ashley even took Kevin to a Patriots game, since he loves them. They didn't admit to anything too juicy, and Ashley even made it clear that now that she's in a relationship and has had a Fantasy Suite date, all virginity talk is off the table (and honestly, that's something that should have happened a long time ago, it's her business alone). In general, Ashley and Kevin seem to be in that wonderful, early stage of a lasting relationship, and hopefully that's exactly what they've started.
Is anyone else totally gratified by this relationship? They're so cute together, and it's just really nice to finally see Ashley happy instead of pining over someone who doesn't return her feelings. Anyone who has been through that scenario in their romantic lives can probably agree that feeling is, in fact, the worst.
Of course, it's not exactly shocking that they're together after the show; earlier this week they talked about their new long distance relationship to People. Kevin told the magazine that things are going well for them now that they get to hang out without cameras, even though it is a little different. He said:
"The negative is we don't just get to wake up in the same house and have no responsibilities but to each other — that's pretty awesome on the show. Now it's fun because we find out about each other and what we want to do. It's kind of a relief when you get the TV part over with like, 'We're going to Disneyland!'"
And if you follow the couple on social media, you know that Disneyland is something they've already done together. In fact, before Thursday's finale aired, Ashley shared a Twitter post straight from Disneyland, where she and Kevin were with Lilly and Courtney, another Winter Games surviving couple.
These two were kind of a big deal, between their Fantasy Suite date and the fact that they were crowned the first ever winners of the Bachelor Winter Games. And now, even with filming having come to an end, it seems like they're just genuinely enjoying themselves and each other, like a totally normal couple who didn't necessarily meet on reality TV anyway. They obviously haven't been dating for that long, but they seem happy and comfortable around each other, which is definitely a good sign.
In Chris Harrison's words, "this is fantastic," and honestly, it is. Doesn't everybody want to end up with someone who says all they need is you, cheeseburgers, and champagne to have a good time? Serious relationship goals going on here.
The crying Ashley meme may officially be dead now that she's found the true love that she's looking for — and that's a really exciting thought. Even though they're now dating long distance, it's going to be awesome to see their updates in the future. Hopefully, they'll just keep living happily ever after.