Here's Everything You Need To Know About Hurricane Harvey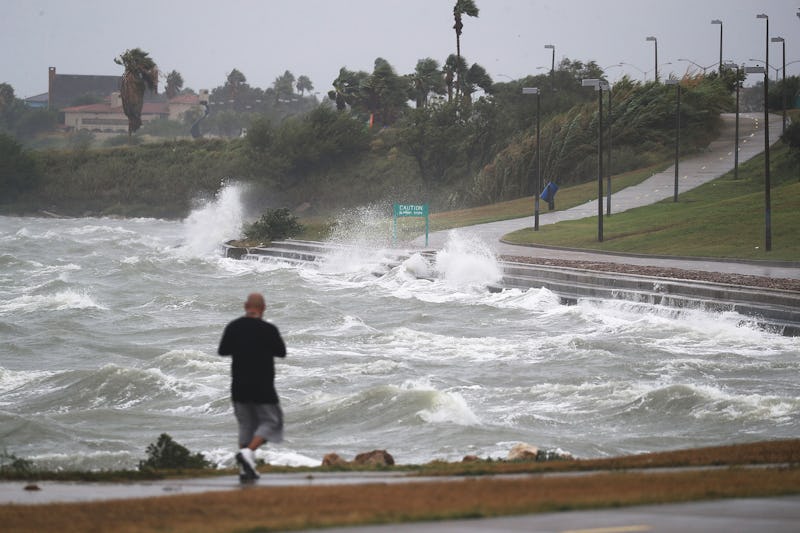 Joe Raedle/Getty Images News/Getty Images
At some point over the course of the next 24 hours, Hurricane Harvey is expected to make landfall on the southeastern coast of Texas, bringing an immense amount of rain, wind, and destructive power with it. A number of counties along the Texas coast have already been subject to mandatory evacuations, and needless to say, its hugely important for those around areas impacted by the storm to prioritize their health and safety. As such, it's important to follow any updates on Hurricane Harvey, because circumstances in major storm events like these can change somewhat rapidly.
As it stands now, at the time of this writing, Harvey has grown into a Category 2 hurricane, although it's possible it'll gather even more strength and become a Category 3 by the time it makes landfall along the Texas coast. Harvey has been brewing in the Gulf of Mexico for the past week, evolving from a tropical storm into a tropical depression, and now achieving full-fledged hurricane status.
For the record, if you live in any of the following Texas counties or cities, a mandatory evacuation order is in place, according to Dallas-area ABC News affiliate WFAA:
Aransas County
Brazoria County
Calhoun County
Matagorda County
Refugio Count
San Patricio County
According to the most current projections, the parts of coastal Texas squarely in the storm's path are expected to see anywhere from 15 to 20 inches of rainfall as a result, with the possibility of a staggering 30 inches in isolated areas, according to NBC News. While the state of Louisiana is not similarly in the direct path of the hurricane, it's nonetheless expected to absorb some major rainfall as well, with up to four to six inches projected in Louisiana over the next week, and as much as 10 to 15 inches in areas along the state's southwest border with Texas.
It's expected that Harvey will hit Texas at some point late Friday or early Saturday, and the storm is expected to continue clear through to next week. According to the National Hurricane Center, parts of the middle and upper Texas coast will likely continue to be slammed with rain until this coming Wednesday.
In short, if you live anywhere near one of the areas that's expected to be worst-hit by the storm, and evacuation hasn't yet been made mandatory, it's of the utmost importance that you have a safe place to stay, and a preparedness plan to contend with dangerous winds and heavy flooding.
If Harvey indeed strengthens to a Category 3 hurricane before hitting Texas, that means it'll possess wind speeds between 111 and 129 miles per hour, reportedly strong enough to rip off roof decking, according to NBC News, and to knock out water and electricity for weeks after the storm passes.
The Federal Emergency Management Agency (FEMA) is already preparing for the after-effects of the hurricane, although the agency currently lacks some key parts of its leadership structure. As it stands now, a pair of Obama-era FEMA officials are running the show, owing to President Donald Trump's slowness in nominating his own officials, and the August Senate recess precluding their confirmations.
His decision to move John Kelly out of his top job at the Department of Homeland Security to become White House chief of staff also has implications for FEMA, since entire agency is overseen by the DHS. For the time being, the department is headed by acting secretary Elaine Duke.