Here's What Rachel & Bryan Have Been Up To Since 'The Bachelorette' Ended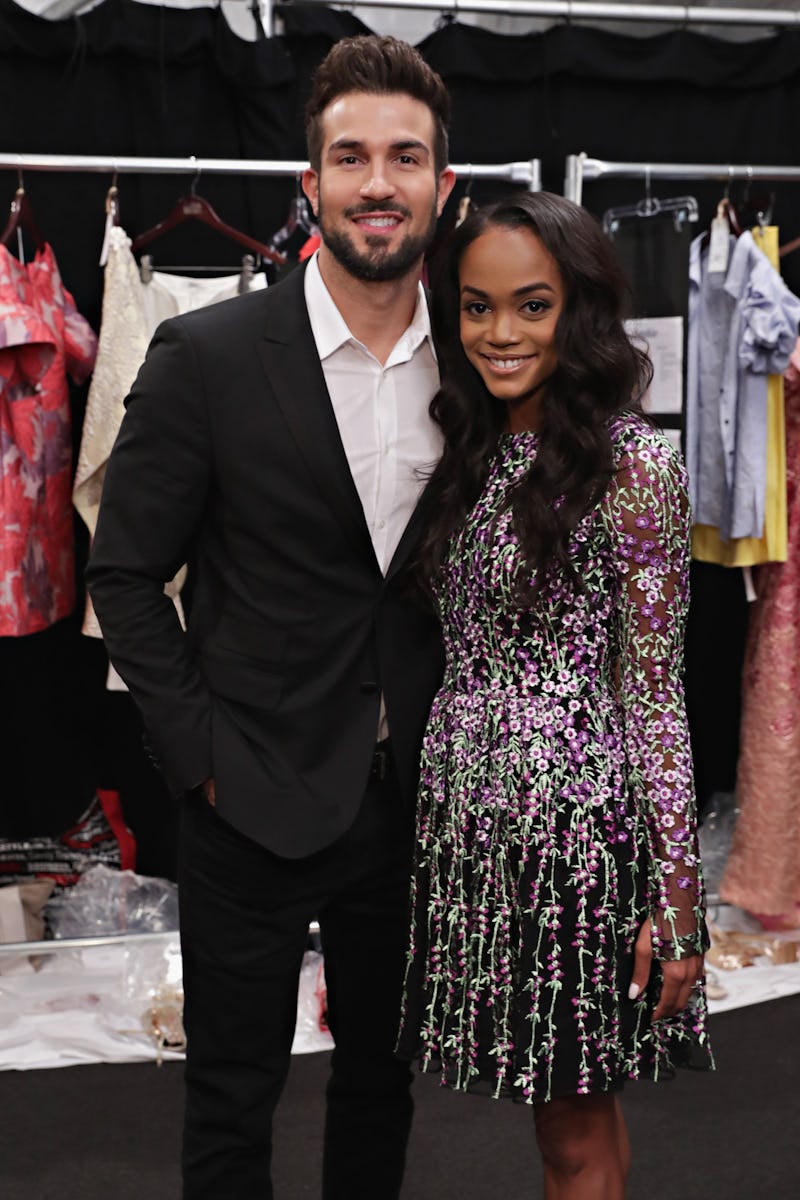 Cindy Ord/Getty Images Entertainment/Getty Images
On Season 13 of The Bachelorette, Rachel Lindsay received her fairytale ending with Bryan Abasolo when he proposed to her in Spain. It was such a romantic end to the season (sans that emotional breakup with Peter Kraus that many fans will never get over). But what are former Bachelorette Rachel Lindsay and Bryan Abasolo up to now after everything ended in such a magical way on the show? Their relationship is as solid as ever — including after a small rough patch.
Season 13 of The Bachelorette was a wild ride but throughout the whole season, the writing was on the wall when it came to Lindsay and Abasolo's relationship. (Even if Kraus fans were in denial about it.) The Bachelorette even gave him the First Impression Rose at the beginning of the season, showing that she was instantly smitten with the Miami native. Throughout amazing locations, fun dates, and a fair share of drama from other contestants, their relationship stood strong. And post-show, the two haven't been able to help but gush over each other.
In an Instagram post, Lindsay wrote the most romantic note to her new fiancé. She captioned a photo of the two of them right after they were first engaged with, "Bryan you have shown me a love that I've never had before ... We found love in such a public way but the depths of our love is something that only we will know and will have between each other forever." How sweet!
And the couple is still as sweet as ever today. Here's everything Lindsay and Abasolo are up to since she pinned her final rose on his lapel.
They've Moved In Together
Talk about a major step for their relationship. Lindsay and Abasolo spoke with Entertainment Tonight in November about how he moved in with her. They told the publication that they live in Dallas, Texas, where the former Bachelorette is from, full-time now. Lindsay said, "It's great to have Bryan here with me ... I'm glad he loves it. That's what's key." Abasolo even got his chiropractor license to practice in the state. That's how you know things are the real deal for them.
They Went Through A Rough Patch
On Dean Unglert's podcast, Help! I Suck At Dating, Lindsay recounted that things were a little hard for her and Abasolo immediately following The Bachelorette, in large part because of social media. She said, "It was difficult in the beginning." Lindsay also told Unglert, "to be attacked on social media ... it was really hard individually and as a couple." But, Lindsay and Abasolo are stronger than ever following that small rough patch. "For us, it was like, if we can get through this — which was a lot in the beginning — we can get through anything."
They've Spent Holidays Together
The couple has been spending every holiday together. On Halloween, the two wore a couple's costume with Lindsay dressing up as a Playboy bunny and Abasolo donning Hugh Hefner's famous garb. Then, the two spent Thanksgiving with Lindsay's family, as you can see in the photo above. And, according to Lindsay's comments on Olivia Caridi's podcast Mouthing Off, the couple will be spending Christmas in Miami.
Their Wedding Could Be In The Near Future
Lindsay's mentioned before that she and her fiancé are looking to get married in 2018, and in a November episode of Mouthing Off, Lindsay implied that the wedding would come sooner rather than later. When Caridi asked point blank, "When's the wedding?" the former Bachelorette replied, "I used to say Winter of next year. Both parents were like, 'Can you move it to the Fall ... Now, I'm like, it could be the Spring. I am truly ready to get married to Bryan ... I could elope tomorrow." She also said that she's not "opposed" to a televised wedding. So, they could be getting married as soon as the spring of 2018 and the lovely affair could be televised? That's all great news for fans of the couple.
It's amazing to hear that Lindsay and Abasolo are doing well post-Bachelorette. And, if the couple are looking to get married in spring 2018, it looks like fans will be seeing even more of the adorable pair in the near future.