Here Are All The Updates To The Annapolis Newspaper Shooting As They Unfold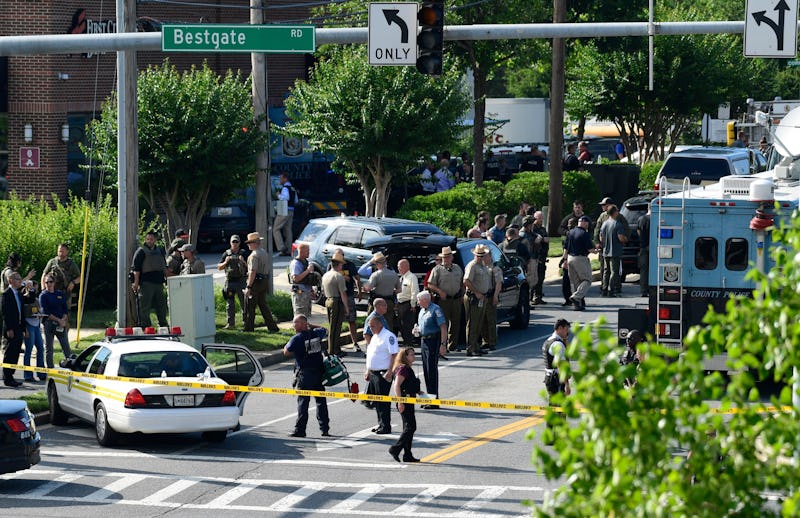 Susan Walsh/AP/REX/Shutterstock
There are reports of an active shooter at the Capital Gazette newspaper's offices in Maryland. Updates to the Annapolis shooting are slowly trickling in, and Maryland Sheriff Ron Bateman told Fox News that there are multiple fatalities as a result of the shooting.
Anne Arundel County Sheriff Ron Bateman confirmed to Fox News that a suspect has been apprehended at the office of the Gazette, which is owned by the Baltimore Sun. The Bureau of Alcohol, Tobacco and Firearms is on the scene, according to the Gazette, and White House Deputy Press Secretary told reporters that President Trump has been briefed on the shooting, CNN reports.
At a press conference, Acting Police Chief of Anne Arundel County Bill Krampf confirmed that at least five people have been killed in the shooting. One person has been taken to the University of Maryland Medical Center in Baltimore, a spokesperson for the hospital told CNN. Anne Arundel County Police Department spokesperson Lt. Ryan Frashure told WJLA that police are "trying to minimize the casualties" and "doing everything we can to get people out safe."
Police say that the suspect in custody is a white adult male, and that the shooter used a long gun. No motive has yet been identified.
"There's a lot of factors that got into this. So there's a lot of secondary things we have to look into also," Frashure said, according to CNN. "Whether there's any type — whether there is other shooters, there might be more than one, bombs, anything like that, so there's a variety of things we have to go through."
Police said that the shooting occurred at 3:15 p.m. local time, and that officers arrived on the scene no more than a minute after the shooting was reported. Annapolis Mayor Gavin Buckley said at a press conference that "If [law enforcement officers] were not there as quickly as they were, it could have been a lot worse."
Phil Davis, a crime reporter for the Gazette, wrote on Twitter that a "gunman shot through the glass door to the office and opened fire on multiple employees."
"There is nothing more terrifying than hearing multiple people get shot while you're under your desk and then hear the gunman reload," Davis added in a subsequent tweet. He later confirmed that he is "safe and no longer at the office."
After news of the shooting broke, ABC 7 reported that the New York City Police Department is "moving personnel to headquarters of all the major media outlets in NYC out of an abundance of caution." In addition, the Anne Arundel Medical Center tweeted that its campus is on lockdown due to its proximity to the Gazette offices.
"I just wanna say, first of all, our thoughts and prayers are with the victims and their families," Maryland Gov. Larry Hogan said at a press conference. "We have had several fatalities, and several people in the hospital." On Twitter, Hogan wrote that he's "absolutely devastated to learn of this tragedy in Annapolis," and urged locals to "heed all warnings and stay away from the area."
Trump tweeted later in the day that his "thoughts and prayers are with the victims and their families."
"Prior to departing Wisconsin, I was briefed on the shooting at Capital Gazette in Annapolis, Maryland," Trump wrote. "My thoughts and prayers are with the victims and their families. Thank you to all of the First Responders who are currently on the scene."
Three days before the shooting at the Capital Gazette, Trump called the media "the enemy of the people" at a rally in South Carolina.