These Are The Latest Updates To The Pittsburgh Synagogue Shooting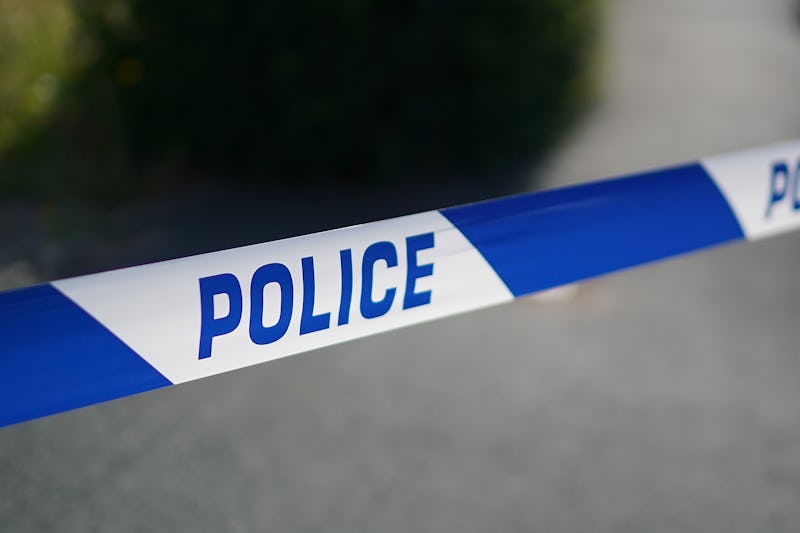 Christopher Furlong/Getty Images News/Getty Images
Police responded to reports of an active shooter at the Tree of Life Synagogue in Pittsburgh, Pennsylvania, on Saturday, according to CNN. Police reported "multiple casualties" and also said that officers had been shot. Updates to the Pittsburgh synagogue shooting now show that it took place during a service, and the gunman has since surrendered, the BBC reported.
Police sources reportedly told CBS Pittsburgh/KDKA that the gunman entered the synagogue and started firing randomly while yelling "All Jews must die."
Pittsburgh Police spokesman Chris Togneri told CBS Pittsburgh there were multiple fatalities, though he did not specify a number, and said three police officers had been shot.
These are updates to the developing situation as they are reported.
Tree of Life president Michael Eisenberg told CNN affiliate KDKA about the regular Saturday morning services at the synagogue:
At 9:45 there were three simultaneous congregations' services that were being held. In the main part of the building, The Tree of Life has a service that has about 40 people in it. Just below that there is a basement area where New Life congregation would have been having their Shabbat service. There would have been 30-40 people. Just adjacent to Tree of Light's service area, a congregation was in the rabbi study room and they would have had approximately 15 people in there.
Eisenburg also told KDKA that while he was president, security was a "major concern." He said that on Saturday anyone could've walked into the synagogue. "On a day like today, the door is open. It's a religious service. You could walk in and out. Only on the high holidays is there a police presence at the entrance."
President Donald Trump responded to initial reports of the shooting with a tweet:
Watching the events unfolding in Pittsburgh, Pennsylvania. Law enforcement on the scene. People in Squirrel Hill area should remain sheltered. Looks like multiple fatalities. Beware of active shooter. God Bless All!
Once the suspect was in custody, Trump responded with another tweet, writing:
Events in Pittsburgh are far more devastating than originally thought. Spoke with Mayor and Governor to inform them that the Federal Government has been, and will be, with them all the way. I will speak to the media shortly and make further statement at Future Farmers of America.
Pennsylvania Gov. Tom Wolf released the following statement after the incident, according to KDKA:
The shooting in Pittsburgh this morning is an absolute tragedy. I have spoken with local leaders and my administration and the Pennsylvania State Police will provide any resources to assist local law enforcement and first responders.
These senseless acts of violence are not who we are as Americans. My thoughts right now are focused on the victims, their families and making sure law enforcement has every resource they need.
We must all pray and hope for no more loss of life. But we have been saying 'this one is too many' for far too long. Dangerous weapons are putting our citizens in harm's way.
And in the aftermath of this tragedy, we must come together and take action to prevent these tragedies in the future. We cannot accept this violence as normal.
The New York Police Department has reportedly sent officers to local synagogues across the city as a precautionary measure, the BBC reported.
Erika Strassburger, the city councilwoman for the district that includes the synagogue, told The New York Times that it was unclear how many people had been shot. She also said the suspect had barricaded himself inside the building prior to surrendering.
Jeff Finkelstein of the Jewish Federation of Greater Pittsburgh told WPXI that local synagogues do "lots of training on things like active shooters, and we've looked at hardening facilities as much as possible," according to The Chicago Tribune. But he also said, "This should not be happening, period. This should not be happening in a synagogue."
On Saturday afternoon, before departing for a campaign rally, Trump told reporters outside Joint Base Andrews in Maryland that gun safety laws have nothing to do with the shooting in Pittsburgh. "If you take a look at it, if they had protection inside the results would have been far better," Trump said, according to NBC News.
"If there was an armed guard inside the temple, they would have been able to stop him," he said, according to CNN.
Pittsburgh Public Safety Director Wendell Hissrich said on Saturday afternoon, according to KDKA, "I will emphasize at this time that there appears to be no active threat to the community. We believe the subject that is responsible for this has been taken into custody."
Hissrich also told KDKA the shooting is being investigated as a hate crime. "At this time this is being considered a federal violation and the primary investigative agency will be the Federal Bureau of investigation."
Pennsylvania Attorney General Josh Shapiro told ABC News that the gunman "claimed innocent lives," ultimately killing at least eight people.
But later on Saturday, Hissrich told CNN that 11 people were killed with more injured.