The US Embassy Is Telling Americans In The UK To Be Careful When Trump Visits — Here's Why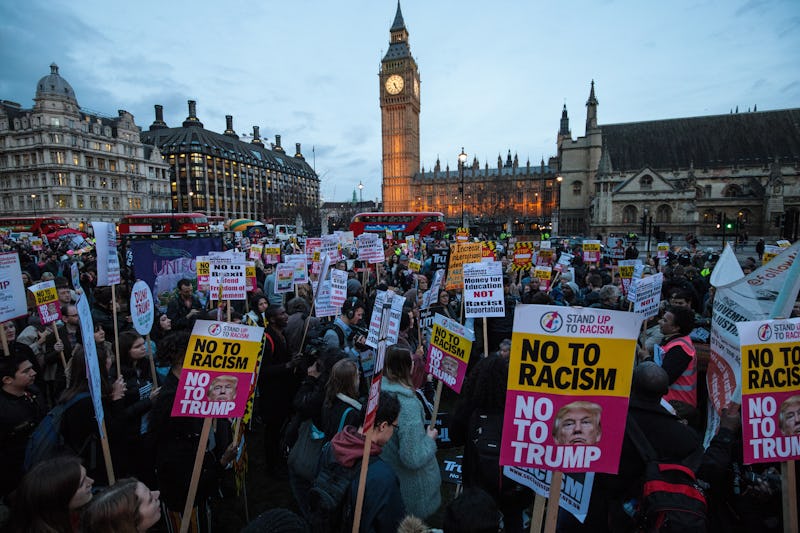 Jack Taylor/Getty Images News/Getty Images
The American Embassy in London appears to be bracing for the worst ahead of President Trump's visit to the United Kingdom. In an alert issued on Tuesday, the embassy told Americans in London during Trump's visit to "keep a low profile" during protests planned in response to Trump's arrival.
The embassy anticipates numerous protests in England as well as Scotland between July 12 and 14, most of them in London on Friday, July 13. "Several of the events are expected to attract large crowds and there will be road closures in connection with those events," the alert reads.
In addition to keeping a low profile, the message warns Americans to "be aware of ... surroundings," "monitor local media for updates," and "exercise caution if unexpectedly in the vicinity of large gatherings that may become violent." The largest demonstration, a march through central London ending at Trafalgar Square is expected to draw 50,000 protestors on Friday. "Trump Baby," a 20-foot orange blimp, designed to look like an infant version of the president, will reportedly be floating over London during the protest.
The United States and Britain are typically considered close allies, but Trump's nationalist and often inflammatory messaging has turned some in the UK against him. Last year Trump retweeted anti-Muslim propaganda videos from an extreme right-wing British group called Britain First. Prime Minister Theresa May, London Mayor Sadiq Khan, and many other politicians quickly condemned the act for adding legitimacy to unverified — and in one case, actually fake — anti-Muslim fearmongering.
Last month Jeremy Corbyn, leader of the UK's Labor Party pressed Theresa May to cancel Trump's visit. A petition to stop the president from meeting Queen Elizabeth, saying it would "cause embarrassment to Her Majesty the Queen," garnered more than a million signatures last year.
According to The New York Times, when Trump arrives, following the NATO Summit being held in Brussels this week, protestors plan to meet him at Blenheim Palace, where he is scheduled to be having dinner. He is then supposed to be staying overnight at the American ambassador's residence, where organizers say they will set up a "wall of sound" featuring loudspeakers playing mariachi music and recordings of children crying in detention centers. Attendees of Friday's rally have also been encouraged to bring pots and pans to create as loud a din as possible.
"It's on everyone who knows the difference between right and wrong to resist this grotesque excuse for a president when he comes here," activist Leo Murray wrote in British newspaper Metro.
The "Trump Baby" balloon, widely anticipated by protestors, has also been the subject of some controversy for its cartoonish depiction of the president in diapers. Last week, Mayor Khan approved the inflatable, which is scheduled to be flying over Parliament at around the same time that Trump will greet Prime Minister May and Queen Elizabeth on Friday. The crowdfunded blimp is described by organizers as "just poking fun," though Trump supporters have called it "childish." Former leader of the UK Independence Party Nigel Farage called the balloon, "the biggest insult to a sitting US president ever."
President Trump's visit was originally scheduled for the London embassy opening January, but he abruptly cancelled it, claiming the Obama administration had spent too much on the new location. At the time, Khan and other political figures speculated Trump had withdrawn to avoid the protests planned for his visit. For his upcoming trip, Trump is expected to be mostly avoiding central London, likely because of the extensive protests planned.
According to The Guardian, other protests are expected in multiple English cities, Glasgow's George Square, as well as outside Trump's golf courses in Scotland.