Kate Moss' MUA Val Garland Told Us Her Beauty Must-Haves & They're SO Affordable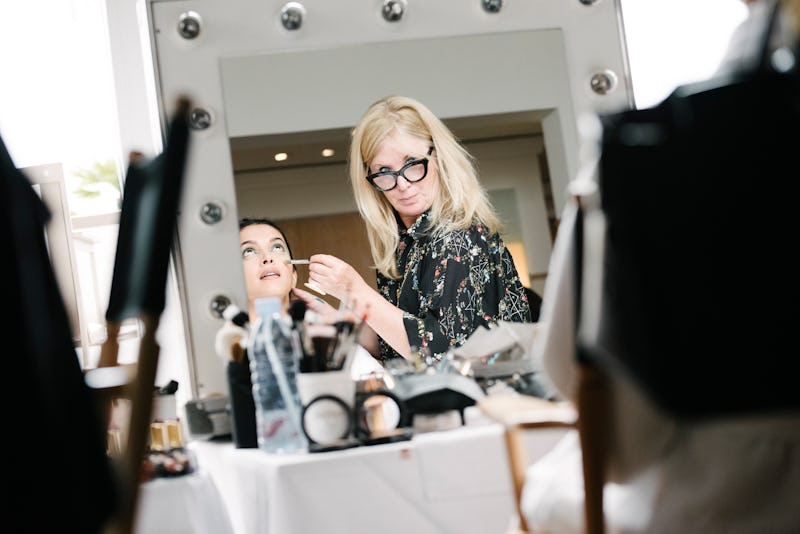 Gareth Cattermole/Getty Images Entertainment/Getty Images
Val Garland is undeniably one of the most revered makeup artists of our generation, and someone who has shaped the beauty industry more than most. Having painted some of the world's most famous faces (from Lady Gaga on an early album cover, to Helen Mirren) and leading the charge backstage at shows such as Alexander McQueen, Garland's magical take on makeup artistry is unlike any other. The artist has now released her very first book, entitled Validated, showcasing some of her most awe-inspiring works. I spoke to Val Garland about Validated, her must-have makeup products, and her opinion on the beauty industry today.
Rebecca Fearn: Congratulations on your new book Validated! What drove you to do it now?
Val Garland: About 3 years ago, [fashion photographer] Nick Knight and [hairstylist] Sam McKnight suggested I should do a book featuring my Instagram pictures. Then [writer] Camilla Morton one day said "shall we do a book together?" And I was like, "yeah, alright." That was 3 years ago so it's taken a while to get done! But it came together really because friends were telling me to do it.
RF: What's the meaning behind the name?
VG: A number of years ago as Instagram was beginning, everyone was quite private about their products backstage at the shows. Makeup artists would put tape over their magic creams so nobody could see what they were! I remember thinking that it should be more about sharing and I wanted to tell people what's in my kit and what really works.
I think the first thing I spoke about was a Laura Mercier concealer; I put it on Instagram and said I "validate" this. The next day I was on a shoot with Marian Newman who said to me: "that was really clever what you did yesterday, using the play on words 'validate' to say 'Val thinks it's good.'" So it just came to be known by beauty editors that if Val Garland validates something, it's actually a good product. I was never being paid to put something on Instagram so I could say what I liked. So when it came to thinking about naming the book, I thought let's just call it Validated.
RF: What were your SS19 favourite backstage looks that are transferrable into real life?
VG: Fresh faces at Balmain, glowing skin at Isabel Marant, and freckles at Preen.
RF: Skincare-wise, what do you use?
VG: I rotate as I get bored and want to try something new! Right now I have three favourite brands and love anything by them: Orveda, Decorte, and This Works.
RF: You started out as a hair stylist, so what do you use on your own hair?
VG: Shampoo-wise I'm not really fussy. I go between Bleach London and Pantene. For styling, I love Sam McKnight's sprays, mostly the Lazy Girl Dry Shampoo and Cool Girl Texturising Spray. I actually use Lazy Girl on clean, blow-dried hair as it adds body. I couldn't live without the Redken Extreme Anti-Snap Treatment or the Tigi Bed Head Queen For A Day Mousse, too.
RF: What has been your biggest beauty mistake over the years?
VG: Thinking I look really good with a super dark eye. I have piggy eyes and they looked even smaller and piggier when I did that! But my biggest faux pas was probably thinking I would look really cool with no eyebrows. I Immac'd them off and I looked like an embryo!
RF: Is there a person whose makeup you haven't done who you'd love to?
I'd love to do Meryl Streep's makeup. She's played so many different characters and become so many different people I think it would be interesting to do her in a few different ways and see how she wears it.
RF: How do you feel the beauty industry has evolved in recent years?
VG: Everything is so fast now. There isn't that attention detail there was before, but that's because today it's not so important. With social media, everyone is a makeup artist. Everyone is a hairdresser. Everyone is their own editor. What's been amazing is it's empowered all of us to have more confidence in ourselves, because you can be whoever you want to be. If you want to be famous and you work hard enough at it, you probably can be from your bedroom.
It's also amazing how important makeup products are now; everyone's doing a brand and I wonder when we are going to have too many brands. I think it's a great thing but I wonder if we are going to over-saturate ourselves and get bored.
RF: What is your advice to young makeup artists in the industry?
VG: Be a visionary and try new things. I don't find a cut crease and insta-brow very interesting, it's just cloning. Why would you want to be like everybody else?! Be your very own unique self. Don't try and be what you think a makeup artist should be today. Just try and be the very best you can be. You don't want to be the new Pat McGrath, or the new Lisa Eldridge; you want to be the first you.
You've also got to get yourself out there. Get a following and be on every platform. You've got to be in everybody's face. If you want it, you've got to be hungry and want it really desperately. It's a hard world out there.
RF: Finally, Which products do you always keep in your kit?
VG: Right now, it would be the following:
You can follow Garland on Instagram for more makeup inspiration, and buy her book on Amazon.
This interview has been edited and condensed for clarity.