'Vanderpump Rules' Faith Reveals Her Hookup With Jax Was More Than Just One Night Of Intimacy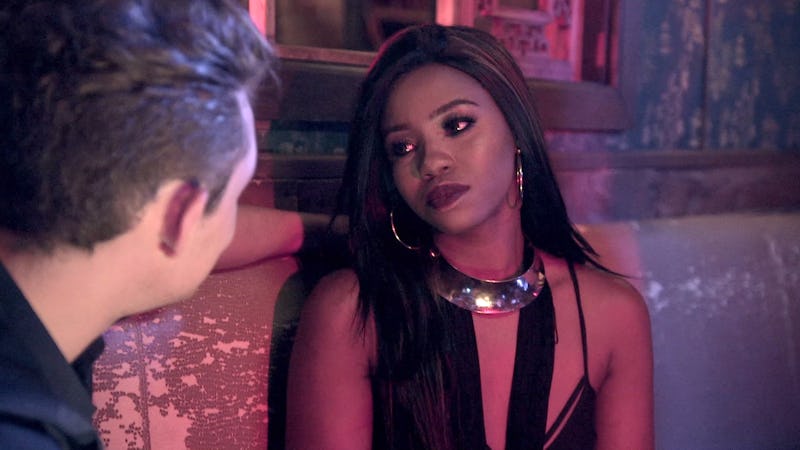 Bravo
The Vanderpump Rules world was rocked in Season 6 when former SUR server Faith Stowers revealed that she had slept with Jax Taylor, meaning Jax cheated on his girlfriend Brittany Cartwright with her. But in a chat with Bustle, Vanderpump Rules' Faith says she had feelings for Jax, and that he was more than a fling to her.
"I didn't know I liked him like I did until after we were intimate," she tells Bustle over the phone. She clarifies that while these weren't "strong feelings" for the 37-year-old bartender, she always found Jax attractive and saw through his playboy exterior. "I always thought he was a good person even through all the dumb stuff he did," she says. "It just felt good to be around him."
Faith says she and Jax had a lot in common when they got together because they were both craving the single life — it's just that one of them wasn't actually single. "We never really talked about being in a relationship, because it's not like I really was ready for a relationship with anyone at that time," she says. "I think that was the cool thing about it — me and him were in the same space as far as wanting to be single."
Even though it wasn't an incredibly deep connection, Faith adds that she and Jax got along well on a personal level. "I found out that he liked my spirit, my spontaneity, [and] the fact that I wanted to be single," she says. "We just enjoyed each other's company, so I think that's really what it was. I think he chose to pursue me because he felt like I was my own person, in a sense."
At one point, she says she even thought that her and Jax's intimacy could be more than a onetime deal, especially because she says the Pump Rules star told her he was going to break up with Brittany. At one point she says she thought, "'Maybe he actually does care, maybe it's not just sexual.'" She adds, "I guess he was lying."
Faith explains the reason she walked up to Jax and Brittany at Scheana Marie's birthday party in the Season 6 premiere was because she didn't understand why Jax was there with Brittany. It actually hurt her seeing them together.
"Like, literally a few days before [the party], Jax was saying they were breaking up, they weren't even hanging out like that," Faith says. "I get to the birthday party and they're there together and they're like holding hands. He literally looks at me and goes, 'Hey, babe. How's it going?' as he's holding Brittany's hand. I was just like, 'What?!' I just felt so betrayed and that's when James walks over to me and he could see all over my face that I was hurt."
Despite the rumors that Jax and Faith slept together more than once (as Ariana Madix told Brittany in an episode) Faith maintains this is not the case. "We did not sleep together more than once," she says plainly. That said, they did continue communicating after they had sex.
"In actuality, we stayed in contact after we were intimate," Faith admits. "We stayed in contact. We texted every day. He was trying to come over again a few times." However, Faith says she was wary. "After we had initially got together, I spoke with James [Kennedy] about it and James goes, 'I don't know, babe, I don't know, babe. I think you're gonna end up getting hurt.' So, I ended up telling Jax, 'No, maybe not coming over, but I'd love to hang out.'"
That's what she said they did, though Jax apparently had more requests. "So I would see [Jax] out and I think Jax mentioned to me that he wanted to do a threesome with one of my friends. He said nobody that he knows, because he [didn't] want the group to find out about it," she says. "I, again, did not want to do that, because at this time, I kind of liked Jax and I don't even think he knew that I liked him as much as I did."
Since all of the drama went down at Scheana's birthday, Faith says she hasn't spoken to either Jax or Brittany, but she's trying to stay in a positive headspace. "Hopefully me and Brittany bump into each other and I get to talk to her and let her know, 'Like, listen, it doesn't have to be this way. We can stand together as women, especially in these times where women are mistreated, like insanely mistreated.'"
As for Jax, "Jax is like this glorified womanizer and I really hope that changes for him and I really hope he gets it together," Faith says. "But, Brittany, I really wish her the best, I really do."
Despite all of the madness, Faith seems to be doing well for herself, putting her education at the New York Film Academy, where she studied screenwriting and film production, to good use. "I just wrapped a television show with an amazing network," she says, adding that she has a few auditions for feature films coming up. "Everything is happening in my life that I've always wanted to happen and I'm really happy."