A Bombshell Accusation In The 'Vanderpump Rules' Premiere Could Be The End Of Brittany & Jax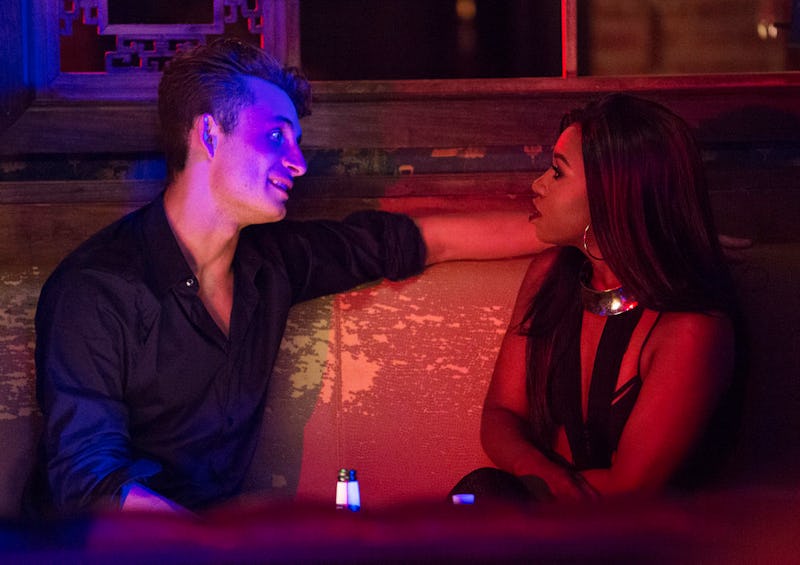 Isabella Vosmikova/Bravo
If you thought the Bravo reality series couldn't possibly be any more dramatic, then the Season 6 premiere of Vanderpump Rules will make you think again. The Dec. 4 episode introduced new alliances, new romances, and rocky waters for couples including Brittany Cartwright and Jax Taylor. The return of former SUR server Faith Stowers brought some accusations to the forefront, namely that Jax cheated on Brittany with her and that Faith is now pregnant.
In the Season 6 premiere, Scheana's masquerade birthday party brought the crew all back together — minus Stassi and Schroeder and Katie Maloney who are uninvited from the festivities. Faith, an Army vet and model, was first introduced as a recurring guest to the series in Season 4 alongside her close friend and new SUR host Lala Kent. After greeting her old co-workers Faith took a seat on the couch and shared with James that she and Jax hooked up not too long ago after Jax showed up to her caregiving job. One thing led to another, according to her, and the two found themselves in a very intimate situation.
Faith claimed that the hookup didn't involve contraception, and shared the news that her period was late. This is huge, obviously, because it could mean Jax and Faith could be parents in a few months. While Faith told James about her encounter with Jax, Brittany began to hear tidbits of the story from other party guests. The only person who actually had a good night from this point on was Scheana, who was too busy swaying in her new beau's arms to notice the battle lines being drawn behind her.
When confronted, Jax surprisingly did little to calm Brittany's nerves about what Faith was saying had happened between them. All he had to offer was a weak, "I didn't do anything." He almost looked like he was smirking as she questioned him. Brittany told him that she's furious with him, and he just walked off. That's not really what you'd expect someone to do who's just been accused of cheating and wants to salvage his relationship. Eventually he went to confront Faith, and gave her the same, dry "I didn't do anything" line he gave Brittany.
After that 'ish hit the fan, Faith decided she'd had enough and exited the party, refusing to discuss the incident further with anyone in attendance. After basically being called a liar by Jax to her face, Faith's aggravation is understandable. Actually, more people at the party appeared to be on her side than Jax's, and wasted no time in trashing him.
Like the rest of the SUR crew, viewers know that, if Faith's story is true, this wouldn't the first time Jax has cheated on a girlfriend. When Vanderpump Rules first premiered, Jax and Stassi were the couple that everyone in SUR wanted to be. That was until Jax's affair with a woman in Las Vegas and hook-ups with Stassi's bestie Kristen Doute were revealed. Stassi and Jax split and were rarely seen on-screen together again after that. And while it is possible for people like Jax to change their ways, a study published in the journal Archives Of Sexual Behavior found that rehabilitation isn't a sure thing. In fact, it's almost the opposite. According to the study, those who cheat in their first relationship are three times more likely to cheat again.
The only cast member who seemed to doubt that Jax really did step out on Brittany with Faith was Tom Schwartz. He kept reminding Brittany that Jax "really loves her," and would never cheat. But just a few seconds later, Tom said that "if" Jax were to have cheated, he would definitely cover for him. So how much can you really trust a bro vouching for a bro's behavior?
And cheating rumors have followed the couple through Vanderpump and their spinoff, Jax And Brittany Take Kentucky. In February of this year, Kristen Duote told Andy Cohen on Watch What Happens Live that she hoped Jax cheating rumors weren't true. Jax himself appeared on WWHL the previous December to say that he wasn't hooking up with other women at a public appearance in Philadelphia, as some reports claimed. Questions of fidelity are following this relationship around, but Faith's news may sink it for good.
Because regardless of what Tom says or thinks, Faith stuck firm to her story. And while no official announcement has been made yet, if this season confirms that Faith is indeed pregnant, being accused of cheating will be the least of Jax's worries.