Vanessa Hudgens & Ashley Tisdale Shine In Duet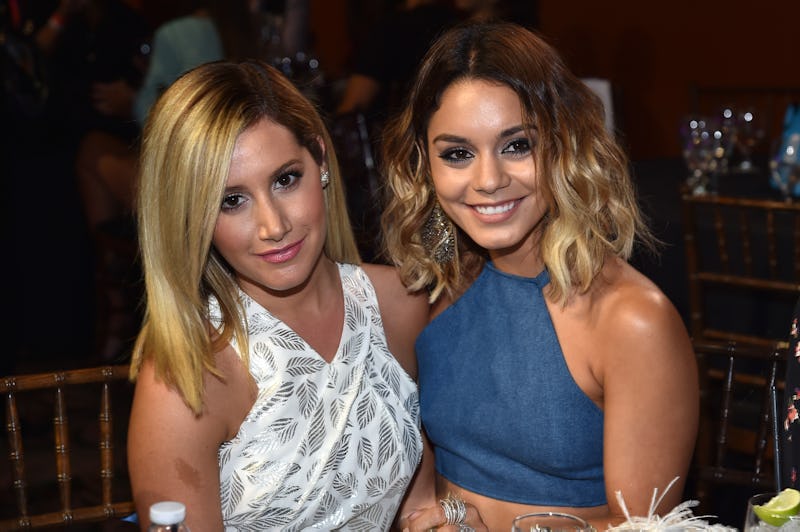 Alberto E. Rodriguez/Getty Images Entertainment/Getty Images
The internet has been losing it over Vanessa Hudgens and Ashley Tisdale's debut duet of Elle King's "Ex's & Oh's" on Tuesday, and rightfully so. Tisdale posted the video to her YouTube channel after fans requested for her to reunite with her bestie and perform for the first time together — alone. Believe it or not, the two never had a duet in the High School Musical franchise, so this was long overdue. 11 years later, they made it happen and beyond all of the nostalgia greatness, it's their friendship and true girl power that really take center stage.
Gabriella and Sharpay may not have been the best of friends on screen way back when, but it's amazing to see that Hudgens and Tisdale have remained so close after bonding on set when they were just teenagers. Not all cast members could say the same (RIP Zanessa). And in the cozy, intimate setup of the video, their chemistry is undeniable. "We did not have a song in High School Musical, just the two of us, we always wanted one too," Tisdale said, with Hudgens agreeing.
Their eagerness to perform side-by-side showed how these two super talented women don't compete for success, but admire each other's ability and root the other (and their hustle) on. This was a shining moment of the video, one which applies to all women and their friendships — in show business or not.
With Hudgens now 28 and Tisdale 31, the video highlighted how far each star has come since HSM. But it seemed their relationship has only grown stronger. Not only have they denied the chance of their careers getting between them, but of men in their lives as well. Tisdale's husband Christopher French was also part of the duet, as she introduced him as her "lovely husband [who] did the arrangements." In fact, Hudgens was a bridesmaid in the 2014 wedding and gushed about her friend looking like an "angel" on her special day. No jealousy here.
And speaking of men, perhaps the most epic element of all was the choice of song itself — an empowering anthem for women to shamelessly have their way in relationships. Hudgens and Tisdale reflected how independent and strong they've grown as women, of course, with the other by their side. This whole thing was totally kickass, and basically, I conquer: