Celine Dion Is Making Everyone Cry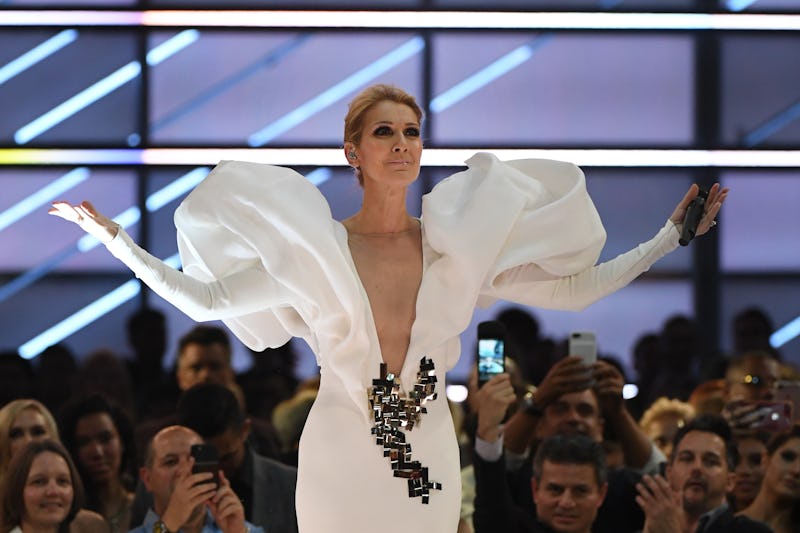 Ethan Miller/Getty Images Entertainment/Getty Images
Céline Dion belted her iconic song "My Heart Will Go On" in a show-stopping performance at the 2017 Billboard Music Awards on May 21. The legendary singer gave the throwback performance in honor of the 20th anniversary of the hit song from the Titanic soundtrack. And even two decades later, Dion's "My Heart Will Go On" performance made everyone cry — including BBMAs co-host Vanessa Hudgens. Dion didn't miss a beat, or a note, when giving us all the gift of her voice singing this legendary '90s song that has the rare side effect of making you feel all the ~feels~ within the first few chords.
Dion brought all the emotions as she sang "My Heart Will Go On" on stage at the T-Mobile Arena in Las Vegas and, just like it did in 1997, the song inspired eyes to tear up in the audience. Back in the present, viewers are also well-aware that Dion has experienced a tough few years. In 2016, her husband René Angélil died after battling throat cancer at age 73, and her brother Daniel Dion passed away at age 59 due to cancer days later. At last year's BBMAs, her teenage son with Angélil, René-Charles, presented Dion with the Icon Award, which had viewers clutching tissues as well.
And now in 2017, Dion's emotional throwback has us all crying tears of heartbreak and nostalgia. When the BBMAs came back from a commercial break after the performance, Hudgens was clutching her own tissues and admitted to crying during Dion's song.
Twitter users were feeling the feels as well. One just sat on the floor and cried.
Another Twitter user saluted Dion's strength.
Some users were in denial about how they felt.
For this user, Dion's performance is still with them 60 minutes later.
And this Twitter user is proud to be ugly-crying during "My Heart Will Go On."
So it's clear that Dion can bring all the feels with "My Heart Will Go On," even 20 years after its initial release.