There's A New Netflix Christmas Movie Starring Vanessa Hudgens & It Looks AMAZING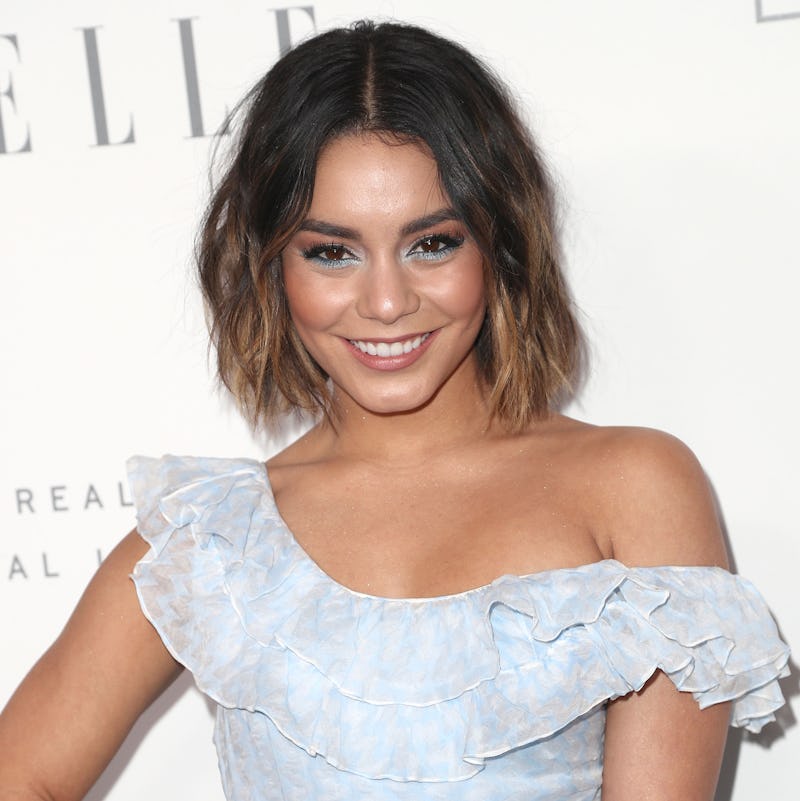 Frederick M. Brown/Getty Images Entertainment/Getty Images
Ever since May 19th's royal wedding, which consecrated Meghan Markle and Prince Harry's union, there has been a noticeable void of royal romance content. It sounds like you'll soon be able to watch another exciting royal wedding unfold though, because Netflix just announced a new movie called The Princess Switch — the exact title has not been confirmed — and it sounds like the perfect movie to watch now that the real-life royal wedding excitement has subsided.
The Princess Switch will star Vanessa Hudgens and British actor Sam Palladio. As you could probably guess, it will come out this winter on Netflix, according to Hudgens' Instagram post about the movie. Hudgens announced the film on social media, calling it "The Christmas Switch." However, on Netflix's See What's Next Twitter account, the site announced the movie with the title The Princess Switch. A representative for Netflix confirmed to Bustle that the title is, indeed, The Princess Switch.
The official movie title doesn't have anything to do with the Holiday season, but given that Hudgens mistook the name for "The Christmas Switch," it seems safe to say fans are looking at a new Netflix Christmas movie, following in the footsteps of last year's instant cult-favorite, A Christmas Prince. As Buzzfeed points out, Netflix also has a sequel to A Christmas Prince coming out later this year, called A Christmas Prince: The Royal Wedding.
Even though you might think A Christmas Prince and The Princess Switch sound confusingly similar, they'll probably be totally different — and perfectly magical in their own ways. Plus, really, there is no such thing as enough royal romances during the post-Markle and Harry slump. Hudgens seems to know that, because she shared the same photo from The Princess Switch on Instagram with the caption, "Did someone say a royal wedding????" Yes, please!
Included in her caption, Hudgens wrote, "So excited for you guys to see this one." She also mentioned that the the movie had just wrapped, and while the film's release date has yet to be announced, it's safe to say that you can probably start your countdown for a new Netflix original Christmas movie coming this winter. Even if it's not totally holiday-themed, just from the photo alone you can see some sparkly lights that look like Christmas decorations. Mostly it's hard not to fixate on the giant cake that's taller than both Hudgens and Palladio. That's exactly the kind of decadence that everyone needs now that the real-life royal wedding has ended.
A Christmas Prince hilariously featured a journalist (Rose McIver) who goes undercover in the fictional Aldovian castle, and it sounds like The Princess Switch will also include some identity confusion too — think The Lizzie McGuire Movie. Netflix's See What's Next tweeted a short synopsis of The Princess Switch, calling it "A rom-com about a Duchess & a commoner who swap places after discovering they look exactly alike! But things get complicated when they each fall in love with a man who doesn't know their true identity." Um, that sounds utterly and completely amazing, and as the song from the Lizzie McGuire Movie says, "This is what dreams are made of."
Now, it's unclear if Hudgens and her look-alike find each other in a fictional land like Aldovia, but it certainly seems like The Princess Switch will provide viewers with a wild ride. Will they ever come clean about their true identities? Or will the so-called commoner end up living a secret life as a Duchess for the rest of her life? These are some pretty exciting possibilities, and this new movie sounds like the perfect example of art imitating life. Not that Meghan Markle is an undercover "commoner" of course, but the whole "Prince marrying a someone unexpected and putting on a fabulous royal wedding" thing is pretty on the nose. Netflix knows that that's exactly what everyone needs, and it's so exciting that they'll be providing not one but two royal wedding movies this winter.