Vanessa Is So Successful Outside Of 'The Bachelor'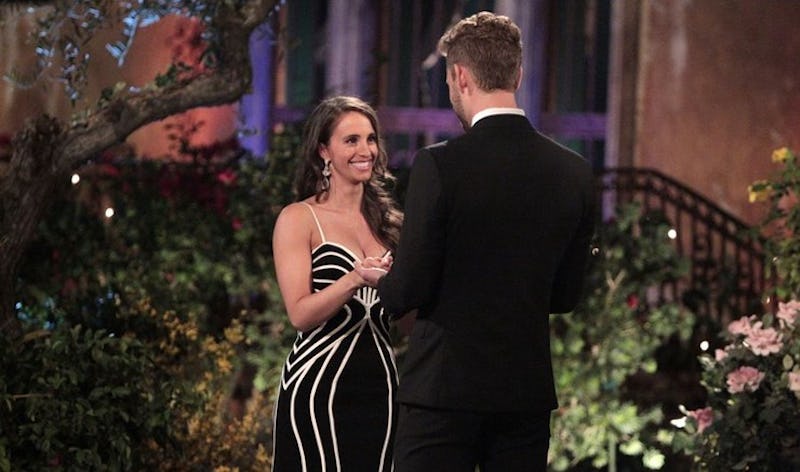 Rick Rowell/ABC
The Bachelor home stretch is upon us, and Nick Viall will soon offer a big ol' Neil Lane diamond to one of the last two women standing on The Bachelor. Right now, the frontrunner for Nick's bride-to-be is Vanessa Grimaldi, the Canadian special education teacher who managed to keep the romance going during a furious case of motion sickness at zero gravity. But outside of the show, she has even more to offer, and though Vanessa's net worth has not been confirmed, she is certainly a successful woman with a career that should more than impress Nick.
Though the-net-worth.com claims that Vanessa has a net worth of $270,000, there are no sources or evidence to support this, and Vanessa has never publicly commented on any figures. What we do know is that Vanessa is a special education teacher in her home city of Montreal, and according to a 2015 Toronto Star article, teachers with over 15 years of experience in Canada are among the highest paid in the world, earning an average of $65,000 per year. Considering that she is only 29, Vanessa clearly doesn't have 15 years of experience, but she has an incredibly rewarding job in a country known for paying teachers better than many others. However, teaching isn't her only career.
Vanessa has also managed to nab some legitimate acting and hosting credits along the way, because she simply doesn't stop achieving. If you take a look at her IMDB page, it looks like Vanessa's acting credits start back in 2010, when she appeared in the series Blue Mountain State and then co-hosted a Canadian reality competition show called Can Your School Rock? where she went by the moniker Vanessa G. You can see a clip of the series below.
Then in 2011, she appeared in one episode of the SyFy series, Being Human and in 2014 she did another SyFy series called Ascension, where she played a stewardess for one episode. Now that The Bachelor has made her well known among TV audiences, I wouldn't be surprised if that acting resumé starts growing very quickly.
Vanessa is clearly a super successful and motivated woman, and her net worth doesn't affect that. Nick would be lucky to marry her, and we'll see if he realized that when The Bachelor finale reveals his decision on Monday night.