Why Selina's Misogyny Is So Important To 'Veep'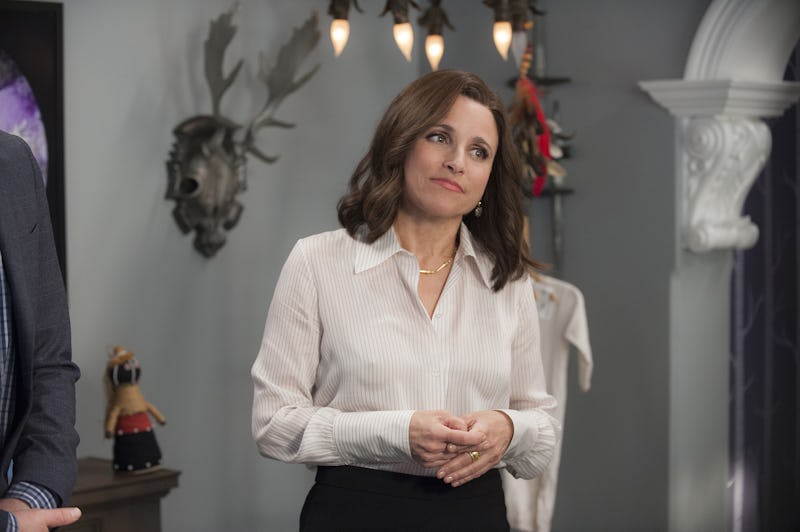 Colleen Hayes/HBO
Escaping to the world of Veep in 2017 comes at a price. Sure, the fictional America in the HBO series has two female presidents, but its first isn't exactly a feminist hero. Quite the opposite, exactly. In an interview with Bustle, Veep show runner David Mandel addresses Selina's false feminism, her loathing for other women, and how Julia Louis-Dreyfus' success inspires some of the former president's mishaps.
"I think she's a misogynist," says Mandel says of Selina. "They do exist. I think she is a woman who hates other women. She hates listening to them. She hates being around them." When we talk about Bustle, he can't resist telling me, "She'd hate that." All that would matter to Selina about a feminist website is that it's giving her attention.
How exciting would it be to write about a misogynist man? No thank you.
But highlighting the negative aspects of society with humor is the goal of satire. The fact that women who use feminism to their advantage without supporting other women happens to be a very real problem in our society makes Julia Louis-Dreyfus' character on Veep important to the cause in a way — just don't tell her that.
Occasionally, Selina will use feminism to her advantage, but that's the only time she'll support the movement. "To her credit," says Mandel, "she doesn't like using it." But she absolutely will, if it will give her a leg up. That all adds to the show's basic comedic premise.
"I'm not particularly sure she has a lot of female friends," the showrunner adds. "Maybe [Karen, Lennon Parham's character] who can never make a decision. Even her, she doesn't really like her."
Pulling off such a complicated character is, of course, a huge credit to Veep's star. "I love that Julia's not afraid to let Selina be so horrible to other women," says Mandel. "It's part of what's really interesting about her character. I think it's connected to her mother. I think it's connected to her father, as we've shown a little bit this season."
Selina's attitude towards women makes her an appealing anti-hero in terms of the storytelling, too. "From my perspective," Mandel says, "how exciting would it be to write about a misogynist man? No thank you. But Selina dealing with her womanhood is kind of what makes Selina Selina."
Some jokes on the subject were inspired by real life, too. "Whenever we do interviews," he says, despite all of her Emmys and proof of how good she is as a performer, Louis-Dreyfus "still gets these sort of like 'as a woman' questions. It's just amazing to me." A moment in Season 6, in which Selina immediately passes on Mike's questions for her book that put her gender first, nods at that phenomenon, which can't end soon enough.
"That made me so happy to do," Mandel says, "because on one hand she hates women. That's certainly true. But on the other hand, she really is trying to define herself just simply as a politician and not as a woman. Which I think in this day and age is correct."
It makes a good point, in this fictional universe, that Selina Meyer as a woman shouldn't have to be morally better or a good person at all to be a good politician and half as successful as all of the morally bankrupt and crass men that got in the room first.
I've said it enough times that I think it might be an indication of actual change — representation cannot happen in media unless there is a variety. For every feminist hero like Diana Prince and Leslie Knope, there need to be villains, and there need to be characters who are in-between. And Selina Meyer is a morally challenged female character the Veep showrunner is still excited to write for.