Here's When The Vegan Versions Of Pret's Lunchtime Classics Are Hitting Shelves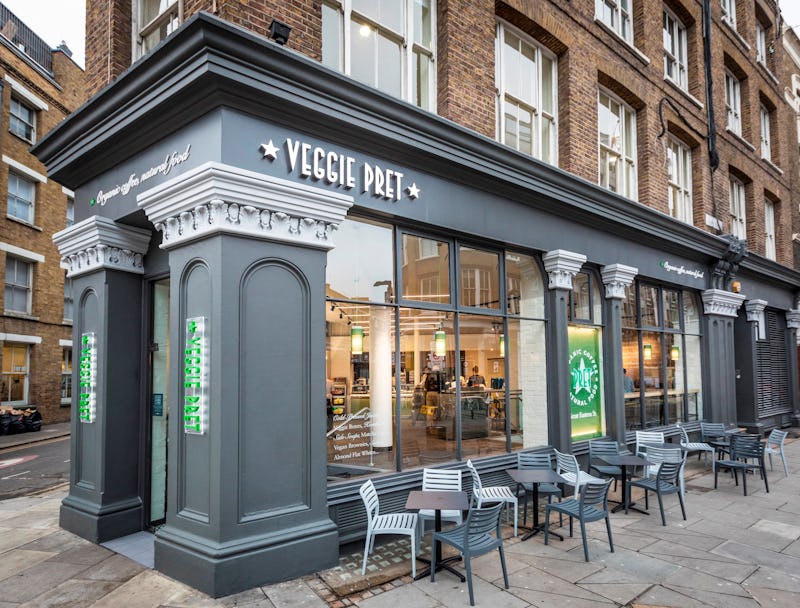 Pret A Manger
Initially opened as a pop up experiment in 2016, Veggie Pret has blessed vegans and vegetarians with four dedicated stores (three in London, one in Manchester), and now a fifth store opening later this month in Canary Wharf. And if that wasn't enough, Pret are launching vegan versions of their classic products, including sandwiches, baguettes, and wraps. These new recipes will be exclusive to their veggie outlets.
The four new products have been given the esteemed title of The Vegan Classics. Made in response to consumer demand, these recipes "have been carefully created ensuring that they taste just like the originals, but that they only use vegan ingredients," as Pret said in a press statement sent to Bustle UK. They will be available from Oct. 24 onwards.
So, what exactly are they?
The Vegan Chuna Mayo baguette is a take on the Pret's Tuna Mayo and Cucumber Baguette, combining chickpeas and vegan mayo, seasoned with a sprinkling of pickled onions, chopped capers, and parsley, finished with a squeeze of lemon. The white baguette will be served with sliced cucumber, red onion, and rocket.
The VLT pairs roasted shiitake mushroom "rashers" with sliced tomatoes, green salad, and a dollop of vegan mayo, all served on malted bread.
The Vegan Eggless Mayo & Cress is a baguette filled with a combo of tofu and vegan mayo, finished with freshly chopped cress and some seasoning.
The Vegan Hoisin Mushroom Wrap is a re-imagining of Pret's The Hoisin Duck Salad Wrap. Glazed mushrooms are coated hoisin sauce, with cucumber, pickled cabbage, and carrot salad on top. The wrap is then finished with sliced spring onion, coriander and baby leaf spinach.
If you're in a part of the country that doesn't have a Veggie Pret, whether or not these vegan versions of these classic recipes will be available in your usual Pret remains to be seen. Although a Pret spokesperson tells me that, if these Vegan Classics become popular in their Veggie chain, they will "consider them for [regular] Pret."
As Bustle has previously reported, Pret also recently debuted their Autumn 2019 menu, which includes 24 new products, including three new toasted focaccias and other treats perfect for the colder months.
This article was originally published on