Venmo's Newest Feature Makes Splitting Costs With Your Friends Ridiculously Easy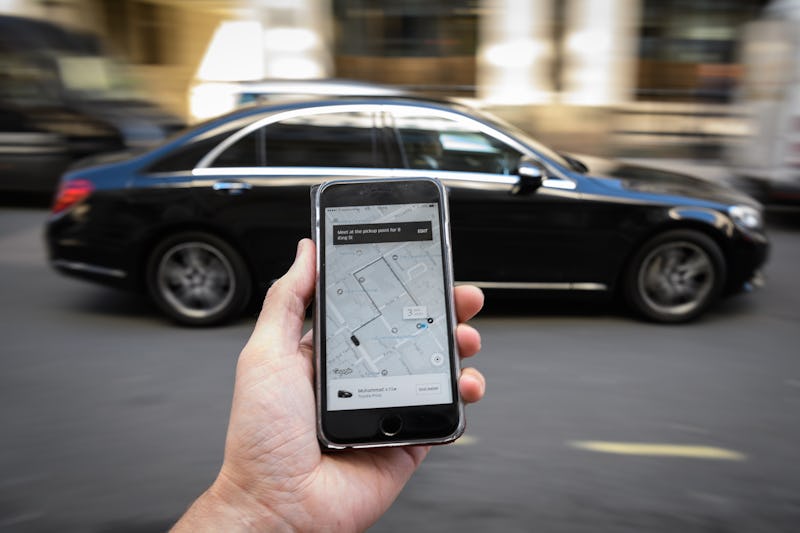 Leon Neal/Getty Images News/Getty Images
If you frequently share Ubers (or food from Uber Eats) with friends, you know the struggle of splitting ride or meal fares. It usually just becomes an "oh, we'll Venmo you back later" situation and then suddenly a month has passed and you haven't seen a dime. Luckily, Venmo and Uber have partnered up to end this dilemma: you can now split ride and food costs on Venmo within Uber and Uber Eats using the popular payment method.
Venmo and Uber have both had a massive impact on the way a lot of us go about our day-to-day lives. Gone are the days when hailing taxis or writing checks to pay back a friend were the norm — the digital age has simplified so many things. Venmo allows us to easily and quickly pay people for tons of different things (a Girl Scout even asked me to use it to pay for my Caramel DeLight cookies a few months ago). It's only fitting, then, that these two would combine forces.
Uber realizes that the recently announced partnership has the capacity to so many of its customers' lives easier. "With so many of our riders and eaters already turning to Venmo as a way to pay a friend back for that last ride or meal, we're proud to have built a seamless, easy-to-use connection between our apps," Uber's Head of Financial Partnerships & Programs Marco Mahrus explained in a statement. It's true, many of us often use both of the apps but bounce between them when it comes to splitting costs. In fact, the two companies have reported that in the past year, over six million Venmo payments mentioned Uber-related costs.
The brand-new Venmo feature is expected to go live on Uber and Uber Eats "in the coming weeks," and cost-splitting process itself is super simple. First, you need to add Venmo as a payment method on your Uber account. Then, once you're in either of the Uber apps, you can select Venmo as a payment method and will be directed to the Venmo app to divy up costs. The integration will even give customers the ability to pay for Uber's ride and food-delivery services using existing money in their Venmo balances.
Best of all, the Venmo cost-splitting feature on Uber apps comes with no additional fees. Before the collaboration, Uber and Uber Eats did have payment-sharing option — but with a 25-cent fee for every use. "Adding Venmo as a way to pay within Uber and Uber Eats furthers our mission to provide a seamless way to pay for the services that matter most to our customers," noted Bill Ready, Venmo owner PayPal's COO, in a statement. In addition to increasing the efficiency of services for customers, the Uber-Venmo collaboration is also helping the two companies stand out from a sea of their respective competitors. For Uber, that means differentiating itself from its biggest industry competitor, Lyft, and Venmo will get the chance to outshine other digital wallet platforms like Zelle, Square, and Apple Pay. If you're like me, deciding to use Uber versus Lyft is pretty much a coin toss sometimes — so partnerships like Uber and Venmo's are a smart move when it comes to being competitive in their industries.
Ride-sharing, food delivery apps, and digital payment services are definitely here to stay, so why not integrate them and make everyone's lives a little easier? After all, tech companies like Venmo have been looking to expand beyond their original platforms for awhile now (take Amazon opening its first all digital, checkout-free grocery store, for example). Uber teaming up with Venmo to streamline in-app cost-splitting is one of many such evolutions — and I'm sure we'll soon see a lot of companies following in their footsteps.