Venus Williams Reveals Serena's Having A...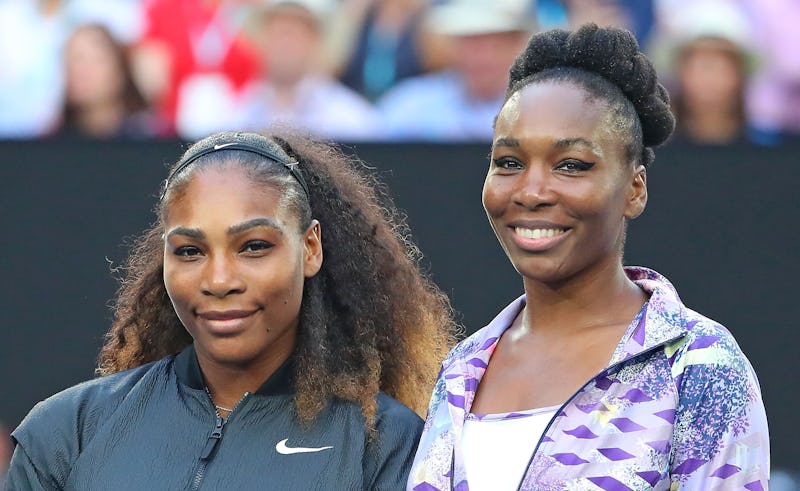 Scott Barbour/Getty Images Sport/Getty Images
The Williams sisters sure know how to make announcements about major life events in the most nonchalant way. During an interview with Eurosport Wednesday (via Us Weekly), Venus Williams said Serena Williams is having a girl. To be clear, she didn't directly say, "My sister is having a girl," but she definitely spoiled if her younger sister will soon be mom to a daughter.
UPDATE: Following Venus' comment, Serena posted on Instagram that she does not know the sex of her baby and that the confusion probably arose because of how her family talks about the baby — particularly when Serena is trying to trick her sisters into doing something for her. As she wrote, "To clarify what Venus said, I am always joking with my sisters to see what favors I can get them [to] do for me next. If I want something from one of my sistes I say baby Venus Baby Lyn, or Baby Isha needs it."
EARLIER: At the 2017 French Open, Venus was asked, "What is the baby going to call you?" To that, the tennis star replied, "She's going to call me 'favorite aunt.' We're all like, 'Baby V, baby Lyn, baby Isha.' We all want the baby to be named after us."
First of all, the athlete referred to the baby as a "she," so, yeah, Serena is definitely having a girl. Secondly, by "us," Venus is obviously referring to herself and her fellow sisters, Lyndrea Price and Isha Price. She and Serena also had another sister, Yetunde Price, who died in 2003. So, seeing as Venus said they all want Serena's baby to be named after them, then that means she is having a girl. It doesn't even seem like the 36-year-old was trying to keep it a secret.
Who knows how Serena feels about her sister's possible slip-up, but it's clear that the Williams sisters are professionals when it comes to both tennis and making totally casual announcements about pregnancy. Remember in April how Serena revealed she was expecting her first child with her Reddit cofounder fiancé, Alexis Ohanian?
For those who don't recall, Serena shared a Snapchat of herself wearing a swimsuit that showed off her baby bump at "20 weeks." Does it get more chill than that? Granted, she ended up deleting the snap and telling Gayle King in April at a TED conference that releasing the image was an accident. The 35-year-old explained, "On social media you press the wrong button and ... 30 minutes later I missed four calls and I'm like, 'That's weird.'" She added, "I have this thing where I've been checking my status and taking pictures every week to see how far along I'm getting. I've been so good about it, but this was the one time it slipped."
Like Serena's Snapchat, there's a chance that Venus revealing she will soon be an aunt to a baby girl was also an accident. It's very possible that Venus didn't even realize what she was saying and probably because she's so used to referring to her sister's baby as a "she" and also her "niece." It's something that could happen to anyone.
With that, I will now be awaiting the next super casual announcement that comes from the Williams sisters. Here's hoping it involves Serena's wedding or the birth of her first child.