Here's How Vicki Feels About Heather Leaving 'RHOC'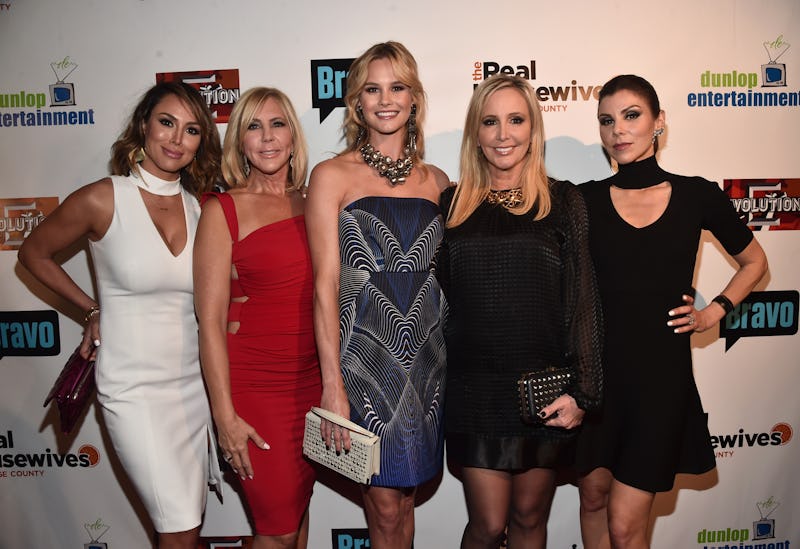 Alberto E. Rodriguez/Getty Images Entertainment/Getty Images
In not-so-shocking news, it seems as though the OG of the OC isn't that broken up about Fancy Pants leaving The Real Housewives of Orange County. Sure, the Queen of the Whoop It Up Kingdom cares about and is rooting for her former co-star, but she doesn't seem to miss having her around all that much. In a recent interview with Bravo's The Daily Dish, RHOC legend Vicki Gunvalson said she's "fine" with Heather Dubrow's departure from the reality series, and it's mostly thanks to Shannon Beador and Tamra Judge.
Gunvalson began,
"Heather left, obviously, this season. And for me it was fine."
"And for me it was fine." Zoinks. Let that wash over you like a bucket of melted hexagonal ice cubes.
She continued,
"I didn't really appreciate what Heather did last year. She got on the bandwagon of Tamra and Shannon."
Bandwagon? More like airport-bound bus. May we never forget that harrowing, exhilarating, and shriek-filled shuttle that the Season 11 cast took while in Ireland. Watching that scene is basically the equivalent of putting your stomach on a bus that's lumbering down a winding, uneven mountain road as at least one OC Housewife screams in its face. It is Real Housewives Hall of Fame material, foolproof nightmare fuel, and a brilliant use of limited lighting.
Gunvalson explained,
"Heather and I had always had a really great relationship, and I support and condone and appreciate her show with Terry [Dubrow] with Botched and all, but when she started getting into the mean girl sector, it really took me off guard because I had a really great relationship with Heather. So, for me, it was time to get the mean girls separated a little bit."
Gunvalson simply wanted to see a small shift, nothing drastic; a major cast overhaul wouldn't be necessary. Just something to lessen the power of the "mean girl sector" (hey, just using her phrase), that's all.
Gunvalson added that she believes it's "good that [Dubrow] kind of took a step back" from the show so she could focus "on her family and other things she's doing."
As far as their present-day relationship goes, it appears as though the two have politely gone their separate ways since Dubrow's exit. "I wish her the best," explained Gunvalson, "but I just don't see her very often." And from the sounds of it, Gunvalson doesn't talk to Dubrow very often, either:
"Heather sent me a text the morning that she decided not to join this season, and that was the last I heard from her. So we never really kept in touch anyway. We were very vanilla, we were very dear to each other, but I wouldn't call us close friends."
Oh?
They were both very dear to one another, and yet, so vanilla. Well, this sure twists and turns like the aforementioned airport shuttle.