Heather Is Diversifying Her Resume After Leaving 'RHOC'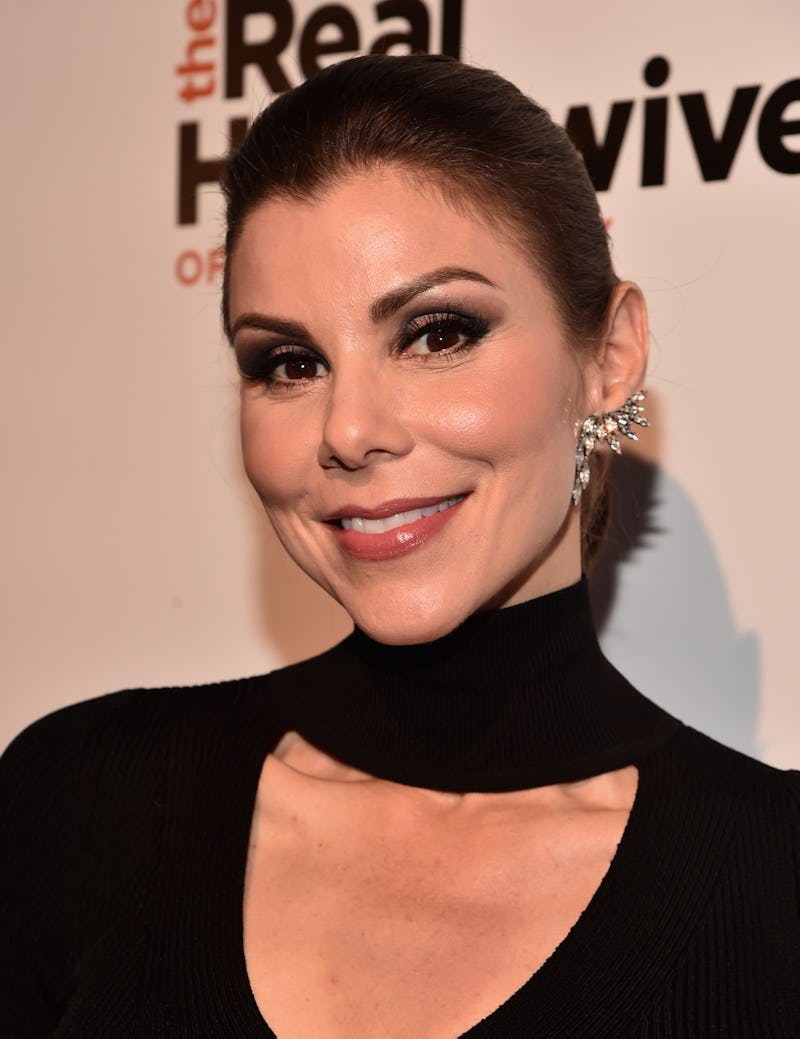 Alberto E. Rodriguez/Getty Images Entertainment/Getty Images
The longest-running of the Real Housewives franchises, The Real Housewives Of Orange County can also be (in my humble, Housewives-watching opinion) the craziest. It takes a lot to go up against Vicki Gunvalson and Tamra Judge, and theirs is a hard group to mesh into. That's why I was so disappointed when I found out that Heather Dubrow was leaving Vicki, Tamra, and the rest of the ladies for greener pastures and some much-deserved time off after Season 11. What's Heather doing after RHOC?
Heather came into the show in Season 7 (Season 12 is about to begin on July 10), and although she is as wealthy and privileged as anyone in Orange County, I was always intrigued and impressed by how down-to-Earth she seemed to be. She and her husband, Terry Dubrow (you probably know him from this show and Botched, his own reality series with co-star Paul Nasif), never shied away from fighting or revealing the cracks in their marriage on camera. Terry works a lot, and that's been a point of contention between the two. The couple never pretended like it wasn't. Heather could be a little discerning and stuck in her ways, but she's always — as the Housewives say — "owned her stuff," and I'm sad to see her leave. Heather was always fun to watch.
But, as they say, nothing gold can stay, and according to Bravo's The Daily Dish, Heather announced back in January 2017 that she was hanging up her orange. Her statement read:
"After a lot of careful thought and deliberation, I have decided not to return to RHOC this season. These past five years have been an incredible journey and I'm so proud to have been a part of such an iconic piece of pop culture. I am so grateful to Evolution Media, Bravo and the whole NBCU family for all of the incredible experiences and the opportunities RHOC has afforded me and my family. However, at this point in my life, I have decided to go in another direction and do what's best for my family and career. Should I change my mind, I thank Andy Cohen, Evolution, and Bravo for telling me that the door is always open."
What is this other direction? Terry shed a little light on his wife's plans recently. "Heather, honestly, is busier than ever," he told The Daily Dish. "She's got two new projects that are going to come out soon, but she still does Heather's Closet. She's got the number one 1 female podcast on the number one podcast network in the world, which is Podcast One and Heather Dubrow's World, and she's got so many projects." The two are also working on their own podcast together, called Dr. and Mrs. Guinea Pig.
Okay, fine — Terry and Heather are keeping mum on exactly what Heather is doing these days. I get their need to be cagey until her various "projects" are released. But at least their house is finished! Heather and Terry went back and forth about moving in seasons past of The Real Housewives Of Orange County, and they ultimately decided to build a grand, new mansion in Orange County. Of the house, Terry told The Daily Dish, "The house she built is just spectacular. It's 22,000 square feet, and it looks like a combination of a department store meets a resort. And it's got a 21-seat movie theater. And Heather has put such elegant, perfect touches. It's ruined vacations for me because there's no place in the world I'd rather be than that house 'cause it's so spectacular."
Yeah, somehow I'm suddenly not feeling so choked up for her that Heather is gone from the show — I'm only sad because I won't be able to see her new home. If that house is as grand as Terry says it is, I wouldn't want to leave for a vacation either. From all of these updates, it sounds as if Heather has plenty of things in the works post-RHOC — maybe one of them is inviting me over for a movie.