You Can Own Victoria & David Beckham's Actual Royal Wedding Outfits For £7.50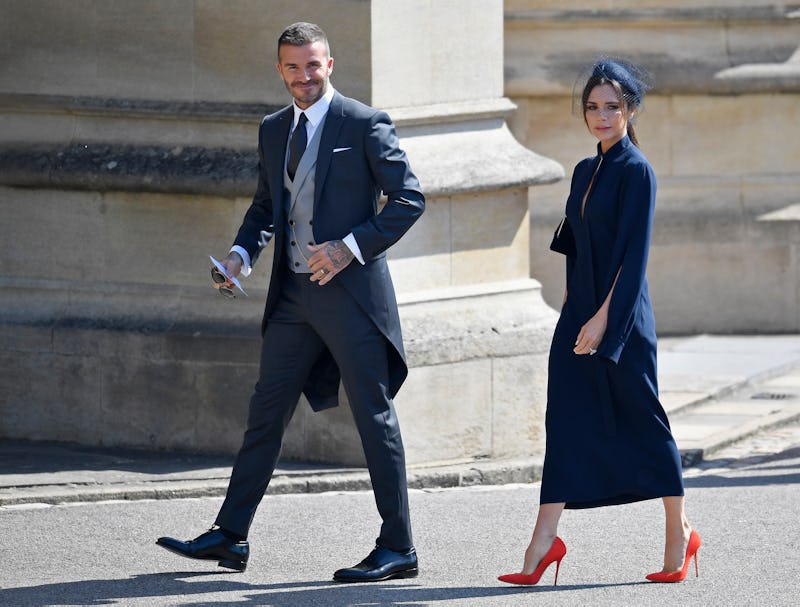 WPA Pool/Getty Images Entertainment/Getty Images
Another day, another piece of royal wedding news, but this time, it involves you. Well, possibly. David and Victoria Beckham's royal wedding outfits that they wore when Prince Harry and Meghan Markle tied the knot are up for grabs. And guess what? It's for an amazing cause — to help those affected by the Manchester terror attack.
The A-list couple were two of the 600 guests invited to the wedding of the year. Naturally, VB chose a design from her own collection, opting to wear a navy dress with a buckled neckline and summer-ready split sleeves. She paired the dark coloured dress with vibrant red heels and a netted veil. Meanwhile, her husband matched her look perfectly, wearing a morning suit designed by Dior Homme. The dark grey number was worn with a light grey waistcoat, satin tie, and patent leather shoes. The ex-footballer's initials were even sewn inside just in case he misplaced his entire outfit, I suppose.
If you were a fan of either Victoria or David's look, you now have the chance to bag their outfits for yourself. The famous duo have decided to auction off their entire ensembles in order to raise money for victims of the 2017 Manchester bombing attack.
On Thursday, the Beckhams announced their latest charity work on Instagram. A joint statement from the pair read: "To support the incredible work of the We Love Manchester Emergency Fund and the families affected by the Manchester attack last year, @davidbeckham and I have partnered with @omazeworld to give you the chance to own our wedding outfits."
One person will win both outfits and it could be you. All you have to do is enter an online raffle. There are a number of entry levels to choose from; 100 chances to win will set you back $10 (around £7.50) while 50,000 chances will cost $5,000 (just over £3,700).
The We Love Manchester Emergency Fund reports that it has raised £21 million since the attack, which killed 22 people outside an Ariana Grande concert in May 2017. The organisation works to give financial aid to both the survivors and families of the people who were killed. It also supports those who have been physically and/or psychologically affected.
Of course, the Beckhams are far from the first celebrities to raise money for the organisation. In June 2017, Ariana Grande raised £2 million from a benefit concert, Heat reports, which featured performances from the likes of Katy Perry, Little Mix, Justin Bieber, and Pharrell Williams. Actor Tom Hardy has also backed the fund along with singer Ed Sheeran who urged the public to give what they could.
During an interview with the Evening Standard, VB opened up about attending Prince Harry and Markle's wedding. She said: "It was such a beautiful, incredible wedding. It was just the best day. They looked so happy, and everybody was just so happy for them. Meghan seems like a genuinely lovely woman, who really loves him. It felt very real, very honest."
Commenting on suggestions that she perhaps appeared nervous at the ceremony, VB was quick to shut those rumours down. On the contrary, the fashion designer explained: "I wasn't nervous, no. I was just really honoured to have been invited. I would have been nervous if it had been my day." She then admitted it she was relieved "not to be hugely pregnant at this royal wedding that it was a joy to be able to choose anything [she] wanted to wear." The designer is referencing her appearance at the 2011 wedding of the Duke and Duchess of Cambridge while seven months pregnant with daughter Harper.
While it makes sense to try and get a piece of the Beckham pie and raise money at the same time, super fans of Beckham's royal wedding dress can just buy it straight from Victoria Beckham stores in July. I know which route I'm going to go down.