Victoria Beckham's Royal Wedding Look Was Chic, But Her Shoes Were The Best Part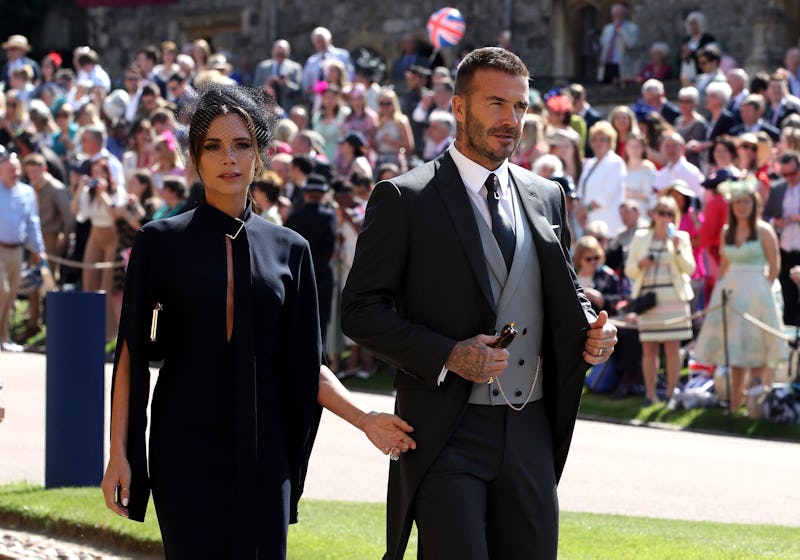 WPA Pool/Getty Images Entertainment/Getty Images
When I think of British style — especially as it pertains to the royals — what immediately springs to mind are sleek trench coats, smart dresses, and hats. Lots and lots of hats. We've seen Meghan Markle wear these key pieces, as she prepared to become a part of the royal family. But Victoria Beckham's outfit at the royal wedding wasn't far off point, either.
And really, is that any surprise? Beckham has always seemed like royalty herself, and has proven time and again that she knows a thing or two about fashion. She's long been associated with all things classy, sleek, and well, posh, in the two decades since she came on the scene as a Spice Girl. And ever since, Beckham has continued to impress us all with her impeccable style.
Add in the fact she has her own fashion line — which we all know is incredibly successful — as well as the fact she still finds time to be with her family, travel, and grace the covers of magazines, and it's easy to forget she's not actually royalty.
Beckham does, however, do England proud with her classic style. At the royal wedding, she looked every bit the stylish Brit in a navy blue dress, bright red heels, and fascinator hat. She arrived with husband David Beckham, who looked dashing in a gray suit.
Beckham's royal wedding look was yet another winner in a long line of posh outfits. For a quick reminder as to just how great her style is, take this gorgeous red dress (from her own line) as an example. She wore it earlier this year to celebrate being on the cover of Vogue Spain. Paired with lilac heels, it really made a statement and proved — once again — that Beckham is one fashionable lady.
Wherever she goes — whether it's a Vogue party or a royal wedding — Beckham arrives in style. Sometimes she's a woman in red. Other times, she is more subdued, as you can see with her look below. I mean, nothing screams "chic" quite like a black turtleneck, minimal makeup, and a messy bun.
Speaking of... this messy bun thing is a fave of Markle's, too. The duchess has either been wearing her hair down and blown out, or swept into an effortless knot at the nape of her neck, since she became engaged to fiancee Prince Harry. It seems to be a go-to for the women of America, England, and beyond.
And, also just like Markle, Beckham's well-known for sitting in the stands of sporting events, looking incredibly put together. The few times I've attended live games, my go-to look has always been a t-shirt, jeans, and maybe a cute coat if I'm feeling extra fancy. But collared shirts? Chic buns? Lipstick? Clearly, that's for much more polished women, like Markle and Beckham.
When it comes to classic style, nobody beats these ladies. Beckham is a woman who knows how to dress for day-to-day life, as well as for special events. Her royal wedding outfit, as expected, was top notch. Shall we look at it again?
Up close, you can see the beautiful detail at the neckline of the dress, which was very high per tradition at royal weddings. Her hat featured a spray of navy blue netting, which helped frame her face, along with a few strands of hair. And yes, that is David sporting a gold chain and looking super jaunty.
The two of them together are just picture perfect. But with those red heels, and British hat, Victoria really takes the cake.