Alexandria Ocasio-Cortez Gave A Fiery Speech On Sexual Assault And You Have To See It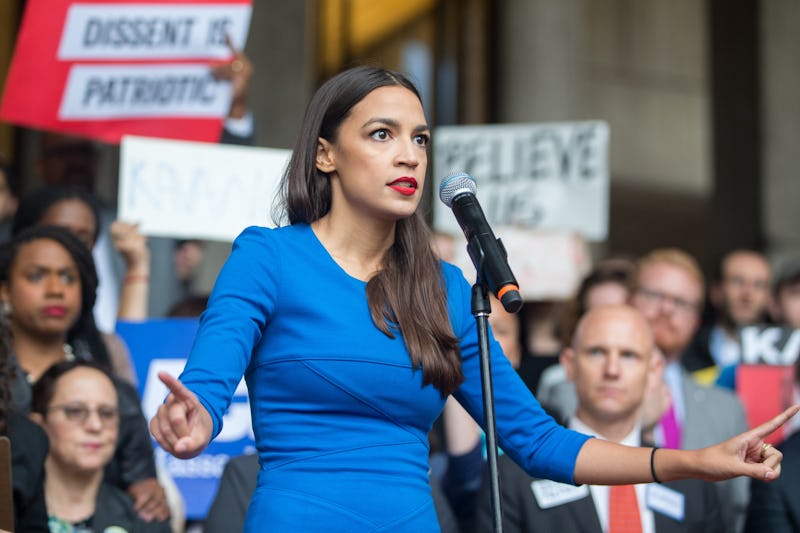 Scott Eisen/Getty Images News/Getty Images
Speaking to a passionate crowd at City Hall Plaza in Boston on Monday, Alexandria Ocasio-Cortez lambasted sexual assault as a widespread issue that affects different communities in the United States. The New York Democratic House candidate highlighted SCOTUS nominee Brett Kavanaugh's testimony in the wake of sexual assault allegations against him, telling the audience, "Could you imagine if Brett Kavanaugh had to sit in front of a panel of 11 women of color deciding his fate? Could you imagine?"
So far, Kavanaugh has categorically denied all accusations of sexual assault. He appeared before the Senate Judiciary Committee on Thursday to testify about Dr. Christine Blasey Ford's sexual assault allegation against him.
"Sexual assault is about the abuse of power," Ocasio-Cortez said. "It is always women who are always marginalized. It is the young, it is the interns, it is the immigrant, it is the trans. They are always most at risk because society listens to them the least. And that is why a man believes that an elite education, a high income, and his rich friends can get away with sexual assault."
The New York Democrat said she wanted to thank all sexual assault survivors present for "allowing themselves and everyone in this country to be re-traumatized over and over" by reliving their own experiences as they watched Ford testify on Thursday.
In another video clip shared by Boston Magazine's Spencer Buell, Ocasio-Cortez painted a picture of a fairer America for her audience by calling for accountability. "Justice in America is not just about protecting the powerful," Ocasio-Cortez said as her audience cheered for her.
Ocasio-Cortez's comments came on the same day when Arizona Sen. Jeff Flake visited Boston. The Republican, who also sat among the panel of senators for Thursday's hearings with Kavanaugh and Ford, became a topic in media after two women confronted him in an elevator after the hearing.
Soon after that incident took place, media outlets reported that it was Ana Maria Archila and Maria Gallagher who challenged Flake on his support for Kavanaugh, and told the senator of their own experiences as sexual assault survivors. Archila later told CNN, "I thought that he was someone who was willing to take a stand, that was on the side of justice, and I thought of him as someone who was able to recognize the humanity across political lines."
In her speech on Monday, Ocasio-Cortez ended on a note of justice and hope for the country. "It is about uplifting the voices that have been victimized," Ocasio-Cortez said to her crowd. Surrounded by demonstrators carrying a variety of signs — from "dissent is patriotic" to #StopKavanaugh — she invoked the image of a country that would ideally take abuse to task.
"Justice for all is radical in America," Ocasio-Cortez said. "Justice for the poor. Justice for women. Justice for the queer. Justice for trans. Justice for poverty. That's what we're fighting for: the radical rule of law and justice for all in the United States of America."