This Video Of Ivanka Trump Stopping Andy Dick From Groping Her Is Back In The Spotlight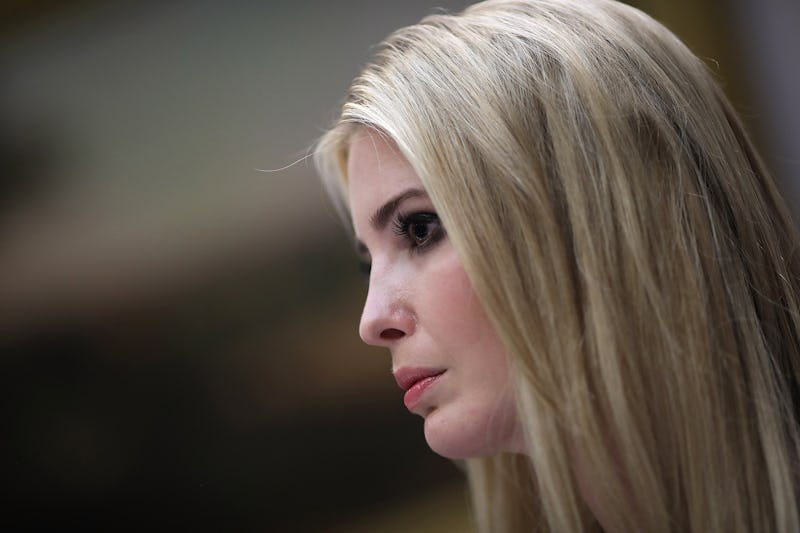 Win McNamee/Getty Images News/Getty Images
A 2007 video of Andy Dick touching Ivanka Trump on Jimmy Kimmel Live resurfaced on Thursday, just days after Dick was charged with misdemeanor sexual battery for allegedly groping a woman on the streets of Los Angeles. The video is from an episode on which both Dick and Trump were guests, and it ends with the former News Radio being forcibly dragged off the stage after continuing to touch Ivanka despite her and Kimmel's warnings.
"You don't play up the glitter on your leg?," Dick says to Trump as she's being interviewed by Kimmel. He then reaches out and starts stroking her knee. Trump initially appears shocked, then smiles playfully and smacks Dick's hand away. But he doesn't stop touching her, even when she grabs his wrist and attempts to push him away. Eventually, Kimmel steps in to break it up, and Dick finally relents.
"Donald Trump will kill both of us," the host says in an attempt to defuse the tension of the moment. He then returns to his desk and resumes interviewing Trump, and Dick momentarily keeps to himself.
Later in the interview, however, Dick reaches over and touches Trump again, this time on her arm. This results in Kimmel and two security guards compelling Dick to leave the stage. When he resists, Kimmel drags him out by his feet.
Dick had previously addressed touching Trump without her permission in a 2017 Instagram post. He claimed that he was simply trying to determine whether the glitter on her legs would rub off.
"The time I 'groped' Trump's daughter, Ivanka, on Jimmy Kimmel Live," Dick wrote. "Her legs were sparkling, and I was trying to see if the glitter would wipe off. I also mistakenly thought she would date me. I was jokingly carried off by security. Is anybody going to carry Trump off? No joke. Confusing times." One commenter pointed out that Dick never checked his hand for glitter after rubbing Trump's leg.
Kimmel, in an interview with Extra, addressed the incident shortly after it was filmed.
"[Trump] came out. [Dick] wanted a big wet kiss. It was time for Andy to go, so I escorted him out by his feet," Kimmel said. "He's Andy. He's not upset. He's not apologetic. He's just nutty. He always makes me a little uncomfortable."
Dick has faced allegations, and in several cases legal charges, of sexual misconduct in the past. In 2008, he was charged with sexual battery for allegedly pulling down a 17-year-old girl's top and bra outside of a bar and revealing her breasts; this was eventually changed to a misdemeanor battery charge, to which Dick pled guilty.
Three years later, Dick was indicted by a grand jury on felony sexual abuse charges after two men accused him of groping them outside a comedy club. He pled not guilty, and the charges were dismissed after Dick agreed to, and completed, six months of pretrial diversion instead.
In 2017, Dick was fired from the film Raising Buchanan after multiple cast and crew members accused him of groping their genitals, licking their faces and sexually propositioning them. Dick denied the groping claims but acknowledged licking people's faces, which he described as "me being funny." He also admitted to propositioning crew members during his time on the set, explaining that he's "single, depressed, lonely."
Most recently, Dick was charged with sexual battery for allegedly grabbing a woman's butt while she was walking down the streets of Los Angeles in April. The woman also says that Dick made lewd comments at her. He hasn't publicly addressed the charges and is scheduled to be arraigned on July 18th, SF Gate reports.