Watch Ariana Grande's Touching Performance Of "Natural Woman" At Aretha Franklin's Funeral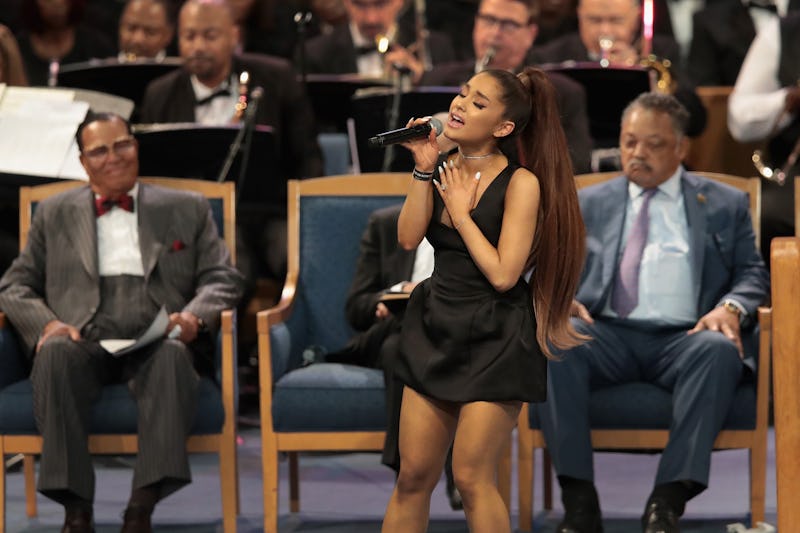 Scott Olson/Getty Images News/Getty Images
When the world loses a great artist, the only way to mourn them is by celebrating their talent. And Ariana Grande's performance of "Natural Woman" at Aretha Franklin's memorial service was just that. The service took place all day on Friday, Aug. 31, in Franklin's hometown of Detroit as the iconic musician is laid to rest, and the musical performances in particular have been hotly anticipated. In addition to Grande, the ceremony is set to feature Jennifer Hudson, Faith Hill, Fantasia, Jennifer Holliday, Chaka Khan, and Franklin's own son Edward.
Grande previously performed the classic Franklin track during an appearance on The Tonight Show Starring Jimmy Fallon. As reported by the AP on Aug. 28, the young singer was asked to perform at Franklin's memorial after her performance on The Tonight Show caught the attention of Franklin's family.
Grande was one of the earliest artists to perform, shortly after noon on Friday, and she took on one of Franklin's most memorable songs. Wearing a black dress with mesh inset and her signature high ponytail, the 25-year-old took the stage in front of a crowd that included everyone from the Reverend Al Sharpton to Former President Bill Clinton, and the young artist did not disappoint.
The touching performance brought the entire memorial to their feet, and certainly left an impression on Bishop Charles Ellis III. Following her take on "Natural Woman," the pastor put his arm around her and promptly offered his apology for not knowing who she was before the memorial, saying that when he first learned she was performing, "I thought that was something new at Taco Bell." He encouraged everyone to give her a round of applause, adding, "Girl, let me give you all your respect," and calling her "an icon."
Though Grande and Franklin weren't close, the two had met, and Gwendolyn Quinn, a spokeswoman for the Franklin family, told the Detroit Free Press that "Aretha was fond of her." In fact, according to a report form Seventeen in 2015, Franklin said that she would be happy to collaborate with Grande. During an interview on SiriusXM radio, she said, "I think Ariana and I are gonna duet. You like that? I think we have a hot duo going." Alas, the duet never happened, but Franklin's fondness of Grande was clear, which should hopefully tell fans that she would have been more than happy to have Grande perform in her honor.
Grande recalled meeting the legendary singer on The Tonight Show. "I met her a few times. We sang at the White House, and she was so sweet and she was so cute," she told host Jimmy Fallon. "I was like, 'How are you a real person?' It's an honor to have met her, and we're going to celebrate her." She shared a photo of one of their early meetings on social media after Franklin passed away, choosing to forgo any written caption in exchange for a series of emoji hearts.
Franklin, otherwise known as the Queen of Soul, died on Aug. 16 of pancreatic cancer. At the time, Quinn released a statement on behalf of the Franklin family thanking supporters, fans, and well wishers for their support:
We have been deeply touched by the incredible outpouring of support we have received from close friends, supporters and fans all around the world. Thank you for your compassion and prayers. We have felt your love for Aretha and it brings us comfort to know that her legacy will live on. As we grieve, we ask that you respect our privacy during this difficult time.
As evidenced by Grande's touching performance, Franklin's legacy is already evident in all the young artists who continue to sing her songs, and her legacy will only continue to grow.