Aretha Franklin's Rep Released A Heartbreaking Statement Thanking Fans For All Their Support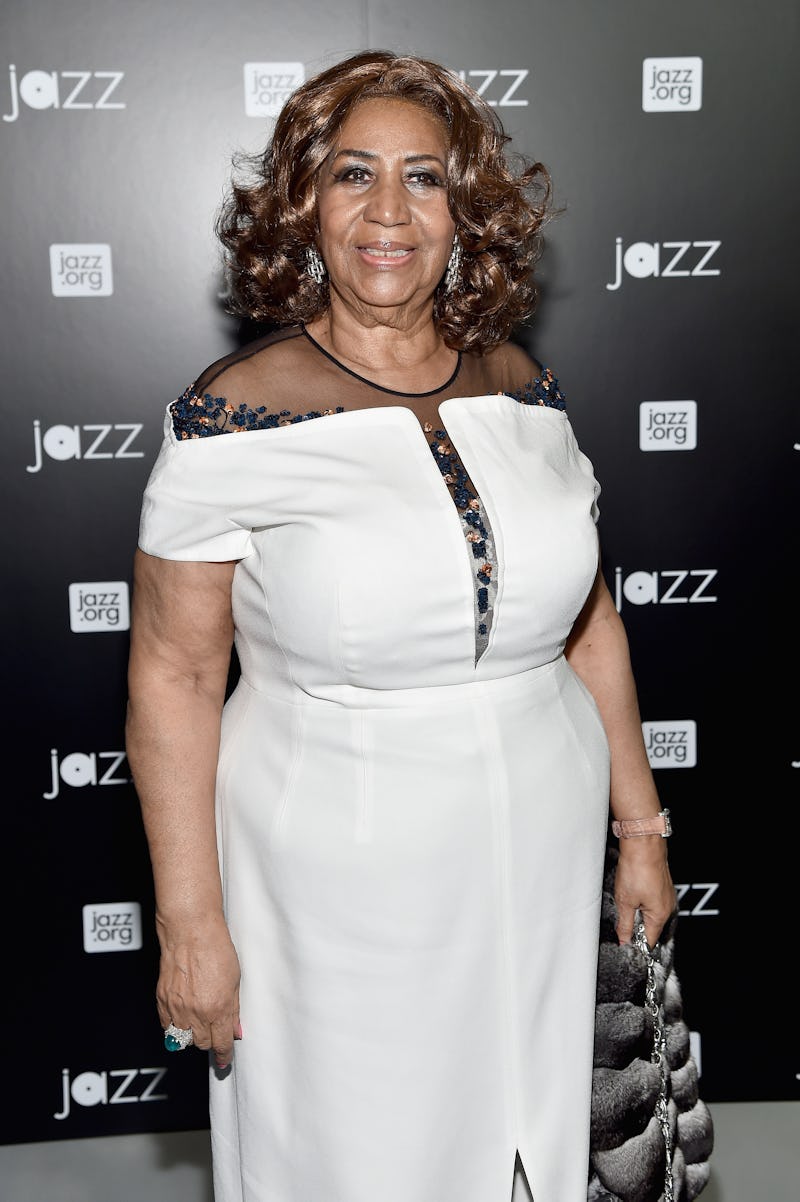 Mike Coppola/Getty Images Entertainment/Getty Images
Sad news broke on Thursday morning: Aretha Franklin passed away at age 76 at her home in Detroit, as first reported by the Associated Press. Now, Franklin's rep has released a statement about her death to publications including AP and ClickOnDetroit. (Bustle reached out to Franklin's rep for comment, but did not receive an immediate response.)
The statement, also shared by CNBC, began by confirming the devastating news:
"It is with deep and profound sadness that we announce the passing of Aretha Louise Franklin, the Queen of Soul, in a statement issued by Franklin's family through her longtime publicist, Gwendolyn Quinn.
Franklin, 76 years old, passed away on Thursday morning, August 16 at 9:50 a.m. at her home in Detroit, MI, surrounded by family and loved ones. Franklin's official cause of death was due to advance pancreatic cancer of the neuroendocrine type, which was confirmed by Franklin's Oncologist, Dr. Philip Phillips of Karmanos Cancer Institute in Detroit, MI."
In the heartbreaking statement on behalf of the singer's family, the message continued:
"In one of the darkest moments of our lives, we are not able to find the appropriate words to express the pain in our heart. We have lost the matriarch and rock of our family. The love she had for her children, grandchildren, nieces, nephews, and cousins knew no bounds.
We have been deeply touched by the incredible outpouring of love and support we have received from close friends, supporters and fans all around the world. Thank you for your compassion and prayers. We have felt your love for Aretha and it brings us comfort to know that her legacy will live on. As we grieve, we ask that you respect our privacy during this difficult time."
The Associated Press also reported that funeral arrangements will be announced in the coming days.
In the meantime, fans and celebrities alike are honoring Franklin's memory on social media. Whether sharing their favorite songs or quotes, there's been a major outpouring of love online. Fellow musicians, including John Legend and Paul McCartney, have also weighed in, with Legend dubbing Franklin the "greatest vocalist I've ever known" and McCartney calling her the "Queen of our souls."
If you're looking to reminisce about Franklin's music and honor her memory that way, perhaps her Kennedy Center Honors performance from 2015 is worth rewatching. The powerful performance moved then-President Barack Obama to tears, and it's no surprise why. Not only does the video capture one of Franklin's biggest hits, but it's so beautifully done.
Whenever she was on stage, Franklin commanded attention, and as she so famously sang, she got (way more than) "a little respect." Back in February 2017, Franklin announced she would be retiring from music, deeming the news bittersweet, since "it's what I've done all of my life." At the time, she told Detroit's WDIVLocal 4,
"I feel very, very enriched and satisfied with respect to where my career came from, and where it is now. I'll be pretty much satisfied, but I'm not going to go anywhere and just sit down and do nothing. That wouldn't be good either."
But even after she announced her retirement, Franklin took the stage months later to perform at Elton John's AIDS Foundation gala in November 2017. Because no matter what, she was dedicated to her career, further cementing her status as a legend.
The news of Franklin's passing is profoundly sad, as her family pointed out, but her memory will continue to live on in the music industry and beyond.