An Official GOP Twitter Account Mocked Hillary Clinton For Getting Into A Car Crash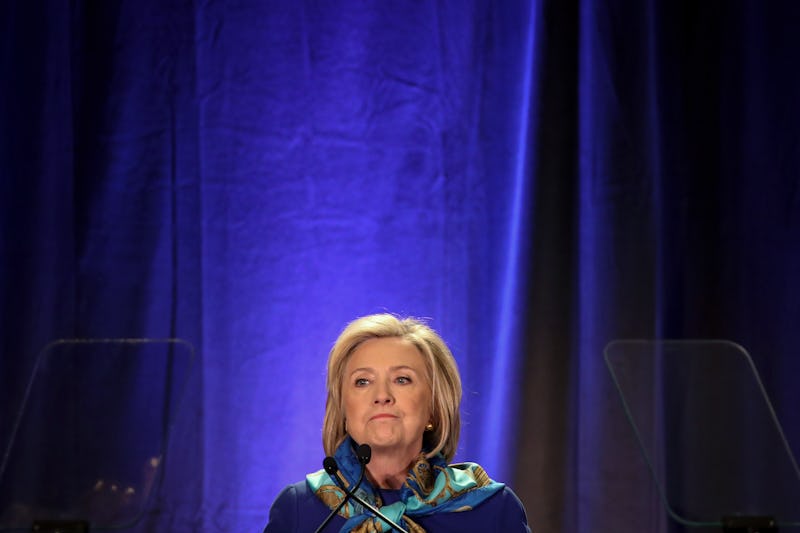 Drew Angerer/Getty Images News/Getty Images
On Monday evening, a former presidential candidate was involved in a minor vehicle accident in New Jersey, after the SUV she was riding in appeared to hit a barrier. Video of Hillary Clinton getting into this car crash subsequently appeared online — and was mocked by an official GOP Twitter account.
As The Hill reported, Clinton was in New Jersey to attend a campaign event for one of the state's Democratic senators, Bob Menendez. As the outlet described, Menendez is engaged in a close race against Republican candidate Bob Hugin in the upcoming November midterms. The National Republican Senatorial Committee (NRSC), which works to elect Republicans to the U.S. Senate, referenced Menendez' event when tweeting a video of the aforementioned accident.
In commenting on the video, the NRSC appeared to ridicule Clinton and her efforts, writing, "LIVE LOOK at @HillaryClinton trying to save @SenatorMenendez. (Spoiler alert: she crashes.) #NJSen." For her part, Clinton does not yet appear to have commented publicly on the accident or on the NRSC's commentary on the related video.
TMZ reported that Clinton, along with her aid, Huma Abedin, had been traveling in a Secret Service van when it crashed into a barrier in a parking garage. The outlet noted that the video seems to show that both Abedin and the former presidential candidate were not harmed in the incident and left the vehicle of their own accord. It was further reported by TMZ that the Secret Service stated that there were no injuries related to the accident — and that Jersey City police were investigating the incident.
NJ.com reported that Clinton appeared as the featured guest at the Democratic fundraising event on Monday at Liberty Prime Steakhouse in Jersey City. The outlet noted that tickets to attend the event ranged from a few hundred dollars to over $5,000. Proceeds benefitted Menendez and his political action committee along with the New Jersey State Democratic Committee.
Clintons' appearance at the event was highly praised by the New Jersey Democratic party, which tweeted about the fundraiser on Monday and emphasized the importance of women voting in elections. As the organization described:
@HillaryClinton came to New Jersey tonight to stand with @LtGovOliver and say loud and clear that it's #NeverMatteredMore for women to vote for Democrats we can count on like @BobMenendezNJ. Three weeks until Election Day, time to GOTV!
Clinton's support for Menendez is perhaps somewhat expected, given his longterm support for her during both of her presidential campaigns. As NJ.com reported, Menendez backed Clinton in both the 2008 and 2016 Democratic presidential primaries, publicly announcing his support for her over her Democratic rivals. A FiveThirtyEight poll from Oct. 7 shows Menendez leading Hugin by ten points. However, experts expect the race to be a close one and campaign fundraising events, like Monday's gathering, could certainly help Menendez as he tries to secure victory.
In addition to mocking the video of Clinton's car accident, Bob Salera, a spokesman for the NRSC, also condemned Democrats and Menendez more broadly on Tuesday. "New Jersey has officially become a four alarm fire for national Democrats, and they are racing in to save disgraced Senator Bob Menendez," Salera said in a press release (as reported by The Hill).
It is unclear whether or not Clinton will choose to respond to the NRSC. Either way, though, she will likely remain heavily committed to midterm campaigning and voter education in the coming weeks.